Prospero Caliban Cricket and Other Glorious Uncertainties
Martin Chandler |
Published: 2023
Pages: 128
Author: Agard, John
Publisher: CricketMASH
Rating: 4 stars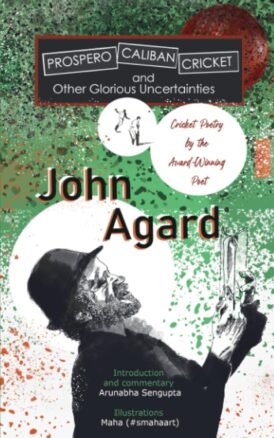 I have never been a great fan of poems, and most of the cricket poetry I have read in the past has struck me as tedious in the extreme.  I can't therefore say that I was particularly looking forward to this one, despite having heard much that was positive about John Agard, a man born and brought up in Guyana.
This collection starts with an introduction by Arunabha Sengupta, who writes something, and indeed just enough, of Agard's background and character. After that the poetry begins, and starts with the 'title track', Prospero Cricket Caliban. Those hours of being force fed Shakespeare's The Tempest for 'O' Level English Literature gave me the advantage of a greater insight into the poem than I might otherwise have had. I was impressed but, I have to admit, not particularly enthused.
There are then 33 more of Agard's poems, tied together by a helpful commentary from Arun, but despite that I got to the end of the last of them, Glorious Uncertainty, without my pulse having been set racing, and forming the view that the highlight of the book was Maha's artwork, which is every bit as impressive as her previous work on other CricketMASH publications.
My interest was raised somewhat by the next part of the book, an essay from Agard himself, which builds on the brief pen portrait that Arun began the book with, and that is followed by an afterword from David Woodhouse, a scholarly appraisal by a man as well qualified as anyone on the planet to carry one out.
And that was that, a book I was pleased to have read, but not one that I had greatly enjoyed and which, in places, I had found a little dull. I didn't expect to read it again and was troubled only whether I should rate the book as 2.5 stars, as my instinct told me, or whether the power in Prospero Caliban Cricket could persuade me to push it up to 3 stars.
It was at that point that my wife walked into the room. She has no interest in cricket whatsoever but, I suddenly realised, is something of a poetry buff and, having spent a large part of an Open University degree course studying the subject does not lack knowledge of the genre. The word cricket appearing on the cover did not assist my cause, but I did not have too much difficulty in persuading her to at least take a look at the book.
I looked intently as she flipped over the pages, clearly not reading anything fully, and pulling a number of far from approving faces and she soon put the book down. Her verdict was a simple one, that's the sort of thing you can't really appreciate from a book alone, you need to hear the poet reading it first.
This observation made perfect sense to me, and I soon found out that there were a number of videos on the publisher's youtube channel. I started with the reading of Prospero Caliban Cricket that was performed at the book's launch, and was immediately spellbound. On this one my good lady was without doubt correct, the experience of listening to this poet performing his own work most certainly being an arresting one.
Having watched that clip, and the others that are there I then read most of the book again, and this time it was a completely different experience with both my appreciation and understanding of what I had read being greatly enhanced, and as a result also my enjoyment of what I was reading.
Prospero Caliban Cricket and Other Glorious Uncertainties is available in two editions, one a paperback and the other a limited edition hardback. Both can be ordered through the publisher's website.