Out of My Comfort Zone
Archie Mac |
Published: 2005
Pages: 802
Author: Waugh, Steve
Publisher: Penguin Books Australia Ltd
Rating: 3 stars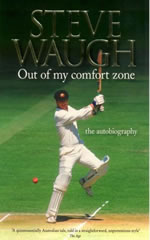 Value for money is what you will receive from Out of My Comfort Zone, at just over 800 pages and with copious amounts of four-colour illustrations throughout. The book retails for just under $50.00 (Australian), and for a production of its size is almost error free; a rare occurrence in modern cricket book printing standards.
The book credits Steve Waugh as the sole author, but one detects the literary influence of his long time 'ghost' Geoff Armstrong, who also collaborated with Waugh on all of his hugely successful 'touring diaries'. I always find it annoying when the 'ghost' is not given due recognition in cricketing publications, but it is nothing new, even W.G. Grace enlisted the help of a 'ghost'. To the credit of Steve Waugh he does acknowledge Armstrong on page 765, quite warmly if a little belatedly, as the editor of the book.
Steve Waugh either has a phenomenal memory or he has been keeping a diary from a very young age. He still seems to remember minute details from his junior playing days. There is an amusing story of the great South Africa batsman Barry Richards ordering a 13 year old Waugh out of the nets during a training camp 'That's it-get out. You don't listen. You've faced your last ball today.' Was the sage verdict of the great batsman. Fast-forward 12 years and Barry Richards almost pulled off a tremendous coup when he nearly convinced Waugh to change states, and play for Queensland for whom he was coach at the time.
There are also some very interesting behind the scenes moments, including a clash between himself and Michael Slater (who was nicknamed Sybil, because of his multitude of personalities) which ended with Slater telling his then vice-captain 'You're a coward'. Waugh writes 'a line had been crossed and our relationship was never the same'.
He only touches briefly on the constant criticism directed at him by former Australian Test captain turned commentator/writer Ian Chappell, believing most of it is generated by Steve Waugh's loyalty and praise of Bobby Simpson. Chappell and Simpson have never been on the best of terms.
Waugh is much more forthcoming on his dealings with the board (CA). Although expressing his opinion that the relationship between the players and board/selectors had improved markedly since his debut he was still given a few surprises along the way, including his shock axing from the ODI team when he was led to believe he would lead the side into the 2003 World Cup. He also was amazed when the coach John Buchanan announced to the board that a couple of players had confided to him that they were unhappy with Waugh as captain during his final visit to the Caribbean.
A couple of things I was hoping to glean from the book were disappointingly missing, such as; why Mark Waugh and himself refused to sign the Sri Lanka players bats at the end of the 1996 World Cup; or the interview process of the captaincy after the retirement of Allan Border, which eventually went to Mark Taylor. Also the constant mention of how he was mentally feeling before each innings or the 'Zone', or how he was going to motivate the team etc etc ad nausium. It would be interesting to know how Mark Waugh would have captained the team since he believed most of these things to be 'hocus pocus' and a waste of time.
Steve Waugh is the only modern Australian player who can compete with Shane Warne when it comes to Cricketing biographies, this being the sixth major work on Tugga. Since his retirement there have been three, this one and two others:
1. Steve Waugh by Peter FitzSimons published in 2004 by Harper Collins.
2. 'One Who Will' by Jack Egan published in 2004 by Allen & Unwin.
Although both were quite different with FitzSimons very much concentrating on the legend which has become Steve Waugh, and the other by Jack Egan a little more critical. Both unfortunately lacked an interview with their intended subject. Maybe one combined book incorporating the best of all three biographies would have given us the true Steve Waugh story.