Not Dark Yet
David Taylor |
Published: 2008
Pages: 147
Author: Harfield, Mike
Publisher: My Back Pages Publishing
Rating: 3.5 stars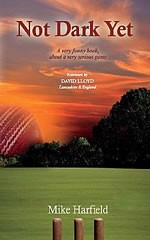 David Says:
This offering comes from the captain and fixture secretary of the team that bears his name: the Mike Harfield XI – they never got round to calling it anything else – it's the story of the team from its inception in 1976 to the present day. It's a slim volume; you could, if you were so minded, tackle it in an afternoon, and I got almost halfway through on two pints of Kentish ale in my local. However that's fine by me. Books of this type can drag when stretched out over three or four hundred pages, this is just enough to make you feel you know the principal players, and in any case there isn't too much to say about a team which plays just one match a year, against the team from Clifton Hampden in Oxfordshire. The writer's parents still live there, which means they've often been called on over the years for food and accommodation.
I was involved with a team like this myself for a few years in the early 1980s, firstly as scorer and then as emergency player. My father's office team played an annual fixture at Hollingbourne in Kent – I was recently pleased to discover that the cricket ground is still there. So I'm familiar with the sort of side that spends as long in the pub before the game as afterwards ("it's surprising how difficult it is sometimes to get people to move the 400 yards from a pub to a cricket ground") and, tellingly, the team photo shows all the players sporting pint glasses rather than the customary bats and pads. For the first couple of years they're rubbish, unsurprisingly so as they're cobbled together from friends, friends of friends and passers-by, but after a while the villagers find them sterner opposition and the Harfield XI start winning the odd game.
The narrative often goes off at a tangent, but divertingly so – for instance a chapter on the season of 1981 becomes a discourse on the viability of playing cricket in France – and we soon get to know some of the regulars, such as early West Indian import Vernon, and perennially unreliable Clive. Various SOPs (sons of players) also come onto the scene after a while, and with this pan-generational shift, I suspect the team these days fields few players between the ages of 20 and 40. Mike Harfield must, by my reckoning, be in his mid-50s by now, but this is the sort of cricket that he should be able to enjoy for a few years yet. Perhaps a revised and updated edition of this enjoyable book will appear in due course.
Martin Says:
I fear I may not be the best person to review this book objectively. Author Mike Harfield must be around my age, probably a few years older although at our age that makes little difference. We seem to have similar attitudes to just about everything and one particular failing in common, that being an inability to bring up our sons to fully embrace our love of cricket.
Where we differ is that Mike, I feel we are friends so must obviously be on first name terms, had the drive and energy back in 1976 to start his own cricket team. The Mike Harfield XI plays one match every season, always against the Oxfordshire village of Clifton Hampden. I suppose its a late twentieth century equivalent of what used to be called country house cricket – totally irrelevant in some ways and of overwhelming importance in others.
So what is Mike's book about is what you all want to know. It may be easier to say what it isn't about. It isn't a club history or a history of the club's only fixture although such matters are the framework of the book. There are autobiographical elements, but not many, and some pen pictures of members of the XI but it certainly isn't their life stories either.
There are some of Mike's musings on the fortunes of English cricket down the years, and full of humour as well as wisdom they are too but they don't take up too much space. Mike's views on important matters of state also crop up from time to time – his soundbites on that most pointless of British military adventures, the Falklands Conflict, being particularly incisive and, to use to impress at dinner parties, I have learnt them all verbatim.
I think the main reason Mike wrote this book was simply because he could. He has a wonderful wit and a style of writing that is very easy to read and it would have been a great shame if he had never tried his hand at authorship. It isn't a long work by any means, a single commute between Clifton Hampden and London would probably see it off, but the reader would be kept thoroughly entertained during his journey, and would be totally relaxed when he reached his destination.