Forgotten Skipper – Gallant Soldier
Martin Chandler |
Published: 2023
Pages: 18
Author: Franks, Rob
Publisher: Cricketers In Print
Rating: 3.5 stars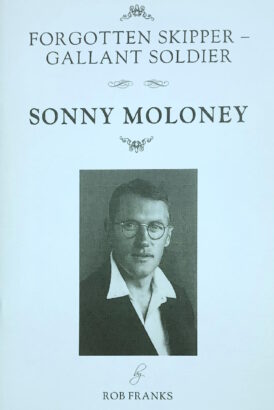 The latest monograph from the Cricketers in Print series is its seventh, and concerns a long forgotten New Zealander, 'Sonny' Moloney, an all-rounder who played in the three Tests his country played on their 1937 tour of England.
Rob Franks begins with a poignant photograph, showing Moloney and his fellow 1937 tourist Bill Carson. Neither Moloney nor double All Black Carson were around when cricket began again after the War, both having died as a result of wounds  sustained, in Moloney's case in North Africa, and Carson's Italy.
It is not an easily obtained book, but there is a slim biography of Carson published shortly after peace returned. Of Moloney however there is nothing, and over the years his story simply hasn't been told, until now.
Information regarding the cricket matches in which Moloney played is available in press reports, and the reader learns of a man who, after a few years of modest performances, suddenly stepped up a couple of levels in the New Zealand season of 1936/37, and he performed with great credit with bat and ball on the tour of England that followed.
But there is rather more to Forgotten Skipper – Gallant Soldier than just a profile of Moloney the cricketer. Coming from a large family Moloney's younger brother relocated to England where he was a successful surgeon, so much so that he wrote an autobiography that shed a great deal of light on family life in New Zealand in the 1920s and 1930s.
There was a good deal of cricket played in North Africa during the war and that, it has to be said, is one of Rob Franks' specialist subjects so his previous research, coupled with Moloney's military records, enable him tell the story of the final years of Moloney's life as fully as he does his cricket career.
So another gap in the canon of cricketing biography has been filled in fine style. As with the previous six Cricketers in Print this one is beautifully produced, with some excellent photographs. As usual there are fifty copies available for sale, and the best way to acquire one is through Roger Page.