George Giffen: A Biography
Archie Mac |
Published: 2020
Pages: 234
Author: Whimpress, Bernard
Publisher: Walla Walla Press
Rating: 4.5 stars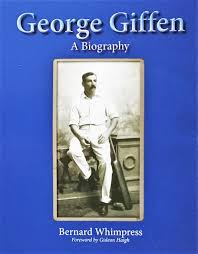 I once had an online debate with someone about cricket, where I defended the record of past players. His response was to tell me, "sounds like you get a hard-on for old players!" Well if he saw me devour this George Giffen biography his suspicions may have been confirmed. The Giffen career had everything that makes the 'old players' so interesting; he was a polarising personality where people, from fans to officials, either loved or hated him. Giffen also found himself regularly embroiled in controversy.
Giffen, with the modern scrutiny on today's players, would have spent a large part of his career suspended or at least under investigation. He once refused to leave the crease after being given out in a Sheffield Shield match, and on another occasion in 1893 he would not tour England unless his brother, Walter, a far inferior player, was included. This tour, captained by the legendary wicket keeper Jack Blackham, was perhaps the most volatile ever. The manger claimed he was assaulted by a player and that one player in particular regularly undermined the captain. Whimpress is positive that the player in both instances was Giffen.
Giffen's contrary personality regularly kept him on the front and back pages of the newspapers. The coverage hitting a fever pitch in the summer of 1897/98 when Giffen, at the peak of his powers, refused to play in that summers home Ashes series. Will he or won't he play, and the reasons why, filled and sold papers like no other topic in the country. In the end, even when the promoters agreed to his terms, Giffen the greatest all rounder in the world, declined to play.
Why Giffen still wouldn't play in the Tests even when his pay demands were met, is not clear. Perhaps the simple answer is that was just how old George rolled. While he didn't know it at the time, and despite being in the mix for the 1899 tour to England, Giffen's Test career was over. 
Whimpress takes us through all these issues, and a lot more, while all the time bringing us back to Giffen the cricketer. You feel tired just reading about Giffen's exertions as an all rounder. He appears to be either batting, bowling, or courting trouble in just about every game he plays. Some of Giffen's all round feats, especially in Sheffield Shield games against Victoria, are legendary. His most famous effort was in 1891 when he scored 271 and claimed 16 wickets in the match. He is also the only Australian who didn't play county cricket to take 1,000 wickets and score over 10,000 runs. Unfortunately Giffen, despite his prodigious performances at first class level, rarely did justice to his talents in Test cricket. This wasn't helped by the fact he didn't tour England twice when at the peak of his powers.
Whimpress doesn't shy away from controversy. Instead he tackles all of his subjects' foibles and presents the facts. In the end you feel like you have a real sense of Giffen the man. The author delves into Giffen's other sporting achievements such as his performances as an Aussie Rules Footballer. We learn too about his employment and there is some speculation as to why Giffen never married.
One aspect that keeps coming through the Giffen story is that he loved to play cricket. Often, just a day or two after his return from a long tour of England he would turn out for his district team, batting and bowling for incredibly long periods. It seems Giffen was a firm believer that you couldn't take wickets unless you bowled, and so as captain he just kept trundling. The story is often told that Giffen considered a bowling change was his going on at the other end.
Giffen played his last Test in 1896, so a full biography has been a long time in coming. The cricket world can be thankful that the Giffen story was written by one of Australian crickets foremost historians. Bernard Whimpress has produced not only a detailed account of his subject's life, he has written it in an entertaining and extremely accessible format. So if you want to know the story of perhaps the most controversial Australian cricket of them all, then I can highly recommend this book. I can't guarantee you'll experience a hard-on, but I can promise you, that you too will think Giffen the greatest all rounder this country has ever produced.
George Giffen a Biography, is available in a limited deluxe edition of 50 copies as well as a trade edition. The book can be purchased from Cricket Web's friend Roger Page.