Flannels on the Sward
Jerry Caveney |
Published: 2014
Pages: 404
Author: Patel, Jayesh
Publisher: Patel, Jayesh
Rating: 4 stars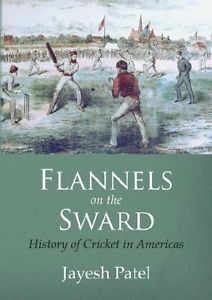 A Labor of Love–for both the author and the reader
This book was a great labor of love to write. Unfortunately, it is an equally great labor of love to read. I give it 5 stars for content, illustrations, and quality of binding and paper. I give it 1 star (it would be negative if that were an option) for grammar, spelling, lack of editing and proof-reading, and horrendous lack of structure.
To go into somewhat more detail: the contents of this book are wonderful. The author was able to purchase part of an old American cricket library, and so decided, quite nobly, to write a book to share this information, along with everything else he could find out about cricket in the Americas (excluding the Caribbean, which is covered extensively in many other books). The work he put into all of this is amazing, including extensive research well beyond the materials which he purchased himself. There have been other books written on cricket in the U.S., and articles occasionally on cricket in other American countries, but nothing like this. In spite of the difficulties in reading the book, it is well worth it. There are fascinating passages (almost randomly scattered, alas) on 19th century women's cricket, on Bart King, little known, but probably the U.S.'s best cricketer ever, and on many other fascinating topics, with hundreds of pictures and reproductions of scorecards. There is really just too much great info to try to summarize it all here.
So why the missing star? First, the book is very difficult to read. It is almost always understandable, but the author's English idiom and grammar makes it slow to read. Most of the errors are small ones, but they still slow one down. Consider the subtitle: "History of Cricket in Americas". Idiomatically, this would be "A History of Cricket in the Americas". Such slips, along with typos, and confusing grammar occur on every page of text. There are clauses treated as sentences, dangling participles, incomplete sentences, and so forth on virtually every page of text. Punctuation is frequently wrong, with the absence of question marks being particularly notable. The book was self-published, and since none are credited, there must have been no editor or proof reader. If the author puts out a second edition–or a second volume–I hope he will invest in those two critical aids to a good book, to go along with the already great illustrations, binding, and paper.
The other aspect of this book that makes it hard to read is that there is no logical structure to the book. Chapters are added willy-nilly, with little thought to either subject matter or chronology. Within each chapter, you never know if the next paragraph will have any relationship to the one that preceded it. This is where an editor would really have helped. To give just one example, what is probably the most famous event in American cricket–when Babe Ruth and Don Bradman met in New York in 1932–is mentioned only in the one chapter on Canadian cricket, not in any of the 10 chapters on American cricket.And this is the second chapter of the book, well out of chronological order.
There are many problems with the referencing in the book, but I mention them only in passing. Many footnotes are ambiguous, some incomprehensible. Sometimes the footnotes are added to the text, but mostly they are at the end of the book. Some fascinating details are not given a source at all. For example, on p. 217, the author tells us that Haverford College cancelled a match against the 'West Indians' when they learned the team might include a black player. This is a significant anecdote for both American and Caribbean cricket, but we are given no authority for the story, which pretty much makes it meaningless.
One note on the other countries covered in this book: the information on U.S. and Canadian cricket is compiled by the author, and takes up almost all of the book. However, a couple of chapters at the end cover Mexico, and a variety of Central and South American countries (and the Cricket Hall of Fame). Most all of the information for these sections comes from a Cricket Association member of the relevant country. Some the author rewrites, with a few footnotes, some are copied from and credited to the original writer, with no footnotes. They bring together a lot of fascinating information, but they are not at all comprehensive the way the chapters on the U.S. are.
In summary, if you love cricket, and especially if you live in the U.S., you really should read this book. It may not be easy, but it's worth it.