CT Mannes: A Great Scottish Cricketer
Martin Chandler |
Published: 2021
Pages: 64
Author: Miller, Richard (Editor)
Publisher: Private
Rating: 3.5 stars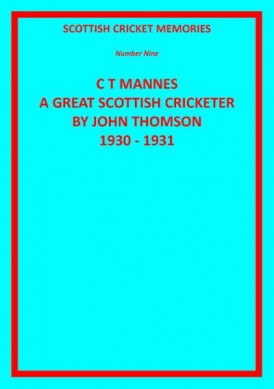 When I embarked on reading Richard Miller's series of booklets on the history of Scottish cricket I was labouring under one particular misapprehension, that being that north of the border cricket was and always had been a minority interest. If Richard has achieved nothing else by the time I was half way through the first of the booklets I had been disavowed of that idea.
Of course life in general was, a century and more ago, much more parochial than it is now, so having been educated as to the level of participation and interest in Scottish cricket in that era I now faced another question. What was the standard of play in those days? Scottish cricketers generally played amongst themselves, so whilst knowing they had a number of English professionals in their midst I still didn't really know the answer to that one.
The third of the booklets in Richard's second release (so the ninth in all) was one I hoped might help me with that, being what amounts to a biography of Charlie Mannes. His is a name I have seen, but the comparison can't be made from normal sources. Look at cricketarchive and you will see that Mannes only ever appeared in three First Class matches, one in each of the 1906, 1907 and 1908 summers. He scored a half century against the touring South Africans in 1907, but achieved little against West Indies and Nottinghamshire and, being in his mid 40s by then, those three appearances don't much assist.
Most of CT Mannes: A Great Scottish Cricketer consists of a series of articles by Jack Thomson, a decent player himself as well as a respected scribe, that appeared first in 1930 and 1931 in The Coatbridge Leader. Thomson rated Mannes as the best Scottish all-round cricketer he had seen, so do his writings assist in putting that belief in context?
In his, as always, excellent introduction, Richard primed me with the answer to that one, which is 'No'. Thomson's writing is perfectly readable, but he sticks to on field events, and whilst he certainly demonstrates why he rates Mannes so highly, it is not realistically possible to properly assess Mannes' talents, although the references to some excellent performances against visiting teams give a clue.
No doubt foreseeing these concerns Richard has therefore done a little more work on this one. First of all he has added a couple more pieces of contemporary writing. First is a profile from an 1894 edition of the Scottish Referee. This one, written in an interesting style, gives a greater impression of the way that Mannes played his cricket than Thomson did. After that there is a short profile that first appeared in 1902 in the specialist English periodical, Cricket: A Weekly Record of the Game. The importance of that is clear, in that whoever wrote it can be assumed to have been in a good position to make the judgment that Mannes would have performed well in English cricket.
As well as finding those additional sources Richard has also rolled his sleeves up himself. No doubt aware that his readers would be disappointed if they knew nothing of Mannes' life outside cricket Richard has produced a narrative chapter of his own dealing with that and compiled some interesting statistics. As with previous booklets he has also added a number of photographs from his own collection (almost 30 of them in fact). The booklets can be sourced from Richard himself, and from Roger Page in Australia and Boundary Books in England