Cricket Lexicon
Archie Mac |
Published: 2006
Pages: 266
Author: Leigh, John and Woodhouse, David
Publisher: Faber and Faber
Rating: 4 stars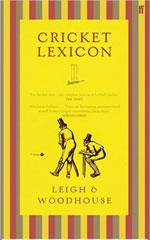 It is always a worry when the sport you love is not the first in a series such as the funniest quotes; book four; cricket.
You know that it is never going to be as interesting as the first sport covered, and the publishers may well be just cashing in. That was my concern before reading Cricket Lexicon, which is the third book in the 'Lexicon' series after Football and Racing, but my fears were utterly unfounded.
The authors are obviously cricket fans and their research seemingly impeccable. The style and format of the book are also first-class, with the use of witty examples for each entry, which makes the book not only informative, but just as importantly, interesting.
The authors show a natural appreciation of cricket history and literature, quoting from some of the greatest writers on the game, and from some of the greatest books. My favourite being the example for the use of approach:
Here is Frank Keating on Bob Willis -"A 1914 biplane tied up with elastic bands trying vainly to take off."
And another example of the humour: Run in "'even Gatt is harder to bat against when he really runs in'. Although he bowled useful medium pace in his younger days, Mike Gatting probably had more chance of registering on the Richter scale than in the wickets-taken column in the twilight of his career".
There were however a couple of Aussie cricket expressions missing such as Cricket Tragic, Mollydooker and Monty (going the tonk), but this is a small criticism. If every cricketing expression was mentioned, this would just be a first edition. Other obscure expressions such as Nurdled are mention, but do not have their own entries, nurdle for instance being mentioned under nudge.
Some of the entries will be a complete mystery to many cricket fans such as: Bakerloo: playing down the wrong line. Jugalbandi; a contrasting pair of batsman. Voop: slog.
This should make an ideal present for the Cricket Tragic, a foreigner just off the plane, or anyone who wants to learn more about the greatest of all sports.