Crash Bang Wallop!
Martin Chandler |
Published: 2008
Pages: 238
Author: Hyndley, Martyn
Publisher: Know The Score Books
Rating: 4 stars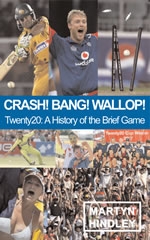 The book is sub-titled "Twenty20: A History of the Brief Game" – not, you will note, a "Brief History", 238 pages immediately striking me as considerably bulkier than I expected.
I must admit to having detested Twenty20 when it began. The concept of a game of cricket that was all about batsmen rather than a contest between batsman and bowler left me cold so I simply ignored it until this year when I started to watch parts of games and slowly got into it a little. I still hate the concept of course but the fact that I watched the entirety of a finals day which Lancashire weren't involved in probably says it all.
As far as this book is concerned I hadn't even realised it existed until it crashed through my letterbox one Saturday morning in August and, despite my newly discovered tolerance to Twenty20, I have to say I was not tempted to begin to read it. I reasoned however that the lot of a CW book reviewer is intended to be an arduous one so I steeled myself for the task drawing some comfort from the fact that the book came from Know The Score, those responsible for publishing the magnificent "Grovel", which would certainly have got five stars from me had I been invited to review it (which is doubtless why I wasn't!).
In fact I have to report that, like that finals day, I enjoyed the book. Perversely my initial contempt for Twenty20 helped in that because having shunned the format and all news of it until recently this was one cricketing story I knew next to nothing about. I certainly never knew that the format had its origins in New Zealand and what little knowledge I thought I had, which related solely to the English domestic version, turned out to be largely incorrect.
For me there was rather too much detail in the main body of the book and I did find myself skipping bits which I found tedious. That is not, I would stress, a criticism as if you call something a "History" then that, in my opinion, means you can't just deal with the exciting bits but the book can be hard work.
To digress again the first cricket I can remember being spellbound by was Derek Underwood spinning England to that famous Ashes win at the Oval in 1968. I was completely hooked from then on and the dawn of the old John Player League the following year was a godsend – I was, in truth, still far too young to appreciate the sort of attritional first class cricket that had brought the game to it's knees, financially, and had it not been for the 40 over game I might have lost interest as quickly as I found it.
Throughout this book the parallels between the late 1960's and 40 over cricket and the early 21st century and Twenty20 kept striking me as the most interesting question of all – after all 40 over cricket rejuvenated the game yet four decades on is in its death throes and all is not well with the ODI format either – will Twenty20 have more endurance or are these "fad" formats going to come along every couple of generations to briefly accompany the genuine article, the Test Match, into which they seem to, thankfully, have the effect of breathing new life?
The reason for this digression is the final chapter of the book which is entitled, perhaps inevitably, "The Future". Prior to reading that I was minded to give the book three stars on the basis that I thought only two would create a false impression but that final chapter is a wonderful thought provoking essay on where our great game is going and given that this is a trade paperback, and in the UK retails at a not unreasonable 10 pounds, quite frankly that cost is justified for the last chapter alone. Martyn Hyndley is not yet an established cricket writer but will no doubt become one – I await his next offering with great anticipation.