The Cricket World of Clarrie Grimmett
Martin Chandler |
Published: 2023
Pages: 108
Author: Merchant, James
Publisher: Private
Rating: 4 stars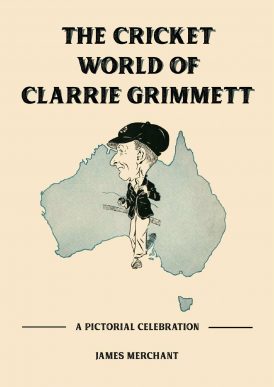 It is probably a good idea to start with what this book is not. It is not a biography of the New Zealand born leg spinner who took 216 Test wickets for Australia between 1925 and 1936. Neither is it a technical treatise on the techniques Grimmett employed in order to take his then record haul of wickets.
Author James Merchant is a collector of cricketana, although he is not without a flair for writing and publishing. We have previously reviewed his books about The Cricket World of Charles Dickens, The Business of Bradman, and Smiles From The Don. The Grimmett book has elements of all three within its covers and is certainly a book that is going to appeal, above all, to Merchant's fellow collectors.
But despite the book not being a biography it does contain the story of Grimmett's life and times. Merchant begins, inevitably, with an introduction that sets the scene, and highlights some of the more remarkable minutiae of Grimmett's cricket career, such as his returning ten wicket match hauls in each of his first and last Tests, and never bowling a no ball in First Class cricket.
There is also an autobiography. Originally published in 16 weekly parts in the Sydney Mail in 1938 Grimmett's own story is reproduced exactly as it first appeared. On a biographical note there are a selection of obituaries, and a long series of quotes from Grimmett's contemporaries. There is therefore plenty of material on the subject of the man himself.
It would be fair to say however that the bulk of The Cricket World of Clarrie Grimmett is a look at the artefacts that Grimmett's life and career inspired. He wasn't exactly a prolific writer, but in addition to that serialised autobiography there were three books, essentially instructional, as well as booklets, flicker books and some newspaper articles as well as the 'autobiography'.
And there was the merchandise. Badges, trade and other cards, posters and magazine covers make up the bulk of that, but there are plenty of other more unusual items, such as buttons, poems and even a sculpture. Finally, and as was only to be expected of the compiler of Smiles From The Don, Merchant showcases a large selections of cartoons and sketches of a man whose appearance was always a caricaturists dream.
There is a decent narrative running through The Cricket World of Clarrie Grimmett, but above all it is the illustrations it contains that make it what it is. There are 103 of them all told, all very well reproduced and in full colour. The booklet appears in a limited edition of fifty signed and numbered copies, most of which have already been snapped up by Merchant's friends in the collecting world, but for those who haven't pre-ordered there are going to be a few copies available from Roger Page in Australia, and Boundary Books in England