Charlie Hallows. 80 Years On – 1,000 Runs in May, 1928.
Martin Chandler |
Published: 2008
Pages: 40
Author: Tebay, K Martin
Publisher: Red Rose Books
Rating: 3.5 stars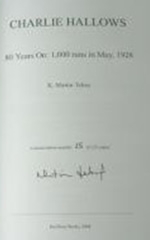 Cricket records in modern times are all about Test Match performances, strike rates, economy rates and averages and the old yardsticks of first class aggregates and traditional cumulative records have ceased to have very much meaning. For new fans of the game, who see the top players having careers of perhaps a dozen years and during that time playing less domestic cricket than they do international cricket, the benchmarks set by the likes of Hobbs and Rhodes are so far removed from today's reality as to render them meaningless.
A quintessentially English record in similar vein is the achievement of scoring a thousand runs by the end of May, although since the passing of the old Benson and Hedges Cup and 20/20 not starting till June there is now hope that may come within batsman's radars again. For the time being a man has a fighting chance of getting in six first class matches by 31 May so others may yet join the roll of honour which consists of Don Bradman (twice), Tom Hayward, Bill Edrich, Glen Turner and Graeme Hick.
In order to achieve the feat with four day cricket will inevitably require at least a couple of games in April so what in my view cannot happen now is the matching of the greater record of WG Grace, Walter Hammond and Charlie Hallows of scoring a thousand runs in May.
This little book is the story of Hallows' achievement. He is by some distance the 'lesser mortal' amongst the names I have mentioned only having won two test caps, yet to make his task all the harder he had to play four of his May games in his damp home environment of Lancashire yet achieve his target he did, just, by reaching exactly 1,000 runs (at 125) by close of play on the 31st.
The format of the book consists of a detailed account of each of the games involved plus an account of Hallows benefit match which, fortuitously for him, followed on from the last May game – not surprisingly the Lancashire public proved generous and Hallows' was the county's second highest benefit to that date. There follows a brief summary of the rest of that season in which Lancashire won the title for the third consecutive year.
The material is well researched and an absorbing read -writer and publisher Martin Tebay is to be congratulated on his regular offerings on lesser known aspects of Lancashire cricket history. Personally I would have liked to see some biographical content although it is unfair to criticise the book on that score as it does not purport to be a biography but Hallows' life was not filled with controversy and I rather doubt that another opportunity to chronicle it will arise.
As to a rating the specialist and narrow target market properly restricts that but to my mind it is well worth 3.5 stars and to anyone with a fondness for cricket history and/or the Lancashire club it is fully recommended. It has been published in a limited edition of 125 but is still available and the 'ordinary' edition (please note the 'de luxe' is pictured) costs less than a tenner so it is not an expensive treat.