Charles Dickens and Cricket
Martin Chandler |
Published: 1970
Pages: 11
Author: Rosenwater, Irving
Publisher: Private
Rating: 3.5 stars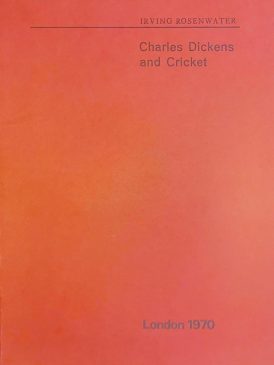 One of my many weaknesses as a cricketing bibliophile, and perhaps the most serious, is my fascination for the work of Irving Rosenwater. A formidable character I have written of Rosenwater more generally here and here, but for present purposes I concentrate on just one of his self-published monographs, the third he produced, way back in 1970.
By no means uniquely, but certainly unusually for Rosenwater's early work, is the fact that as far as I can find Charles Dickens and Cricket did not appear anywhere else. For many this is unfortunate as it rules out one of the two ways of laying one's hands on his writings. There is the bibliophile's route, which involves spending a not inconsiderable amount of money on one of the original limited editions (in this case there were thirty copies), and the more straightforward route.
The latter involves picking up a copy of whatever publication the essay originally appeared in. A significant number, for example, first saw the light of day in the Journal of the Cricket Society. A set of the Journal is not the easiest of things to find, but copies do turn up and when they do they are generally in long runs and the asking prices are, for what a buyer gets for his money, modest in the extreme.
But back to Dickens, a man who remains to this day one of the best known English novelists. He was born in 1812 and died in 1870, so the publication of this monograph was timed to coincide with that particular centenary.
I read Bleak House at school, but although I studied many more tedious texts during the course of my education I have to admit that I wouldn't have bothered had it not been part of the curriculum for my English Literature 'O' Level. So whilst like all of mine and previous generations the name of Charles Dickens is familiar I cannot claim to have much knowledge of his work, or of his life.
Rosenwater was, on the other hand, clearly partial to Dickens' work, and was also familiar with his life. No sort of a cricketer himself Dickens was however a great aficionado of and supporter of the game and Rosenwater spends much of the time in his essay exploring Dickens' links to cricket and, to that extent, his efforts are largely biographical.
There is another element to the essay however and that does touch and concern those works of Dickens' that reflect in some way on the game. Almost all are mentioned only briefly in passing, but Rosenwater stops and contemplates for a while the best known Dickens reference to cricket, the match between All Muggleton and Dingley Dell in The Pickwick Papers.
It is not a passage I have read, although I now intend to make the effort to do so. Down the years there has been much criticism of the way in which the game unfolds, and how unrealistic a portrayal of cricket it is. And that is the reason for the detailed presentation of the evidence that shows Dickens to be a cricket lover, as Rosenwater's point is that the critics are all wrong, and it is only because of Dickens thorough understanding of how the game is actually played that he is able to portray the contest between All Muggleton and Dingley Dell in the way that he does.
I have to admit that it took the publication of James Merchant's new look at Dickens and cricket that finally inspired me to finally get around to reading Charles Dickens and Cricket. I was not surprised to discover that it is typical Rosenwater, uncompromising in expressing his views, but with all the material he needs to support the case he puts forward.