Born Lucky
Archie Mac |
Published: 2021
Pages: 259
Author: Potter, Jack and Sarah
Publisher: Cricketbooks.com.au
Rating: 3.5 stars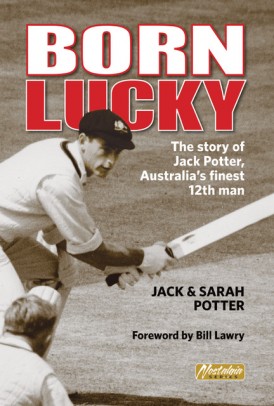 The title clearly suggests that Jack Potter is a glass half full type of bloke. He could have easily called his biography, Born Unlucky and after reading the book the average cricket pundit would have accepted that as fair enough. The subheading under the title describes Potter as 'Australia's finest 12th man'. But unluckiest 12th man would also have been apt. 
Potter was 12th man for Australia on three occasions. His 'debut' was against South Africa in the second Test of the 1963-64 tour in Australia. During the warm-up Potter noticed his name being slotted into the No.3 position on the giant MCG scoreboard, and assumed he was in the starting 11 to replace Australia's regular No.3, the injured Norm O'Neill. On returning to the change rooms Sir Donald Bradman pulled him aside and said, 'I always say it's better to be 12th man than 13th', before walking off.
During the match, Potter was fielding for an injured player, when he featured in a run-out, by great anticipation and a fine throw. On returning to the sheds he saw Bradman walking up to him and looked forward to some praise. 'Well you've really stuffed this game!' – were the great man's words. He was unhappy that the run-out would impact on the gate.
Potter's next two appearances as 12th man were during the 1964 Ashes series in England. His luck was really out during this tour. Firstly Australia, captained by Bobby Simpson, only used 12 players throughout the five Test series and then Potter was knocked out by a bouncer while playing against the Dutch national side, and as it turned out in a losing cause. Potter was not even supposed to play in the match but was pressed into action when two players reported ill. The injury was serious and the left-side of Potter's face dropped and as such he was not allowed to fly, and had to stay in England for an extra two months. Meantime the Australian team had left England and played three Tests in India and one in Pakistan. All the players who had not played an Ashes Test were promised a Test on the subcontinent part of the tour.
While acknowledging his fine batting and slip fielding, Potter is not shy in his criticism of his Ashes captain Bobby Simpson. He describes Simpson as a selfish captain, who over bowled himself, and Potter adds 'and he wasn't such a great bowler'. 
Jack Potter had a tremendously varied life with cricket always present. He played 104 First Class (FC) games and was considered a fine captain and coach. He set up the Australian Cricket Academy (ACA) and developed the entire programme. He resigned due to interference and lays a lot of the blame firmly at the feet of the then CA general manager Graham Halbish. After leaving the ACA, Potter spent ten years coaching in England. He was married three times, represented Australia in baseball, lived in the USA and NZ and was also a school teacher. This is one of those cricket books where a reviewer could write 2,000 words and still not cover all of the achievements and adventures of the subject. I am just not sure if Jack Potter was lucky or unlucky? However I certainly enjoyed his biography and can recommend it to all and sundry.
It is hoped that the quality of Born Lucky, will see a proliferation of similar books on lesser known Australian cricketers. It is available from Ken Piesse at www.cricketbooks.com.au  and is in a limited edition format of 500 hardbacks, the first 221 copies (Potter's highest FC score) are signed by the authors.