Best of Enemies
Martin Chandler |
Published: 2023
Pages: 245
Author: Shawcroft, John
Publisher: ACS
Rating: 3.5 stars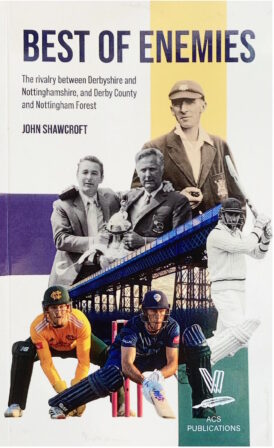 Given that football and cricket are our national sports it is, perhaps, surprising that there are not many books that seek to look at the two together. In days gone by it was possible to combine a career in both, so there are plenty of books by or about famous cricketers who had moments of success on the football pitch, names like Compton, Close, Trueman and even Botham being obvious examples.
But books about all of them, and others, are essentially cricket books. One man I can immediately think of who wrote an autobiography and spread himself more evenly is Phil Neale, but him apart I can think only of a biography of Chris Balderstone, and Roy Cavanagh's combined biography of Lancashire double internationals Jack Sharpe and Harry Makepeace. Other than players' life stories the only example that springs to mind is renowned social and sporting historian Eric Midwinter's Red Shirts and Roses, which looks at Manchester's two Old Traffords.
So John Shawcroft's Best of Enemies gets off to an interesting start, based on the historic rivalries at both sports between the neighbouring cities and counties of Derby and Nottingham. The author is best known for a number of books on Derbyshire cricket and cricketers, but as a man who spent his working life as a journalist in both East Midland counties he is familiar with both sides of the divide.
In cricketing terms there can be no doubt that over the years Nottinghamshire have a enjoyed great deal more success than Derbyshire, and back in the 1870s Notts were a power in the land whereas Derbyshire were a fledgling county side. The fact remains that the first two matches between the sides, in 1873 and 1874, were won by Derbyshire. The inequalities persisted more often in Notts favour than Derby's, although in the 1930s both were immensely strong, and in 1936 Derbyshire won their (so far) only title.
On the football field the rivalry has been rather different, in that much to my surprise since the 1920s Derby County and Nottingham Forest have not spent too many winters in the top flight of English football together, so meetings between the two clubs have been relatively rare and only once, as long ago as 1898, in the FA Cup Final. Played at Crystal Palace the match was won by Forest who, over the years, are just ahead in terms of head to head contests between the two clubs, but there isn't a great deal in it.
So two sports and 150 or so years of history for each, which is a lot to cover in one book. This one may be, at 240 pages, bulkier than some ACS publications, but I was delighted to see that whoever designed the book has used a font size that is easy on the eye for those of us who are not in the first flush of youth. Against that background a year on year look at each sport could have been a little tedious, albeit with this author and publisher there was never any prospect of that.
Shawcroft does tell the whole story of course, and indeed brings it bang up to date, but he stops off en route to concentrate on some of the more interesting or dramatic incidents. Those two matches in 1873 and 1874 are obvious examples, as is that FA Cup Final in 1898. One I didn't expect to read about was the tragic day at Lord's when Notts batsman George Summers sustained the blow on his head that cost him his life a few days later. What I hadn't realised was that the MCC bowler concerned, debutant Jack Platts, was a Derbyshire man who later played for the county.
There are also extended treatment of some of the individuals who have created the story, most notably brothers John Gunn and George Gunn of the famous Notts family. Older brother John, who played six Tests in 1901/02 and 1905 died sixty years ago in 1963, but not before Shawcroft had had the opportunity to meet him. Legendary Derby County footballer Steve Bloomer is another, as is Harry Storer who played for Derbyshire more than 300 times between the wars, played soccer for Notts County, Derby County and England and, after the war, managed Derby and was an influence on the managerial careers of, Brian Clough and Peter Taylor who, understandably, also loom large.
By its very nature Best of Enemies is an unusual book, and will be a source of interest to those on either side of the rivalry it examines, but there is much more to enlighten the rest of us, and once more the ACS have put a thoroughly worthwhile project into print.