Bearders: My Life In Cricket
Archie Mac |
Published: 2006
Pages: 322
Author: Frindall, Bill
Publisher: Orion Books
Rating: 3 stars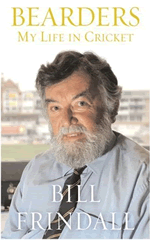 Bill Frindall comes across in this autobiography as having a good sense of humour, a great love of the game of cricket, and a relaxed demeanour; throw in a good eye for the amusing anecdote and a surprising amount of titillation, and you have the recipe for an enjoyable read.
There are unfortunately some down sides; he spends far too long on his childhood and his air force career, not to mention the 17 pages dedicated to his scoring system – although he should be justly proud of this – if you can stick with it until page 87 (was this page chosen deliberately for the Australian audience?), the book really takes off.
We meet some of the TMS (Test Match Special) legends including John Arlott, Brian Johnston, Henry Blofeld and the more modern commentators such as Jonathan Agnew. His chapter on Arlott is one of the best written on the greatest of all cricketing broadcasters.
While most of the book is on the positive side, Frindall is not averse to rehashing old feuds such as the one between Arlott and Alan McGilvray. He (Frindall) describes McGilvray as 'a redhead with a fiery temper, no great sense of humour, a love of whisky and no great regard for Poms'. That assessment seems a little harsh on the greatest of all Australian broadcasters.
It was surprising to find that Bill Frindall, unlike the majority of statisticians who seem to know all the theory but none of the practical, was quite a successful fast bowler at the lower levels of cricket, and apart from traveling the world to play the game, he has also raised a lot of money for a number of charities.
The author is extremely modest throughout, often putting his success down 'to being in the right place at the right time', but gives hints during the text of just how much tedious work is required from a successful statistician.
In his late 60s the author shows only minimal signs of slowing down, from TMS to guest speaking gigs to fine wine collecting, he has become a part of the summer game in England as much as Richie Benaud or anyone else you can name. Long may it be so.