A Kentish Man
Martin Chandler |
Published: 2023
Pages: 238
Author: Barnard, Derek
Publisher: Private
Rating: 3.5 stars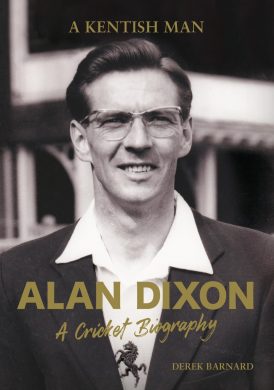 Kent supporters apart I don't suppose there will be many aged under seventy to whom the name of Alan Dixon means a great deal. One Kent supporter who is now aged well over that mark is retired headmaster Derek Barnard, and to him at least the memories of Dixon are such that he felt the need to write his biography.
For those who do require an introduction Dixon made his First Class debut for Kent as a 16 year old in 1950, appeared for the second time four years later, before then embarking on a career that continued until 1970. An all-rounder, Dixon was a stylish batsman and, initially, an off spinner, before adding medium fast seamers as a second string to his bow. He was also a fine fielder at a time when far from all First Class cricketers were.
Three times, in 1959, 60 and 61 Dixon passed one thousand runs, and in 1964, 65 and 66 he took one hundred wickets. Thus a season's double eluded Dixon as indeed, albeit very narrowly, did either part of a career double of 10,000 runs and 1,000 wickets. So Dixon was rather more of a willing workhorse than a shooting star, but a valuable member of the Kent side nonetheless.
The sub-title of Barnard's book is Alan Dixon: A Cricket Biography, and therein lies his narrative's strength, as well as its weakness. He had the full co-operation of his subject who, it is a pleasure to be able to report, enjoys good health and now lives with his wife of almost seventy years in their own home in Devon.
In common with many recent biographies this one begins with a significant moment in its subject's career, on this occasion a quarter final tie in the 1967 Gillette Cup at the Oval between Kent and Surrey. At the top level limited overs cricket was only in its fifth season, and there was just this one 60 overs a side knock out trophy to play for. Kent went on to win the Cup that year, and at the Oval Dixon had the remarkable bowling figures of 12-7-15-7.
From then on the book is almost exclusively a match by match look at Dixon's career. Had he been a more illustrious player that is almost certainly a formula that would not have have worked, but as he was not the detailed examination of the ups and downs of a career such as his carries a great deal more interest.
Nonetheless despite Dixon's involvement in the book he does not add as much to his story as might have been hoped for or expected. Some interesting glosses are nonetheless added, such as Dixon missing out on a wicket on debut as a result of a team mate being instructed to put down a catch to ensure an earlier train home could be caught, and Dixon being taught in 1964 by Brian Close of all people how to eat spaghetti correctly.
Also absent is much in the way of reflection from Dixon, or opinions on the merits or otherwise of those who he played with or against. It would also have been interesting to learn a little more from him about his retirement from the game at the end of the 1957 season, and his decision the following April to change his mind on that one.
In terms of the quality of Barnard's writing it has to said that he has gone about his task very well. I suppose after all those years in teaching he is inevitably going to be a decent wordsmith, and he certainly managed to maintain my interest and, although I did at one stage think I had spotted a couple of factual errors in his match accounts it was a good idea on my part to check in Wisden as it turned out that I was wrong about both.
Being able to write is one thing, but that of itself is no guarantee of a well designed book from a self-publisher. Barnard has published a couple of books in the past one, an index to Wisden in 1984, being from a major publisher, so he either learnt a great deal from that or has a flair for book design. A Kentish Man is extremely easy on the eye and well presented and illustrated. The print run is, I know, pretty small, so if the book is of interest do please contact the author by email at barnardderek6@gmail.com. The cost of the book is £13 plus postage. For those interested in the book in the southern hemisphere I believe that a small stock of signed copies are or will shortly be on their way to Roger Page (rpcricketbooks@iprimus.com.au)