10th Wicket First Class Cricket Record Partnership 307 Runs
Martin Chandler |
Published: 1997
Pages: 62
Author: Riley, John
Publisher: Orchard Printing
Rating: 3 stars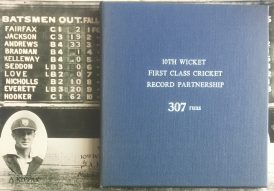 'Records are made to be broken' is one of the tritest observations that a cricket lover, or indeed a follower of any sport can make. There is a feeling with just a few however that they are probably set in stone now, Jim Laker's 19-90, Victoria's 1,107 and all of the cumulative records for runs and wickets that were set in the days when English county cricketers could play upwards of thirty First Class matches in a season.
Another one that I have always been aware of, and have been inclined to put in that category, is the tenth wicket partnership record between Alan Kippax and Hal Hooker that is the subject of this small limited edition book from a quarter of a century ago. That said I did take a look at the ACS Records site after reading the book. It is a splendid resource, listing every tenth wicket partnership of over 100, which is a very long list. Only thirteen of them exceed 200 though, and of those five have been made since 1997, so perhaps Kippax and Hooker's record is not as safe as the others I have mentioned.
The match in question was played in 1928/29 between the two strongest sides in the Sheffield Shield, New South Wales and Victoria. The Victorians batted first and made 376 and, when they had their opponents at 113/9, must have expected a comfortable victory. It was at that point that Hooker came out to join Kippax and their remarkable partnership then took them to 420 and first innings points, important because the match ended in a draw on the fifth day and the New South Welshmen ended the season by taking the trophy with Victoria runners up.
This very small format book comprises an interesting introduction from Riley, written with the benefit of hindsight of course, followed by a contemporary account of the match. He then concludes with obituaries of Hooker and Kippax before setting out, as is inevitably the case from an accountant, a few statistics relating to tenth wicket partnerships as at 1997.
The cloth bound and jacketless little book was originally published in Australia in a signed and numbered limited edition of 250 copies which, in the scheme of things, is quite a large number. In the circumstances the book is not usually very costly when it appears on the second hand market, although the copies that appear often lack the insert slip which tells the reader a little about Riley himself, and the separately packaged souvenir photograph of the scoreboard at the end of the partnership, something which no doubt often comes adrift from the book given that it is more than twice its size and cannot easily be stored with it.
As far as I am aware 10th Wicket First Class Cricket Record Partnership 307 Runs is the only contribution John Riley ever made to cricket literature, which in many ways is a shame, because even if its appeal was always going to be limited it was an excellent idea, and a copy is certainly worth tracking down.