International Cricket Captain 2014 Review
Childish Things release an update to their evergreen Cricket Captain (formerly International Cricket Captain) series each year, and every year I am beset by a quandary – are the year-to-year changes enough to justify purchasing the new version? Especially when, on the surface, the most visible changes relate to player transfers and statistical updates, it often becomes hard to judge whether or not to make the purchase. It is a problem inherent to sports games in general; similar discussions are held year-on-year regarding whether the new release of FIFA is worth the price, given the similarities and differences to the previous version.
I've been using Cricket Captain since 2001, when I was six years old. The 2001 Ashes Edition was a source of great joy to me throughout my childhood, as I led Australia and a variety of English county teams to a wide range of successful and failed outcomes. The last version of the game I purchased was International Cricket Captain 2010 on the iPhone, and after reviewing ICC 2012 I still continued to primarily use the previous edition. Cricket Captain 2014 has changed that.
I will be honest here, I don't like the graphical updates in the slightest. I feel the menu designs are over-the-top and make the game window look far too busy; part of the success of similar sports management games is, in my opinion, related to the minimalistic and functional design. In short, ICC is not a game you purchase for the graphics. It's primary assets are its engine and its database. At the risk of sounding like a pedant, admittedly in a review for a game appealing most strongly to statistical pedants, the display of batting averages to only one decimal point is a source of great frustration. Given the size of the margins on either side of the window, I find it hard to imagine that the designers couldn't find the handful of pixels to continue to display averages to the second decimal point.
Similarly, there are a handful of functional concerns arising from the complete redesign – the inability to use the scroll wheel (or, in my case, trackpad) within selection screens makes finding the player you want somewhat tedious, while the removal of hovering over a batsman's name in-game to see his batting preferences adds extra time when it comes to designing tactics to counter him. In positive news, however, the ability to take over teams in only one form of the game at County level is a very nice touch; if you hate T20, you can focus exclusively on the side's four day campaign or vice versa.
However, the tweaks to the First Class engine have massively improved playability and realism, at least in my experiences. There's a far larger emphasis on building an innings, with more batsmen willing to play themselves in slowly and accelerate as the innings progresses, rather than the far more linear aggression I'd seen in previous versions. Sometimes this can result in players batting too defensively – I've had more half-centuries scored at a strike rate in the 30s than ever before – but generally speaking the rebalancing of aggression has worked nicely.
It has resulted in a game that feels more bat-centric than the past, a change which was long overdue. Bowlers – especially subcontinental spinners – were a recurring, dominant feature of previous versions of ICC, with far too many averaging around the 22 mark in FC cricket, 18 in List A, and down around the 10 runs per wicket in T20 cricket. Meanwhile, having a batsman average above 45 was a remarkable achievement. Has the shift gone too far the other way? Perhaps, but how much of that is the engine, and how much is the incompetence of the man changing the bowlers is hard to distinguish.
The T20 engine is still imperfect, however, throwing up some very strange and often unrealistic examples of cricket. For example, in one English County game Jade Dernbach took 6/6 – a thoroughly unrealistic occurrence indeed – meanwhile, during a season playing as the Rajasthan Royals (or should I say, simulating said season), Shane Watson took 7/18 from his 4 overs. Moreover, in that very IPL season, despite playing only two matches myself (which were both summarily lost by large margins), the Royals took out the IPL title. I'm unsure whether this is a flaw in the engine or a reward for my stunningly good selection policies, but it was unexpected all the same.
Meanwhile, throughout a T20 season with Surrey, using similar tactics throughout proved somewhat successful – similar bowling plans with specific death bowlers, similar batting line-ups to structure chases, similar failures from horrendously out-of-form overseas batsmen (screw you, Messrs Smith and Dilshan). However, in a case of the game reflecting the realities of County Cricket, the occasional game would result in a collapse of epic proportions, or the well-drilled bowling attack conceding 200+ out of nowhere. It's frustrating to play, no doubt, as one does not want to spend their time and energy designing tactics and plans only for their side to be utterly destroyed, but the game is far better for it.
The AI's choice of bowlers can, on occasion, be questionable; in an ATG T20 in which I pitted my all-rounder heavy Australian side against a South African side with 7 genuine bowling options, the Proteas opted against utilising either the talents of Clive Rice or Vintcent van de Bijl, leaving the latter a specialist fieldsman and a wasted spot in the XI. While obviously teams should use their best bowlers, when one concedes over 50 from 4 overs and another is also the opening batsman, one would think the AI would be able to select bowlers in a slightly more detailed way than allocating 4 overs each to the best 5 bowlers irrespective of their actual performance. Any captain who refused to bowl van de Bijl or Rice as the others conceded upwards of 200 would rightly be criticised.
Contracting remains relatively similar to the past, though the values of players seem to be somewhat more intelligent than in previous editions (fringe all-rounders remain suspiciously overpriced, however). The addition of an Offers tab to track who you're in negotiations with is nice, especially when you want to contract more players than are allowed in any given round, however moving forward a Football Manager-style option to manually type in offers, rather than endlessly clicking arrows, would be a lovely addition.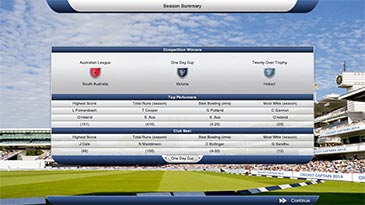 Finally, the game has crashed on me on a couple of occasions, seemingly at random. While my laptop is admittedly overworked and understrength as well as ageing, that doesn't completely absolve the game from its stability issues. I do believe, however, that a patch addressing these issues has been released after I began this review, so Childish Things is obviously on the ball here. 8th Nov 2014 – since this review has been published, Childish Things have released a patch addressing the stability issues
All of this leaves me with the conclusion that the positives of ICC 2014 far outweigh any drawbacks. The updates and reworkings of match engines refresh the game significantly, better reflecting the realities of the modern era of cricket and increasing playability. The statistical database still remains the game's focal point, providing all the information you could possibly want within a handful of clicks. As ever with simulation games, there are flaws, but all in all this year's version of the successful Cricket Captain franchise is a worthwhile purchase.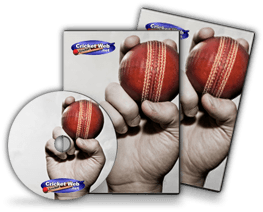 VISIT OUR ONLINE STORE >>