Zimbabwe's ODI Batting Improvements
Rob Cribb |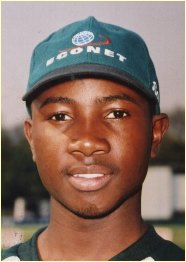 In the midst of what is only a few steps short of complete chaos at administration level, Zimbabwe has still managed to field what is a somewhat decent batting lineup. Whilst the team still hasn't really clicked as a whole with the bat, the individual improvements of all the batsmen have seen them compete. This has often been overshadowed by their poor bowling efforts and the ever-declining state of the country as a whole, but the signs have been there and the statistics back it up.
Vusi Sibanda is the most obvious example of improvement. Having been around the side for years and performing dismally, he has recently played some very useful knocks at the top of the order. Beautiful to watch when on song, Sibanda has transformed himself from the joke of international cricket to a player who could theoretically push for a place in the top orders of some of the stronger ODI teams. In the first two years of his career, he played 27 ODIs for an average of just under 12, yet in the last two years he's averaging 33.52 in 36 ODIs, even accounting for a dip in form against Pakistan.
The real class in the side, however, comes from Tatenda Taibu and Sean Williams. Taibu's wicket keeping has always been what makes him stand out on the international scene, but his batting since his return from exile has been good as well. In his most recent stint, he's played 12 ODIs for an average of 34.63 – particularly proficient against South Africa – averaging over 85 and striking at over 100 in three games. Statistically, these twelve games are a small sample size, but the difference has been even more evident just in the way he bats. He looks a lot more assured against short bowling than ever before and he scores more comfortably on the leg side, making him a more complete batsman in general.
Sean Williams is the player that people should be most excited about. At twenty-one years of age he's averaging above 30 in ODIs, over 38 in the last year and in excess of 45 when Zimbabwe bats first. Obviously he's not breaking any records, but compared to most of the batsmen in Zimbabwe's past, these figures stack up excellently. Again though, the real impression is made by his demeanour on the field. A few years ago he was a somewhat reckless stroke maker – these days he's a mature batsman with a good array of strokes. The transformation has been very evident and the way he carried the batting in the recent series against Pakistan has made people start sitting up and taking notice.
The improvement does not end there, however. Brendan Taylor is averaging over 30 in the last two years; Hamilton Masakadza has finally found a home opening the batting with a noticeable improvement; Elton Chigumbura is batting with a more selective approach and even reserve batsmen Stuart Matsikenyeri and Justice Chibhabha, who were once regulars in the side, have improved their performances when they have played. Masakadza, especially, has been highly regarded for quite some time now and is finally starting to put some substance into his ODI career after starting his Test career with a bang all those years ago as a nineteen year old. Taylor is relishing an extended run in the middle order – where he averages 32.91 in ODIs – after several years of being shuffled between opening and batting six.
Of a much greater concern is the development of the next generation. Whilst the talent and ability has continued to surface itself so far, signs for the next line of players are not great. In the recent Under-19 World Cup, Zimbabwe won a solitary game, failed to pass the 200 mark in any of their matches, had only one player register a half century and hit an embarrassing low when they were dismissed for 59 by Nepal. Perhaps these are the first signs of decline in the standard of players being produced by the country, perhaps it was a poorly selected squad, or perhaps they just had an off tournament, but whatever the reason, it just further emphasises the need for the current players to continue to improve and stay in the country if cricket is to survive in Zimbabwe.
The batting, despite all the problems surrounding not only the cricket team and its administration but the entire country, has found a way so far. Zimbabwe's pursuit of Test status has its detractors and the bowling may indeed be of quite a low standard, but don't be shocked to see more good batting displays in the immediate future, even if not for much longer beyond that.