The Man Who Built Frank Worrell's Team
Martin Chandler |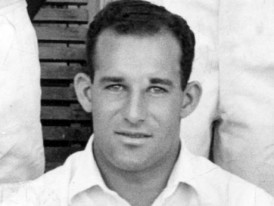 Franz Copeland Murray Alexander is often described as the last white captain of the West Indies, even though he wasn't actually white. Alexander, known throughout his life as Gerry, apparently because of a strong resemblance to another family neighbour of that name, was what used to be known as a 'high brown'. A Jamaican, he was actually a fair-skinned Mulatto of upper middle class origins, whose parents were sufficiently well-to-do to have him educated at the expensive Wolmer's Boys' High School in Jamaica, and later at Cambridge University.
In view of the fact that he went on to play in 25 Tests it is perhaps surprising that Alexander played no First Class cricket in the Caribbean before setting off for Cambridge. Then in England his greater sporting success was on the soccer field. He was a member of the Pegasus side that won the 1953 Amateur Cup final against Harwick and Parkeston. Pegasus were a varsity club, effectively a combined Oxford and Cambridge team. They won the match 6-0 with a passing game that enthused the many who saw it. The game was played at the old Wembley in front of a crowd of 100,000, but times change. Pegasus folded in 1963, and Harwick and Parkeston are now well down the pyramid, competing in the second tier of the Essex and Suffolk Border League.
It will not come as a surprise to anyone that a soccer blue was won by Alexander, and beyond that he was also an England amateur international. At a time when Cambridge boasted a number of Test cricketers there was also a cricket blue in 1952 and 1953. Alexander proved himself to be a reliable wicketkeeper and useful batsman whose batting brought him six half centuries for Cambridge. The highest of them was 99 against Nottinghamshire in 1953. He should have had the century, but needing only the single tamely drove a full toss into mid on's hands.
After graduating Alexander stayed in England for two years during which time he appeared regularly for Cambridgeshire in the Minor Counties Championship, and it was not until early 1957 that he first played a First Class game in the Caribbean. He played a couple of times for Jamaica against a touring side raised by the Duke of Norfolk. More importantly he was also invited to take part in one of two twelve a side trial matches arranged to assist the selectors in choosing the side to tour England that summer.
In the mid 1950s there was no established West Indies wicketkeeper. Against Australia in 1954/55 Alfie Binns and Clifford McWatt had been given a chance before Clairmonte Depeiaza got the final three Tests. Depeiaza then got the first two matches against New Zealand the following season, before Binns got the last two. In the trial matches Binns, Depeiaza and Alexander all got a run out. It was with the bat that Alexander caught the eye when he shared in a partnership of 119 with, of all people, a 19 year old Wes Hall.
Depeiaza was in a difficult position because he was sitting on an offer of a professional contract in Scotland for the 1957 summer, and in the end he accepted that. Reasoning that his previous English experience would help him the selectors eventually chose Alexander. There was no specialist reserve selected, that task falling to Rohan Kanhai. Also with previous experience behind the stumps were Andy Ganteaume and, although he no longer kept, the great Clyde Walcott.
The 1957 tour was, from a West Indian point of view, a dismal one. Three Tests were lost and England had the better of the two draws. Alexander struggled with keeping to the spinners, particularly the mysterious Sonny Ramadhin, and for the first three Tests Kanhai was given the gloves. Kanhai was not much more than a stopper so Alexander was called into the side for the last two Tests. His keeping was adequate but he could do nothing to prevent both games being won by England by an innings inside three days. With the bat his four visits to the crease brought him 0*, 11, 0 and 0 so it was a poor start. Outside the Tests he did at least manage a measure of success with the bat against the counties.
John Goddard retired at the end of the tour so West Indies were looking for a new skipper for the home series against Pakistan in early 1958 and their trip to the subcontinent the following year. Despite criticism of Alexander's appointment in some quarters there was no racial element involved. He was short on Test experience but at 29 was a safe pair of hands. Of the senior players Everton Weekes and Clyde Walcott would be playing in their final series against Pakistan, and whilst Frank Worrell was the selectors first port of call he chose to remain in Manchester in order to finish his degree, so beyond Alexander there was no obvious choice.
Pakistan were beaten 3-1 in the Caribbean. The younger members of the West Indian team blossomed alongside Weekes and Walcott and were well led by Alexander whose keeping, particularly to his pace bowlers, was much improved. Worrell was still the selectors preferred option to lead the side the following year, but again he preferred to remain in England, so Alexander kept the job.
The five Test series in India resulted in a very comfortable 3-0 victory for the West Indians. Only in the second Test, eventually won by 203 runs, were they ever in difficulty.  Alexander won the toss and chose to bat. He must have been having second thoughts by the time he came to the crease at 88-6, all six wickets falling to the mercurial leg spinner Subhash 'Fergie' Gupte. Alexander dug in though and top scored with 70 as his side eventually got to 222. In the second innings Garry Sobers scored 198, and the game ceased to be a contest.
India's problem in the Tests was the fast bowling of Roy Gilchrist and Hall. Hall's series haul was 30 wickets at 17.66 and Gilchrist, who missed the second Test, took 26 at 16.11. Gilchrist was doubtless misunderstood at times, but there was certainly a big chip on his shoulder and he could be a nasty piece of work. His stated attitude to beamers was a beamer is a nasty ball when it comes flying head high at a batsman from my hand. But I have searched the rulebooks and there is not a word in any of them that says a fellow cannot bowl a fast full toss at the batsman which, after all, is what a beamer is. A batsman has got a bat and full tosses should always get the treatment they deserve. Unless the batsman has not got the technique …….. or the courage to face up to them.
As far as the laws are concerned Gilchrist was right in that there was no direct prohibition on beamers being bowled, but there was a provision for the umpires to intervene in the case of unfair play. In those days umpires were always reluctant to do so in such situations, but what Gilchrist's comments illustrate is that, possibly uniquely amongst Test cricketers, he clearly believed the beamer was a fair delivery.
Gilchrist tried a couple of beamers in the first Test. Alexander didn't like it and took Gilchrist, Hall and his other quick man, Jaswick Taylor, to one side after the match and made it clear to them that there were to be no more. Reluctantly Gilchrist toed the line, until the last game of the tour. North Zone were captained by Swaranjit Singh, an old friend of Alexander's and like the West Indies captain a Cambridge blue.
Singh seems to have felt he should have been selected for the Tests, and in his autobiography Gilchrist wrote that he got me riled up right from the start. As to what he did the only example that Gilchrist cites is Singh being announced over the ground loudspeaker as 'the member of the MCC'. That is however a subject on which Sobers had something to add writing that Singh went round criticising Gilchrist, asking who he thought he was, that he was nothing to be scared of and that he would see him off and show him who was the master when they came face to face.
In the first innings Gilchrist shattered Singh's stumps with the first delivery he bowled at him so the reminder of the no beamers instruction Alexander had given him at the start of the game was, at that stage, unnecessary. In the second innings Singh looked rather better and by the time he faced Gilchrist already had a few runs. Gilchrist bounced him. Singh's facial expression told Gilchrist he was angry. The next delivery and it was Gilchrist's turn to feel that emotion. This one was on a good length, and Singh drove it straight past Gilchrist to the boundary. As he reached Gilchrist he said something. According to Gilchrist it was you like that one? Beautiful was it not?
Perhaps unsurprisingly the next ball was a beamer, described by Gilchrist as just about the fastest ball I had ever let rip in my life, and later as great, just great. The drama continued. The next delivery was of full length, and Singh edged that to Alexander, fielding at short leg as Jackie Hendriks was behind the stumps, only for the chance to go down. Two more beamers followed and then it was lunch. During the interval Alexander told Gilchrist that his involvement in the match was finished, and that North Zone had agreed to his being substituted. Given that at that point he had 3-37 to add to his 4-33 in the first innings it seems unlikely they took much persuading.
After the match ended Alexander called a meeting of the selection committee. Those involved with Alexander were the tour manager Berkeley Gaskin, Sonny Ramadhin and JK Holt. The decision that Alexander later communicated to Gilchrist was a terse one. According to the bowler he did no more than walk up to him and say; Gilchrist, you don't go to Pakistan. You leave by the next plane for home. Good Afternoon.
There had been issues between Gilchrist and Alexander throughout the tour. Gilchrist's omission from the second Test was for disciplinary reasons. He had been irritated by a lack of effort being made by teammate Basil Butcher during a session of fielding practice led by Alexander. After taking one catch Gilchrist quickly flipped the ball towards Butcher who, with insufficient time to react, was hit on the leg and reacted angrily. Despite being instructed not to by Alexander Gilchrist left the field and his punishment was to be dropped for the Test. Even then Alexander had pressed for Gilchrist to be sent home, but was persuaded by the other committee members to compromise.
Later on there was an incident when, if Gilchrist is to be believed, he managed to upset Alexander again. On this occasion the story, as Gilchrist tells it, is simply that he shouted across the dressing room at Hall and was admonished by Alexander for being noisy. According to Gilchrist the manner was that of a teacher rebuking a small child. Gilchrist claims not to have reacted to what he must have found an embarrassing incident, choosing instead to sit down and seethe.
Gilchrist never played for West Indies again. Oddly, despite his belief that beamers were acceptable he did later express contrition stating simply in his autobiography, I take the blame, it was my fault and I am sorry now. He made no comment on Alexander's captaincy but of his wicketkeeping wrote he was so good that he did not need a first slip to bowlers as fast as Wes and me! He went down so often in that position, fair and square on his right arm, that he had to leave the field several times to get the red raw flesh dressed. At least he seems not to have borne a grudge.
The Gilchrist incident must have hit West Indies morale hard. They went on to lose the three Test series in Pakistan that followed by two Tests to one. Amidst feelings of irritation at the poor quality of the local umpires Alexander, according to Sobers, did express some regret at not having Gilchrist available to him, although that is of course by no means the same thing as expressing any concern that his original decision was wrong. A number of Alexander's obituarists make reference to another  incident when Gilchrist pulled a knife on Alexander. To be fair to them none assert the allegation as being a hard fact, and all my efforts to find a credible source for the story have failed – it seems highly likely therefore that a story is exactly what it is.
Hit Me For Six, Gilchrist's autobiography, appeared in 1963. Another claim that he made in the book is that a number of his teammates, led by Conrad Hunte, tried very hard to persuade the selection committee, by which he presumably meant essentially Alexander, to reverse the decision. Of the party Kanhai, Hunte, Sobers and Hall all went into print in the 1960s, but none mentioned the incident in any detail at all. It was only when Sobers published his second autobiography, in 1988, that he gave any detail, and he expanded on that slightly in his third offering in 2002. No one else from the squad has written about the episode.
In many ways the most authoritative book on West Indian cricket is Michael Manley's History of West Indian Cricket although he adds nothing to what is in the public domain regarding Gilchrist's dismissal, and indeed goes so far as to follow the line given at the time that a pulled muscle was the cause of Gilchrist missing the second Test. To be fair we only have Gilchrist's explanation to the contrary, but as he points out it is hardly likely that, if he had been suffering from a pulled muscle, three days after the Test finished he would have been bowling at full tilt against an Indian Universities XI and taking 6-16.
What Manley does do, which certainly strikes a chord, is to describe Alexander as a tough, upright and honourable disciplinarian. He also makes the point that Alexander was tasked, following the disaster of 1957, with getting a grip on the discipline of a young side suddenly lacking so many of its senior players. Given that none of the three Ws, John Goddard or Denis Atkinson travelled to the sub-continent he was very much on his own. That Worrell would almost certainly have been better able to control Gilchrist might be right, but he wasn't there.
There was of course an obvious solution to the problem that Swaranjit Singh caused, and that was simply for Alexander not to have played Gilchrist. Hall, Taylor and Sobers were all rested for the match, so why not Gilchrist? But such a decision would probably only have delayed the inevitable. Gilchrist never did change. In his many seasons in the Lancashire Leagues he was regularly embroiled in controversy, and more than once his temper led him to have to face the criminal courts in Manchester, so I suspect that even if he had been given a bit more rope by someone like Worrell he would soon have hung himself with it.
The next series for West Indies was against England in the Caribbean in 1959/60. In four previous visits England had failed to return victorious. This was a rapidly improving West Indies side against an England that had, contrary to expectations, been badly mauled in Australia in 1958/59 and were then faced with a lamentably weak Indian side in 1959 who barely caused them to break sweat. The home side were not without problems of their own though. Gilchrist was gone and Collie Smith had tragically died in a road accident in England that left the driver of the car in which he was travelling, Sobers, understandably depressed and also suffering from a hand injury.
The captaincy was an issue as well for West Indies. At 35 Worrell was back and available. Alexander's view was that Worrell should take the captaincy straight away, and that he had no difficulty at all in helping and playing under a man who was, when all was said and done, one of his great cricketing heroes. The selectors would have none of it however. They were impressed by the discipline that Alexander had brought to the team, and the way in which he had brought the best out of his young charges and they believed continuity was needed for the England visit, so Alexander  stayed on and Worrell played under him.
Thanks to some superb bowling from Fred Trueman and Brian Statham England won the second Test. That they held on to that lead was due to cynicism rather than ability as first Peter May, and then after he had to return home ill his deputy Colin Cowdrey, adopted some very negative tactics and at the same time slowed the game to a funereal pace. As the umpires chose not to intervene there was little Alexander could do and no blame could be attached to him for the defeat. His own form behind the stumps was excellent and his 23 victims equalled the then world record for a five Test series.
The next task for the West Indies captain was to lead a side to Australia. Once, against England at home in 1947/48, George Headley had captained West Indies but no black man had ever led them overseas. There was a concerted campaign, led by CLR James through the pages of The Nation, for Worrell to be appointed. James made it clear that he held the 'race card' in reserve, and chose as his primary battleground what he described as glaring inadequacies in Alexander's cricketing ability and his captaincy. In that he went well beyond what was fair comment, something he acknowledged in 1963 in his seminal contribution to cricket literature, Beyond A Boundary.
Whether the West Indies Cricket Board would have appointed Worrell without pressure being heaped upon them will never be known, but Alexander was happy to stand down. Worrell could not, as his two predecessors were similarly unable to do, return from Australia victorious but that hardly mattered. The series is talked about to this day and in what was a difficult time for Test cricket the world over aroused enormous interest and did much to restore interest in the game at its highest level.
The first Test was famously tied. After that Australia won the second comfortably and West Indies the third. The fourth Test was drawn amidst Australia's last pair hanging on grimly for a dramatic hour and fifty minutes. In the final Test another exciting denouement saw the home side take the series 2-1, courtesy of a narrow two wicket victory. Alexander's performances were remarkable and his role crucial.
In the tied Test Alexander scored 60 and 5 and was a key figure in the frantic finale. First he caught a top edge from Benaud, and then skilfully gathered a less than perfect return from Hunte before diving towards the stumps to complete the run out of Wally Grout which set the scene for Joe Solomon's direct hit to dismiss Ian Meckiff and complete the tie. In the second Test there were innings of 5 and 72, and then in the third Alexander scored the only century of his career in the second innings following a first innings duck. In the fourth match he scored 63 and 87, both unbeaten, and 11 and 73 in the final Test to go with 16 catches. His average of 60.50 was comfortably the highest on either side.
The tour to Australia marked the end of Alexander's cricket career and he retired to concentrate on his career as a veterinary surgeon, another field in which he was held in high regard. After retirement he was a Jamaican selector, and in 1974/75 he managed the West Indies party that toured the sub-continent. Skipper Clive Lloyd found him charming and helpful and, harking back to the progress made under his captaincy, spoke of Alexander's gift for moulding team spirit and the depth of his loyalty to the cause. Lloyd told his biographer that Alexander loved the West Indies as much as anybody else.
Alexander also spent some time as president of the Kingston Club and was often seen at Sabina Park. There is little evidence that he played the game at any level after retirement, but in March 2000 he was persuaded to turn out for a West Indies Masters side against Northamptonshire. By then he was 71 and his teammates were all at least 15 years younger than he was. He didn't bat or keep wicket, but he twice did something he never did in his First Class career by accounting for brothers Alec and Graeme Swann with the ball.
Gerry Alexander was 82 when he died in Orange Grove, Jamaica in April 2011. His wife of many years, Barbara, had died a few weeks before  him.