The First Controversial Pakistan Cricketer?
Martin Chandler |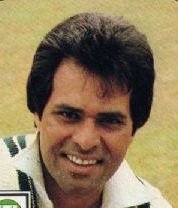 There have been some precocious talents from Pakistan, and in some cases stated ages have been called into question, but there seems no doubt that Younis Ahmed was just 14 years old when he made his First Class debut, in the 1961/62 season, for a team of youngsters representing the Pakistan Education Board against South Zone in the first round of the Ayub Trophy.
There are some doubts about the true status of some Pakistani domestic fixtures in that period, and the game proved to be the Board's only such engagement under that name. There were four other debutants in the side as well as Younis. It is true that two members of the team never played a First Class match again, but opening batsman Mohammed Ilyas went on to play ten Tests, so it would be churlish for an Englishman to suggest other than that the match probably falls on the right side of the line.
At the time of Younis' debut his brother*, Saeed Ahmed, ten years his senior, had already been playing Test cricket for four years, although there is no reason to suppose that the family link played any role in Younis' rapid rise. That first game also proved to be his only appearance for two years, until in the 1964/65 season he found a place in the Lahore Education Board side that advanced to the Ayub Trophy final before losing at the last hurdle to Karachi. Despite his tender years Younis was entrusted with the captaincy, and with Majid Khan was part of a strong middle order.
At the end of that domestic season Younis came to England and had an impressive trial with Surrey. He needed to complete a two year qualification period before he could play in the County Championship, but the 17 year old did play one first team game, and in scoring 21 and 66 against the South African tourists, Peter Pollock included, he laid down a marker for the future. The mighty Surrey side that had won the title in seven successive seasons through the 1950s was no more and the county were no longer a power in the land. As Younis spent 1966 scoring more than 1,000 runs at almost 50 for the second eleven his qualification in 1967 was eagerly awaited.
In a sense Younis was a one trick pony, in that his batting aside there were no other strings to his bow. He did take a few wickets from time to time with either orthodox slow left arm or gentle seamers, but 49 wickets in a career extending over a quarter of a century adequately illustrates that his bowling was no more than an occasional feature of his game. His fielding was certainly nothing special, even as a youngster, when his shortcomings were a source of constant frustration to the Surrey skipper, Mickey Stewart.
But Younis' batting was a joy to watch. The Cricketer described him as Left handed and eager, he has all the better characteristics of Pakistan cricket – balance and quick footwork, supple wrists and a taste for exotic shots. Stewart, an early admirer of Younis the batsmen said of his debut innings against South Africa Even at that age he played in a very aggressive, confident way, looking to establish the ascendancy over the bowlers. He chose to tolerate the poor fielding, accepting that Younis rapidly became a real match-winner. He could always score runs, all round the wicket, even when it was difficult.
That first full season was something of a mixed bag. There was a first Surrey century against a strong Derbyshire attack, but overall an average of 25, and a place well down the Surrey pecking order was slightly disappointing. The following year Wisden finally stopped referring to him as Mohammed Younis, the name on his passport. His average went up just a couple of points, but this time only John Edrich headed him in the county's averages.
In the English winter of 1968/69 England had been due to tour South Africa, but the D'Oliveira Affair put paid to those plans, so a tour of Pakistan was arranged instead. Younis was invited to play by the Pakistan Cricket Board, but it was an offer he could not accept. The Board expected him to pay his own air fares, and proposed a fee for playing so low that Younis simply could not afford to forego the employment he had arranged in England.
The following winter was different however as Younis, in cricketing terms, came of age in 1969. There were more than 1,700 runs at an average not far shy of 50 and he was seventh in the national averages. After that performance, and hints from Younis that he wanted to play for England, Pakistan did make sure he was back home for that winter's Test series against New Zealand and he made his debut at Karachi, batting at number three amidst a trio of Mohammad brothers. In a drawn encounter played out on a sluggish wicket he contributed a stylish 62 to his side's second innings. The second Test saw Pakistan fall to their first ever defeat by the New Zealanders. Younis scored 0 and 19, no worse than most of his teammates, but it was he and Mushtaq Mohammad who paid the price and were dropped. Mushtaq was soon back but Younis chose to make himself unavailable for the 1971 tour of England.
Back with Surrey Younis continued to make a name for himself and delight the county's supporters, although his teammates were less impressed. His arrogance irritated them and his fellow batsmen, John Edrich and Graham Roope in particular. He was not always good for team spirit, and according to Pat Pocock would bring out the worst in players like Roope and Geoff Arnold, both of whom were easily persuaded that the whole world was in conspiracy against them, but in his early years at least he avoided major controversy. That all changed at the end of the 1973 season when Younis accepted an invitation to tour South Africa with a strong touring party raised by businessman Derrick Robins.
Robins had taken a side to South Africa the previous year although all the players on that occasion were white. This time he persuaded the South African government to allow invitations to be extended to Younis and West Indian John Shepherd. This involved giving them the status of 'honorary whites', the practical effect of which was that they each had to go everywhere with an official, effectively a minder, whose job it was to ensure that all they came in contact with were aware that their presence in white only areas was permissible.
The Pakistan Board asked Younis to decline the offer. He decided to go anyway, commenting; There is no mystery why I came on this tour …… I was offered GBP100 per week plus all expenses for this eight week trip. Where in England could any county cricketer match that sort of payment in an English winter? He went on to suggest that in those circumstances he had no choice but to go, but of course he did. Every man has his price and Younis' was clear. A lifetime ban from the Pakistan Board swiftly followed. Writer Anwar Husain spelt out the thoughts of most when he wrote; He has disgraced not only his country but also his race.After the tour ended in December Younis agreed a three month contract to play and coach for Universal CC in what was then Rhodesia, the rewards were the same – GBP100 per week.
Unhappy at his treatment by the Board Younis was critical of the professionalism, or rather lack of it, in Pakistan cricket, and reaffirmed his desire to be considered for England. That hope dashed by those who ran the English game he performed a volte face and in July 1974 wrote to the Board asking for the ban to be lifted, and apologising for his action in going to South Africa in defiance of Board and Government policy. The request must have been seriously considered as the Board asked Younis to speak to the management of the side that was touring England at the time, but they took their time over a decision, and as in the meantime Younis had gone back to the Cape with Robins' 1974/75 party it was no surprise that their unanimous decision was to leave the ban in place.
There was a dip in form for Younis in 1977, and things were little better in 1978, a dreadful season for Surrey. The county decided that changes had to be made and Roger Knight was brought in from Sussex and given a new broom. Not renewing the contracts of three senior players was his first move, Younis included.
Younis felt he deserved better, so he decided to pursue a claim for compensation for Unfair Dismissal against Surrey, and an Industrial Tribunal case followed, in which he was unsuccessful. A year previously Bishen Bedi had pursued a similar case against Northamptonshire. He had lost as well, but at least he managed to persuade the Tribunal that it had the jurisdiction to hear his claim, so it was dismissed on the merits. Younis couldn't get past first base, as he failed to satisfy the Tribunal that he had clocked up the necessary 26 weeks continuous employment he needed to have in order to clear the initial jurisdictional hurdle. The argument was the same in both cases. A cricketer only works in the summer and is free to pursue other employer for seven months of the year so how could he establish those 26 weeks? It may be that one or other court made an error of law, but it is much more likely that the differences in the way the contracts of Bedi and Younis were worded were sufficent to lead to different results.
By the time his Tribunal case was dismissed Younis had already found new employment with Worcestershire. In many ways the move vindicated Knight's decision. Younis hit a rich vein of form and enjoyed the best season of his career, averaging 69.95 in the First Class game, and being headed in the national averages only by Geoffrey Boycott. There were two centuries in the Sunday League as well and, even if the pleasure was tempered by his new employer's defeat, a doubtless satisfying one in the Benson & Hedges Cup against Surrey.
By 1980 Younis had served his ten year qualification period to finally make him eligible to play for England. In his closing two seasons at Surrey he was not absolutely certain of a berth in the county side, so it seemed academic only, but after 1979 he had become a real candidate. Unexpectedly, but perhaps unsurprisingly, the 1979/80 close season also saw his life ban from the Pakistan Board lifted.
The good form continued between 1980 and 1982 but no offers from either country were forthcoming. Despite the prickly and abrasive Younis having, according to Pocock, mellowed somewhat towards the end of his time at Surrey his essentially fiery nature remained, and his being suspended by the TCCB for one match in 1981 cannot have helped his Test ambitions. In rapid succession he had shown dissent by kicking over the stumps after being given out in a Championship match at Chesterfield and the following Sunday, on one of the rare occasions he turned his arm over in a List A game, had openly questioned an umpire's decision in calling as a wide a delivery he sent down to Gordon Greenidge.
Then in 1983 Younis parted company with his second county. This time he was sacked, his offending conduct being to place a bet for GBP100, a significant sum now and a substantial one then, against his county in a game in which he was down to play. The weather caused the game itself to be abandoned, but for Worcestershire it was too much, and they tore up Younis' contract. He did appeal, and was represented by Counsel before the Executive Committee, and he was also assisted by Jack Bannister in his capacity of secretary of the Cricketers' Association. His explanation was the none too convincing one that he had placed the bet in order to cover his win bonus in the event his side lost. It is difficult to imagine that he can have had any confidence in his argument – certainly I am not aware of any legal action following his failed appeal.
At 36 and with such a chequered history it was perhaps something of a surprise that Younis found a third county, Glamorgan, who were willing to employ him, and particularly that they decided to give him a three year contract. In the first season he comfortably exceeded his thousand runs for the season, and 1985 was almost as impressive as 1979 had been. There was an average of almost 65, the satisfaction of a century against Worcestershire and the achievement, with countryman Javed Miandad, of a county record stand against the visiting Australians. In 1986 Younis topped the county's averages, but his aggregate was down, thanks to his not playing again after the end of July. Again it was a problem of his own making. He had been fined GBP750 by a court in Cardiff for assisting his wife (prior to their marriage) in running up a GBP254 hotel bill using a bogus credit card.
After more than twenty years in the English game Younis decided to make a return to domestic cricket in Pakistan in 1986/87 for the first time since 1970. His history did not prevent his being given the captaincy of Lahore City and, as he habitually did with a new side, he started very well, with 110 and 62 against United Bank. That winter Pakistan embarked on a long five Test tour of India. They drew the first two Tests, without their batting looking at all solid and, remembering their years together at Glamorgan Javed suggested that Younis might be the man, and he was drafted in.
It was more than 17 years after his last appearance, in which time Pakistan had played 104 Tests, that Younis picked up the threads of his international career. In the third Test he scored just 14, but the weather had the last word. In the next Test, another draw and as events turned out the final First Class match of his career, Younis scored 40 and 34*, and showed that he was as combative as ever when he embarked on a row with Sunil Gavaskar. In the previous Test Younis had shown some petulance in throwing the ball down in disgust after Gavaskar was given the benefit of the doubt. Following another appeal against Gavaskar being turned down Sunny asked Younis Will you stop complaining now?. The ensuing discussion between the two veterans became so heated that it was necessary for the umpire, assisted by Indian spinner Maninder Singh, to intervene. Skipper Imran was doubtless not unhappy to see such passion, but Younis then made a bad mistake, and one which almost certainly cost him the chance to return to England in the summer of 1987 as part of the Pakistan touring party. He complained of a sore neck after the match and, to maximise the likelihood of his being fit for the next Test, he was told to stay in the team hotel and rest. Instead he chose to go to a night club. Imran was not impressed, and after that there was no way that Younis would be playing for Pakistan on his watch.
After he was left out of the 1987 party Younis was furious. An article appeared in a Sunday newspaper in England in which he made allegations of drug taking amongst the Pakistani side in India. Qasim Omar did much the same and both were banned for seven years as a result. This time Anno Domini had the last word and there was to be no return, but Younis chose not to keep completely quiet, and three years later he was talking to the press about Imran again, accusing him of ball-tampering in that comeback Test in Jaipur.
Since the First Class game gave him up Younis has, through coaching and club appointments, generally earned his living from cricket, and as a four match ban imposed in 1991 by the Zimbabwe Cricket Union demonstrated his committment to the cause was undimmed. There were however one or two odd ventures, the most bizarre of all was when his face appeared in an advertisement in The Cricketer in 1989. There were two aspects to this, the first being the straightforward one as to why a financial planning company who valued their reputation should use a convicted fraudster to try and attract people to become its representatives. The second oddity was that the man whose smiling face appeared alongside that of Younis was one of the teammates with whom he had such a difficult relationship at Surrey, Graham Roope. In adddition to financial services there were a couple of ventures into the restaurant trade, once in London and once in Johannesbourg. The most recent employment that I can trace is back in cricket, when in the late 2000s Younis was coaching Harpenden.
Exactly what Younis Ahmed is doing in 2014 I know not, but I doubt he is idle, or bored!
---
*When this article was initially written it was believed, as per sources such as Kim Baloch's Encyclopaedia of Pakistan Cricket and Christopher Martin-Jenkins Who's Who of Test Cricket, that Younis and Saeed were half brothers. In 2016 Younis' autobiography, Lahore to London, was published, stating that in fact he and Saeed were full brothers.