Spare the Spin, Spoil the Team
Corey Taylor |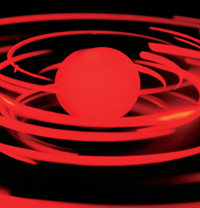 The more things change, the more they've stayed just as bad as they were. Just over a year on from this article, the spin bowling problem in Australia is further away from resolution than it was. The best-performed and most regularly selected spinner in the country has been Nathan Hauritz, known more for his containing line and darts than actual ability to spin the ball. The basis of his selection seems to have been his even temperament, greater acceptance of his role for containment purposes than other spinners have been willing to wear and predilection for doing exactly as he's told. All indications are that he's just happy to be there.
It's not exactly covering new ground to say that the problem extends far downwards too. For years now, attacking spinners who've occasionally gone for runs have been a luxury in Australian cricket. The problem used to be contained to places where the local Shield strip was a road but with the gradual flattening of all Australian pitches, it's become more widespread. Spinners just don't get much of an opportunity to really spin the ball and take risks, lest their captain removes them from the attack at the first sign of trouble.
It's the elephant in the room which never really went away even when Warne and MacGill were around, even at district level with only a few players daring to break ranks to expose it. Former South Australian left-arm wrist-spinner cricketer Matthew Minnegal, known as a huge spinner of the ball, was told by club coaches if he bowled straight, he'd play A-grade but if he tried to spin it, he'd be in C-grade. What followed was many games in A-grade but ignoring spin skills meant when he was picked for South Australia, he barely spun the ball at all and his figures blew out. This was a player who had much potential and his story has been repeated all over the country for years.
It therefore comes as no surprise that the products of such a system who've stuck to the script have been given the greatest opportunities for their state sides and Australia. Spinners are seen as only to be used if the pitches are roaring bunsens or if picked, to bowl tightly and any signs of batsmen going after them results in instant banishment to the outfield. The selection of Jason Krejza in India was a (surprisingly, for the current selection panel) courageous selection and although his 12 wickets for the match were somewhat expensively obtained, it was a sight for pace-addled eyes to see batsmen beaten in flight and with spin rather than getting out trying to send the ball into orbit.
Less courageous was Krejza's non-selection after the following Test in Perth against South Africa where it was deemed unacceptable that he didn't take a wicket in SA's second innings, as if spinners struggling in Perth was a new phenomenon. We've not seen him again in Australian colours, instead satiety is offered by non-spinners in the form of dart-bowlers or medium-pacers who can bat. The cause isn't helped by comments from the chairman of selectors, Andrew Hilditch, regarding the selection of Hauritz as a defensive option;
The word attacking is a bit overrated really, to assert pressure from one end is attacking cricket," Hilditch argued. "Some spinners you regard as more attacking might spin the ball a bit more, they might be a bit more erratic, but really it's about asserting pressure and performing the role the captain wants. Certainly Nathan did that very well in the times he's played, because we wanted to tie up an end, assert pressure from that end, keep pressure on batsmen and relieve the fast bowlers."
Emphasis mine. Enough said, really.
This trend is observed at state level too. If the choice is between a spinner of medium-pacer who can bat, most state sides have gone for the latter. With pitches as pace-friendly as they've been, it's hard to blame them. But selection is only part of the issue. The cowardly risk-free policies towards spin bowlers who are selected plays its part. How is Australia to develop a reasonable back-catalogue of spin bowlers when being selected is a somewhat bittersweet experience, bereft of spin, if it happens at all? Australia is currently reaping what it didn't sow whilst there were Warnes and MacGills doing the job.
It is indeed quite a reversal from what was the case in the 90's. During that time, the South African team was mocked for ultra-conservative captaincy, especially regarding their spinners. Now, an enterprising captain allied with a relatively average spinner who is prepared to flight the ball and is unafraid of being hit around a bit has resulted in wickets for the bowler and wins for the team. Imagine if their spinner was world-class. Contrast this with Australia's far more conservative attitude and it's impossible to see how anyone could be surprised that Australia's spinners aren't taking regular wickets.
The reversal is complete and the indirect problems caused are eerily similar to South Africa's in the 90's; of late Australia's top-order has struggled to make an impact in Tests or limited-overs internationals against even moderate spinners. Their skills against such bowling have been dulled by CA's near total refusal to cultivate their own spinners at grade and Shield levels. Now we're left with the totally unedifying sight of prods and pokes around the pads against Botha and co in South Africa at home and away with no improvement despite personnel changes against Afridi and others. It begs the question; how was this allowed to occur?
In a bid to address the decline, a summit at the Cricket Australia's Centre of Excellence (CoE) has been called for June, the invitees comprised of names like Warne and Jenner along with John Davison, the CoE's spin coach. The use of spin bowlers by captains is likely to be the hottest topic on the agenda as well as the impact of T20 matches and 'dot-ball cricket' which has relegated spin bowling to suffocating rather than attacking lines and relieving the pace bowlers.
The direct impact of such a summit is questionable. When the man at the very top of selection for Australia's cricket team is a proponent of the above way of thought regarding spinners, change at that level will be very difficult to achieve in the near-term. It would be wrong to assert mandated selection at lower levels as has been suggested by some. Any team member, spinner or not, should earn a spot on merits and captains/selectors should never be impeded in picking the best team as they see it to win matches and trophies.
The impact of the summit is likely to be indirect. Encouraging district and Shield captains to exercise patience with spinners in their squads is crucial. Allied with this should be education as it would appear that some captains really don't know how to deal with their spinners, what fields to set and what to do if batsmen start getting after them. An acknowledgement that spin bowling in first-class cricket is far different to spin in limited-overs matches is also essential. The expectations must adjust. Dot-ball cricket, whilst crucial in T20 cricket, is not an effective wicket-taking strategy in longer forms of the game. More direct action targeting pitches around the country should also be considered as they directly impact on selection.
The erosion of clout a spinner has in teams was mooted well before the first T20 match and it has come to pass. For teams to win Test matches in all conditions, the cultivation of spinners in Australia must begin soon. This cannot be looked at as a recent problem but as one which has infected Australian cricket for many, many years. As evidenced by the decline in spectator interest in the pace-dominated 80's and in recent years after the explosion in the game's popularity in the 90's, cricket needs variety. A spinner jamming the ball into the batsmen's pads and bowling greater than 95km/h just isn't as interesting to watch as the drama unfolding when batsmen are tied in knots by good spin or the counter attack by a spinner after a batsman has hit a few boundaries. The reversion to the conservatism of years past must be looked-upon as a bad thing for the game as should the generic nature of the cricket on display. The public is watching or isn't, as television ratings and attendance data would suggest. Waiting for a stunningly brilliant spinner to arrive is pointless, Australian cricket needs to act now and hopefully the summit is the beginning of more direct action to follow.