So, who the heck are you?
Neil Pickup |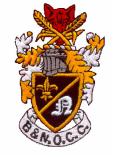 It occurred to me this afternoon that I'd never bothered to properly introduce myself in last week's column. So for those of you who've never found yourself being triggered by my right index finger, here's the first draft of my autobiography.
Granted, I'm aware that 22 is a little young to be considering a self-penned memoir (unless, of course, you've played a handful of Tests, a smattering of ODIs and are getting someone else to turn your one-liners into entire paragraphs) – but bear with me, I'm not asking you to shell out ?16.99 for this at your local branch of Waterstone's. I'm painting the background, and setting the scene for the season to come. I'm also silently smarting at having the "veteran" tag slapped upon me by site owner James Nixon last week, and feeling nostalgic enough for a re-run of my career highlights reel. Don't blink.
Ever since seeing Graham Gooch bulldoze his way to 333 against India at the tender age of four, I've been hopelessly lost to the ways of our game. I've also been equally hopeless at maintaining any degree of dignity on the field of play of said sport. My first runs were scored, off an outside edge, at the age of 12 in an opening stand that spanned nine overs for as many runs. It was a Twenty20 match. The first shot that scored runs in the intended direction didn't come until two summers (and four consecutive ducks) later, when I pulled a long hop to the fine leg boundary in an unbroken last-wicket stand of 40 in four overs. Needless to say, I spent most of them at the non-striker's end.
With hindsight, it's remarkable that I maintained any enthusiasm, let alone saw it swell. It's also remarkbale that I was ever selected in a side as a specialist batsman again. My forte in my youth was floated leg-spin, a skill that deserted me in the two years between that aforementioned boundary and the next time I found my way onto a batting scorecard.
It was around about this time that my attention turned to coaching, and over successive winters I qualified as a Level I and Level II coach as I moved to Exeter University. It was then that being part of cricket, rather than simply watching it, truly became part of me. By the last of my four years in the South West, it became the defining act of the summer, and virtually every day fell to a domination of leather and willow.
Not only was I coaching and managing club and district representative sides, running up phone bills containing far more numbers that any list of batting aggregates, but I had finally discovered a niche in a side that I could fill – behind the stumps. It's something I'll certainly talk about again later (probably after the latest hopeful takes his turn on England's gloveman merry-go-round), and it's something that made me concentrate more on my batting. I began 2005 with 26 runs at a career batting average of 2.36, and finished 2007 with 263, at 6.58. It's still not much, but do take into account the fact that I didn't score any intentional runs until the age of 14.
2007, however, brought the end of the Devonian chapter of my life (the demographics of recruitment for primary school teachers are not something I intend to bore you with: it's suffice to say that there were a good hundred applicants for each post). A Google search, a speculative e-mail and a return phone call later, I was on the path to Oxford: a story at its very beginning, and one that will unfold on the HTML of this blog.
A story that, this very week, has a new subtitle: my search for a new club side is over. Bicester and North Oxford CC, of the Cherwell Cricket League, is the setting for 2008. The passing of the calendar has cured the January disease. Here comes the summer.