Siddle & Gough – honour without success in Ashes contests
Marco Trevisiol |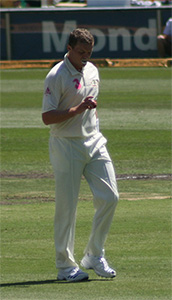 Later this month Peter Siddle enters into his 4th Ashes series and his record and reputation in these series is rather contradictory. On one hand he is respected by Australian and English fans alike as an honest, hard-working paceman who is capable of bowling inspired spells of bowling. In short, he is someone who many would epitomise as the perfect type of player to have on one's side, yet his record in Ashes contests has been marked by a distinct lack of team success with barely any wins to show from having played in three full series.
Why is this and what is lacking in Siddle's game to make him lead Australia to more wins than he has? Perhaps one way to look at this is to examine a bowler from Ashes contests in the 1990s and early 2000s who has many similarities with him: England's Darren Gough.
Gough made his Ashes debut in the opening test of the 1994/95 tour in Brisbane and in an era of dreary, flaky English players, he was the equivalent of a breath of fresh air. So impressive was he in his determination and mindset that not only did English fans take to him but he was one of the very few English players in this era that Australian players and fans respected.
Apart from his whole-hearted efforts and admirable skill, Gough evoked sympathy from Australians because his own team seemed to be conspiring against him at times. In the 1994/95 Ashes, he was absurdly not given the new ball until the 3rd Test despite clearly being the most dangerous of England's bowlers from his opening spell of the series. When belatedly given the new ball in Sydney, he decimated Australia with 6/49 which saw Australia skittled for 116.
As well, Gough was often let down by his own teammates in the field. Especially so on the 1998/99 tour where it seemed every teammate was taking a turn in dropping a catch off his bowling. A particularly notorious example was late on the opening day of the series where he had Steve Waugh & Ian Healy dropped off his bowling. Healy & Waugh both wouldn't be separated well into the following day's play and after they had both scored centuries.
But as admirable as Gough was in so many ways in Ashes contests, a brutally honest assessment would show that he probably just didn't quite have enough quality to be the bowler that could lead England to Ashes glory. Due to his relative lack of height, he was a skiddish type of bowler who could leak runs easily when not totally on his game against high-quality Australian batsman. One such example was in the 2nd innings of the 1998/99 Brisbane Test where aggressive opener Michael Slater took him on and dispatched him to all parts of the ground; as a result he conceded 50 runs off 6 wicketless overs.
Similarly in the 2001 Ashes (when he was just past his peak), Gough had little answer against an aggressive and great Australian batting lineup. He consistently conceded over 4 runs an over in the series and it was obvious by then his best Ashes performances were behind him.
Considering how revered he was by England and Australian fans alike, it may surprise some that his overall Ashes bowling record isn't that impressive – 74 wickets in 17 matches at an average of 30.81. That only 3 of those matches resulted in victories is also noteworthy.
In the modern Ashes era, it is remarkable how similar Peter Siddle's Ashes status and record is to Gough. He is respected as a wholehearted contributor by teammates and opponents alike, he has had moments of greatness in Ashes battles (like Gough he has taken an Ashes hat-trick) but overall he seems to lack that element of guile and class that would make him an Ashes matchwinner.
Siddle's weakness seems to be that he is not particularly high-class in terms of seam and swing usage and hence not a top-class new ball bowler; indeed he is probably at his most effective bowling lengthy spells with the old ball creating pressure through accuracy. He is a fine first change bowler but hasn't really provided enough match-winning spells to be considered top-class.
From 15 matches he has taken 51 wickets at the ordinary average of 32.09 and significantly only 2 of those matches have resulted in victories.
Despite his modest Ashes record, Siddle is a certainty to be picked for Australia's first Ashes Test in Brisbane and could very well play all 5 Tests as he has done in the past 3 series. In all of those previous series he has been only intermittently effective, providing a mixture of quality bowling and forgettable, wicketless performances. For example in the 2010/11 Ashes, Siddle made a stunning, headline-making start on the opening day of the series in Brisbane with a hat-trick and innings figures of 6/54. But just when it seemed he would be the decisive factor in the series, he was disappointingly anonymous in the next 4 innings, taking a solitary wicket while conceding 244 runs. It is ironic that Siddle is perceived as a consistent, reliable workhorse when his Ashes performances have been defined by this patchiness. For Australia to regain the Ashes, it is likely Siddle will have to provide an improved level of performance on his previous Ashes record.
Whether he is capable of that, time will tell.