Pietersen's batsman role just as vital to England
Paul Wood |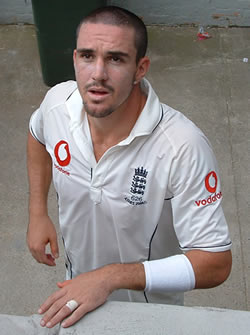 Relinquished of his role as England captain, Kevin Pietersen will have felt a number of emotions in the last two weeks. Anxiously he will have awaited the ECB's decision to his ultimatum regarding his and Peter Moores respective positions, then the hurt of not receiving the full backing (from the board and allegedly some of the players) he may have expected, now the feeling of unfinished business with the captaincy role, but no clear signs of regret. He believed what he was doing was for the right reasons, although on reflection maybe there were other ways around the situation.
Pietersen's single-minded determination to succeed, presumably at anything he does, was always likely to upset one or two people along the way. Not content with mediocrity, how KP handled fellow players when they didn't live up to the impeccable standards set by the skipper, had everyone watching his legacy as captain closely, especially when his comrades under-achieved (or even the coach in his opinion).
Despite being very different characters, similarities with former footballer and ex-Sunderland boss Roy Keane are easily drawn. How would Keane react as a manager when his players are unable to perform to the levels he achieved in his playing pomp was always a question football supporters would ponder. Both are outspoken and determined in their quest for success, both on a personal basis and as a member of a team.
Whisperings of tactical naivety were expected during the early stages of Pietersen's reign, he was learning on the job, and without a man who shared the same cricketing vision or blueprint for success, it was going to make life much more difficult. Pietersen undoubtedly will have had strong ideas in how to improve England's standing, and was prepared to lock horns with whoever it may be to ensure he was true to himself as captain, and to give his side every possible chance of success.
It was KP's judgement that he and Peter Moores could not work alongside each other that ultimately did for them both.
For Peter Moores a sharp return to County cricket may be in the offing, with Lancashire on the lookout for first-team coach and it is not often that such a revered man on the domestic circuit is available – and this one still has plenty to offer.
So how easy will it now be for England's finest batsman to return to the changing room simply as a batsman ? The lack of backing from his fellow players during the recent debacle has been played down by most of the people concerned. Steve Harmison said as much in his Sunday column, while both KP and Andrew Flintoff were keen to stress there was no problem between them, and their relationship was 'great'. Supposedly Flintoff was hoping KP would continue as skipper. Andrew Strauss, once again installed as the short-term skipper, has been assured that he will receive full support from Pietersen, so everyone appears willing and hopeful of putting this shambles behind them.
And how England need them to. Only twice have England reached 400 runs or more in their first innings (exactly 400 against West Indies in June 07, and their massive 593-8 against South Africa last summer) in the last 20 Test matches, emphasising the pressure that the bowlers generally have to work under.
Despite England's ineptitude in getting big first innings runs, Pietersen averages 57.81, for the same period, during England's opening innings of a Test. Twelve times he has passed fifty, on ten of those occasions he has gone on to record a three figure score. His importance in the middle order cannot be under-estimated, and for England to consistently start crossing the 400 run mark, this man simply has to be the side's focal point.
Everything that makes him such a world class batsman were perceived as potential pitfalls during his spell as captain. Such attention he gives his own batting in perfecting every stroke in the manual (and quite a number that aren't), always willing to meet a challenge head on and never back down, unable to accept failure and a determination to do things his way.
These traits have dazzled cricket grounds all around the world and hopefully will continue to do so. There will be inevitable awkwardness when the changing room is re-assembled, but it is out in the middle where Pietersen rarely fails to delight. Whenever the spotlight focuses in on Pietersen, he delivers. Whether it is his 158 in the Ashes against Australia, his 152 in his first Test against South Africa, the 100 in his first Test as captain, or his first three Test scores of 57, 64* and 71 to whet the appetite. That's before we go onto his incredible ODI series in South Africa where he smashed three centuries.
Can he put this whole messy business behind him, yes he will still be hurting, but it is his desire to continue savaging attacks that all connected with England hope will win out. All eyes will be on Pietersen when the first Test in Jamaica gets underway on February 4th, and this man will thrive on it. Odds on another hundred anyone ?