Peter Loader – Surrey and England
Martin Chandler |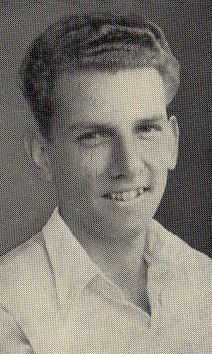 Had he been born a decade later, or earlier for that matter, then Peter Loader might well be remembered as one of England's finest post war pace bowlers. As it was his peak coincided with the best years of the careers of Fred Trueman, Brian Statham and Frank Tyson and as a result there were just 13 Tests for Loader, but 39 wickets at 22 runs each clearly confirm that he was not out of place at the highest level.
Jim Laker, not a man given to hyperbole, described Loader as "the finest new ball bowler I have ever seen". First impressions count for much and Loader looked like a fast bowler. He was tall and slim and had a long high-stepping run. He didn't like batsmen and his hostility was evident from his approach to the wicket – few relished facing him. He had the priceless ability to swing the ball both ways at speed, had a well disguised slower ball and a fearsome bouncer. There were doubts about the legality of the bouncer, and even teammate Laker shared those concerns, but Loader was never called.
While working as a dental technician, and thus still an amateur, Loader made his bow for Surrey in one Championship match in 1951 and signed his first professional contract the following season. There were six appearances for the county in 1952 and he became a regular the following year and remained an automatic selection until he left the English game at the end of the 1963 season.
There was an early Test selection for Loader when, in 1954, a season where his wickets cost just 14 runs apiece, he was part of an experimental bowling attack that was fielded in the final Test of Pakistan's first series in England. Thanks to some good fortune with the weather the tourists, although outplayed, came to the Oval just 1-0 down. With a side to select for Australia the following winter, and with the Pakistani batting having looked decidedly brittle in the previous three Tests, the selectors tinkered. While Loader's match figures were a reasonable 3-61, a magnificent bowling performance by Fazal Mahmood, coupled with a dogged display of batting from the entire side, brought Pakistan a famous and unexpected series levelling victory.
Loader had done enough to earn himself a place in the 1954/55 Ashes party but, despite taking 41 wickets at less than 20, he couldn't force his way into a Test attack spearheaded so successfully by Tyson and Statham. From the many contemporary accounts of the famous tour it is clear that Loader was less than happy at his treatment on the trip, and his irriation with skipper Len Hutton's attitude towards him was doubtless, at least in part, responsible for what happened when Surrey met Yorkshire the following season.
The one real highlight in Loader's Test career came in Yorkshire, at Headingley, in the fourth Test of the series against West Indies in 1957. This was by no means a vintage team from the Caribbean, and they lost the series 3-0, but that should not detract from the six wicket haul that came Loader's way on the first day of the match as he removed Frank Worrell, Everton Weekes and Gary Sobers early on, and then came back to finish off the innings with the first hat-trick by an Englishman in a home Test since 1899.
The last two Tests that Loader played were in Australia in 1958/59. After three successful campaigns against Australia this team left England with high expectations. The pace attack was the dream combination that brought Loader together with his rivals Trueman, Statham and Tyson. As matters turned out the tour was, of course, a disastrous one for England as the aging superstars went down 4-0 to their fiercest rivals. At least this time Loader did make the Test side although he was dropped after the second Test to make way for Trueman. Come the end of the series however, he at least had the satisfaction of being able to point to the fact that, statistically at least, he was the second most successful of the pace quartet, ahead of Trueman, and a long way in front of Tyson.
It was for Surrey in the County Championship that Loader really made his mark. From 1952 to 1958 the county won the title on seven consecutive occasions, a record which has never been threatened. Loader's contribution to the first of the titles was as a fringe player rather than a regular, and he played in just four Championship matches, but there was one match-winning contribution. For the latter six seasons his haul of wickets never fell below 80 and his average never strayed above 18.
It is difficult now to conceive of just how important the Championship was to those who coveted it. Until 1963 it was the only domestic title there was, and indeed had ever been, and for many years prior to Surrey's unprecedented run it had generally been the preserve of the northern counties. In Yorkshire in particular it was regarded as the be all and end all, their chairman in the 1950s, former skipper Brian Sellars, declaring that coming second was no good to him and that to do so might as well be second to last.
The battle between Yorkshire and Surrey was therefore a titanic one over these years, which brings me back to 1955. The first meeting between the two great rivals was at the Oval in early June. In a Surrey victory Loader dismissed Hutton for 0 and 1 – one wonders what might have been said if Hutton had to pass Loader on his way back to the pavilion. County Championship cricket in the 21st century is generally watched by no more than a few hundred people. In the 1950s the post war boom in spectator numbers, coupled with the events at the Oval, meant that the return fixture at Headingley two weeks later was played before a full house. Surrey batted first and had slipped to 119-8 when Loader came out to join Tony Lock. Whatever his talents as a bowler Loader was no great shakes as a batsman, as his career figures of 2,314 runs at 8.51 amply demonstrate. On that May afternoon however, against the strongest attack the Championship could throw at him, in their own backyard, he hit hard and straight and scored 81.
Only once more in his First Class career did Loader pass 50 and that was an innings of 57 at Northampton just a few weeks after his innings at Headingley – the home side's most successful bowler that day was Tyson, but he couldn't dislodge his Ashes rival. One wonders just how much Loader's anger at what he perceived as having been neglected over the winter influenced his batting on those two occasions – certainly he never came remotely close to matching those feats with the bat again – perhaps he was not encouraged to do so – in both games his all conquering Surrey side lost!
In 1963 Loader was only 33 years of age which was not, in those days at least, a great age even for a pace bowler but, as had Lock, he had decided to emigrate to Australia after the 1963 English season concluded. There was one appearance for Western Australia in the Sheffield Shield in the November, but 0-85 quickly put paid to any lingering desire to continue his First Class career. His playing days at the top level over Loader concentrated on his transport business, but still found time to take up umpiring and he also proved to be a popular commentator. Peter Loader's death at the age of 81 on 15 March 2011 leaves just one man with us who played in all of Surrey's seven title-winning sides, batsman David Fletcher, who is 86.