Occasionally in life there are moments when things change
Peter McGlashan |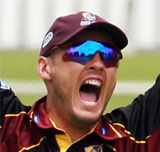 Occasionally in life there are moments when things change, the laws of probability seem to bend slightly and what seems ludicrous becomes reality. Recently I lived one of those moments.
As a Wicketkeeper, my job is to react to what is going on around me. My sole responsibility is to catch the ball when it comes near me. A Keepers job description would read 'must catch proficiently any cricket balls directed at them from all angles, at varying speeds, for hours on end?. Doesn't sound too difficult…
However, holding such a reactive position means the outcomes of your hard work are often beyond your control, if success or failure were just measured in catches and byes. Unfortunately, for too long a Keepers performance and involvement has been misunderstood or taken for granted.
The bowler, batsman and fielders all play a part in how I, as a Keeper, can become involved in the game and it is that ongoing battle of patience and anticipation that makes our day so draining.
A bowler knows that when they stand at the top of their mark they control where the ball will go and can influence the likely outcome of proceedings from then on. They obviously cannot change that balls destiny once it leaves their fingertips, but where and how they deliver the ball to the awaiting batsman will restrict available strokes and limit scoring opportunities and therefore provide some control over what is to follow.
The same applies for the batsman, where they control the outcome once the ball leaves the bowlers hand through footwork and strokeplay. Some bold innovation or fancy feet, can turn the best ball into a boundary opportunity and a headache for the bowler.
For the Keeper though they must sit and wait for their chance to shine, holding out for that moment of brilliance that can turn the match. Most of our day is taken up by the mundane, regulation takes outside off stump standing back to the seamers, or collecting errant returns from the outfield.
Every now and again though, a day will come when there is an opportunity to show your teammates why they need you there, why your skills, above anyone elses, are crucial for their success. Those days are your chance to take the stage and put on a performance to be remembered. Recently, I had one of those days.
Cricket is a sport where unfortunately you will probably fail more often than you succeed. Most club cricketers know that they will probably only have a good day once every 4-6 weeks. The reality is, in a sport with 11 players, only 3-4 each week will have a day worthy of mention over dinner that night, or the water cooler at work on Monday morning. This is one of the reasons why many people don't understand why we all love the game.
What possible enjoyment could you get out of a sport that lasts 6 hours a day, for 5 days, and at the end there might not even be a result?
While many regard Keepers as eccentric, oddballs that sit in the corner of the shed with smelly gear and crooked fingers, I regard them as a unique bunch of individuals who enjoy being involved in the game as much as possible and yearn for that day in the sun, whilst deep down knowing they will be few and far between. We are the players who realised early on in our cricket careers, that it can be a very boring sport standing down at fine leg waiting for the ball to come to you, and that standing at slip for 300 balls, waiting for one to come to you must be like watching paint dry. As a keeper I know a lot of balls are going to come to me, potentially every single one, (I know, highly unlikely, but cricket's a funny game…) so I must always be ready. More often than not you'll get a catch or two, but every now and again something strange happens. That happened to me recently.
Most sportsmen and women play their sport striving to repeat, or reset, an earlier personal best, occasionally reaching milestones for their province or country, regarded as remarkable by their peers. As cricket has been played at first class level for decades it was hard to think I would attain one of those records and have my name alongside some of the greats of the game.
Not long ago though, that happened.
Our game versus Central Districts was just like any other first class game, we knew our opponents well and were striving to win our second game of the season in the second round, a feat not achieved by a Northern Districts side in 13 years.
However, fate intervened for one reason or another and we attained victory, thanks mostly to a great show of bowling by Graeme Aldridge picking up 11 wickets in the match and some stubborn lower order resistance.
And, I had one of those games where, as a Keeper I got the chance to react and have an impact on the game. It was surreal, the second innings in particular, where I caught the first 6 batsman we got out. That sequence of events was made more remarkable by the fact I had already taken 6 catches in the first innings. Unbelievably, I had claimed the world record for most catches in a first class match. The thing was, they were all pretty straight forward.
All I could do, was do my job, catch proficiently any cricket balls directed at me from all angles, at varying speeds, for hours on end.
For whatever reason, the cricket gods patted me on the back that day.
I'm sure it won't be long before they bring me back down to earth, the game does that, but I'd sure like to thank whoever it was who gave me the chance to have my name etched in history.
And all for just doing my job… it really is a funny game.