Getting To Know The Gentle Giant – A Personal Memory
Martin Chandler |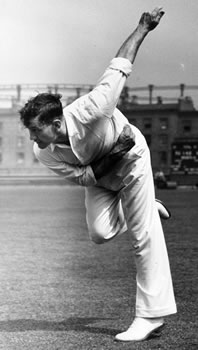 In early 2007 I began to toy with the idea of writing a book about Bill Voce, the former Nottinghamshire left arm pace bowler. I quickly worked out that the only man still alive who had played international cricket with Voce was Sir Alec, when they toured Australia and New Zealand together in 1946/47. A well known cricket writer who I vaguely knew was kind enough to give me Sir Alec's telephone number and, after a number of attempts, I finally managed to speak to him and he was happy to meet me at his home, and a visit was arranged for a couple of weeks later.
The two weeks gave me sufficient time to re-read Alan Hill's biography of Sir Alec and his twin, Eric, who had died in 2006. I also dusted down Sir Alec's 1986 autobiography and skim read a book to which the twins gave their name in 1951 entitled "Our Cricket Story". That told me that Sir Alec had shared a cabin with Bill Voce on a trip to Tasmania and my hopes were raised that I would be able to obtain some interesting insights into my subject.
As everyone knows during Eric's lifetime the twins were inseparable. They lived together in a house in Woking which they had helped their father to build. The house was, essentially, just what I expected. It was like walking into my grandparents' home 40 years ago and while the decor and contents were certainly outdated the property had an atmosphere which immediately put me at my ease. The living room, which is the only room I saw, certainly had a fair amount of memorabilia in it but not, perhaps, as much as I had expected. Pride of place was what I considered to be a stunning oil painting of Sir Alec in his MCC blazer as a young man that hung above the fireplace. Sir Alec himself seemed rather dismissive of it, perhaps through modesty, and was rather more interested in showing me an equally impressive, albeit less prominently displayed, portrait of Sir Donald Bradman.
As we started talking I immediately learned something about the nature of ghosted 1950's autobiography when, having mentioned the cabin share on the way to Tasmania, Sir Alec dismissed the suggestion out of hand. In truth we disposed of the Bill Voce issue in around five minutes. It is obvious from reading any of the books published in that era that Voce was an intensely private man and there was, unfortunately, nothing Sir Alec was able to tell me that I had not already read elsewhere.
Talk of Voce moved our conversation onto the question of bodyline and Sir Alec's views on that. I was struck by the strength of his opposition to Jardine's leg theory tactics which he roundly condemned. His principle reason was the frequently cited one that adoption of the tactics in minor cricket would have lead to serious injuries and fatalities and ultimately would have destroyed the game. Thinking about it afterwards I realised it would have been a surprise if one of the great medium pacers of all time had taken any other view.
Of cricket in his time Sir Alec was at pains to make it clear to me just what hard work it was. He frequently alluded to the number of overs he would bowl in a season in his prime and did not believe that 21st century bowlers were well served in the way they are kept out of the hurly burly of the English First Class season. He was also keen to point out that the financial rewards that the game brought him were limited and that his participation in the administration of the game after his retirement was largely gratuitous. On learning I worked in an office he spent some time telling me about the office equipment company that he and Eric built up and ran for many years after they retired from the game, as well as their experiences as clerks for a firm of solicitors before the war.
Of course in time Sir Alec himself became a pillar of the cricketing establishment and given the ease with which I was able to make contact with him had obviously spent time over the years with hundreds, perhaps thousands, of people who wanted to write about him and his views. It was never my intention to question him particularly closely on cricket politics but I have to say that I was deeply impressed by his ability to navigate the difficult path that he set himself by, on the one hand, underlining his status during his playing days as an artisan professional, and his subsequent joining of the body of administrators to whom he had had to doff his cap during his career. It was clearly a conflict he had had to resolve on many previous occasions.
Tellingly the part of our conversation that Sir Alec himself seemed to enjoy most was the explanation that he gave me of his bowling technique – perhaps he had just tired over the years about being quizzed about more controversial issues. Through most of our meeting he was, as befits a man of 89 years of age, very slow of movement and frail in appearance. Each time he rose from his armchair to get something to show me it was clearly something of a struggle for him except on one occasion when, in his keenness to get a cricket ball to show me his grip for the leg cutter, he seemed to spring to his feet almost as if he was just about to go and take a net.
When Sir Alec was Chairman of Selectors I remember seeing him interviewed on television, or hearing him on the radio, on a number of occasions. In those days he always struck me as being a stern and serious man but, I hasten to add, not in any way unfriendly. At 89 he came across in exactly the same way and I do not recall him smiling at any point as we were sat talking. The nearest he came was when I asked him his views on Mark Ramprakash. At the mention of the name Sir Alec shrugged his shoulders and, for a moment, I thought his face was about to betray his thoughts, but it did not do so nor, beyond the shoulder movement, did he articulate what he thought of the Surrey and Middlesex enigma.
My abiding memory of Sir Alec will always be the broad smile I did eventually get from him, together with the irrefutable proof that whatever impression he might on occasions have tried to give that he did indeed have a fine sense of humour. I had been told by the gentleman who gave me the phone number that it was perfectly acceptable for me to take with me to my meeting the books that I had by or about Sir Alec and to ask him to sign them. I had therefore put the two 1950's autobiographies in my briefcase, together with the later 1986 one. Alan Hill's biography of the twins, a book bearing Alec's name called "Cricket Choice" that was published in 1981, as well as a copy of his benefit brochure accompanied me.
As predicted Sir Alec was happy to sit and sign everything, his hand as firm as that of a man 50 years his junior. As he finished his task and handed the benefit brochure back to me he pointedly looked into the briefcase and threw a particularly stern look in my direction. He quickly asked "well where is my book on the 58/59 Ashes tour then?" My heart sank and I cursed my stupidity for not foreseeing this potential faux pas. I blurted out an explanation about how my shelf space was limited and that I already had three books on the series, before realising that that was not really the best thing to say in the circumstances. I cannot recall what I then started to blather on about but I vividly remember the feeling of relief when, a huge smile spreading across Sir Alec's face, I realised that I had "been had".
With that I smiled back, we laughed and I left the great man to the rest of his Saturday. For me I had done next to nothing to further my Bill Voce project but that did not seem to matter. I had met a living legend who certainly seemed to have enjoyed my company albeit not, I would think, as much as I enjoyed his. Most of all I have with me the cherished memories of that beaming smile and, as Sir Alec himself pointed out to me, borrowing a phrase used by the former Somerset all rounder Bill Andrews, of shaking the hand that bowled Bradman.