Frith's Encounters
David Frith |
EDDIE GILBERT
c1905-1978
Back from the Dead
It was the most unlikely encounter of them all, simply because the Queensland cricket community was agreed that the old cricketer I was trying to track down had been dead for years. Days of painstaking investigation had revealed only one clue: Eddie Gilbert, the legendary and popular Aboriginal express bowler of the 1930s, had finished his days at a security unit west of Brisbane. So I went there, expecting at last to establish the date of death for cricket's records.
The superintendent grudgingly revealed that Eddie had been admitted in 1949, a sick man, an alcoholic, who had treated his wife badly. But exactly when had he died? After a few more evasive comments the man's tone became clear: he was speaking of Eddie Gilbert in the present tense. "Surely he's not here now, is he?" Indeed he was. Then I must see him!
"I'm sorry. I can't do that. It wouldn't be any use. Eddie doesn't speak. We've tried everything: put a cricket ball in his hand, he just stared at it, let it fall to the ground." The poor old cricketer was in a bad way, quite heavily sedated.
He had been a sensation in the 1930s, causing Don Bradman to finish up on the seat of his pants, then having him caught behind for a famous duck. The Don stated that it was the fastest spurt of bowling he ever experienced. Many other batsmen from bush, grade and state cricket gave similar testimony.
But some contemporaries doubted the legality of his fastest ball, respected writer Ray Robinson among them: "Eddie was too obviously a chucker, with no approach that could be called a run-up, just three or four walking steps." It was assumed that the boomerang-throwing action had been turned into a lethal bowling catapult. New South Wales cricketer Bill Hunt was another who condemned Eddie's action: "He came in at Number 11 and just for fun I knocked his stumps over with a deliberate chuck. He put his arm round me and laughed. He said, 'That was a beauty!' So ya see, the little bugger couldn't tell a bowl from a throw!"
Gilbert was no-balled in a Shield match, although today it's assumed that colour prejudice alone kept him out of the Australian XI. Yet, having raised Australian spirits by hurting England's aloof captain Douglas Jardine in Queensland's match against the tourists, Eddie Gilbert bowled in the nets with the Australian team before the Bodyline Test at the Gabba, and had been listed by the Board among the Test possibilities. There was no colour bar.
Frustratingly, there did seem to be an official bar to my seeing him now, and I was resigned to leaving Goodna. Then my wife mentioned that her father used to work at the mental hospital down the road. The superintendent stirred. He remembered "Sonny", and away they went down Memory Lane. I sat quietly. When the time seemed right I repeated my plea to be allowed to meet the legend. The man in charge picked up the phone and said: "Find Eddie."
My heart thumped as the minutes ticked by. His black locks now silver, long arms dangling by his frail frame, the once-famous little black fast bowler stood at the doorway. His handshake was feeble. Having accepted a cigarette, he stared fixedly at the floor. There was no response to some gentle questioning. He just quietly wheezed, head slowly rocking.
"Would he sign his name for me?"
"I doubt it."
He was given a ballpoint. After an agonised minute he dropped it and shuffled backwards. That "E" that he managed to scrawl I now value as highly as any other autograph.
At last he looked up. His deep-set, bloodshot eyes sent a shiver through Debbie as they met hers. "Thanks, Eddie," said the boss. And the old fast bowler shuffled through the doorway, out into the harsh sunlight and across the parched ground.
He died six years later. Alzheimer's was discreetly entered as cause of death. Years later a decent headstone was placed on his grave at the Cherbourg Aboriginal settlement. In terms of curiosity, pathos and fanciful myth, Eddie Gilbert has a truly unique place in cricket's long history.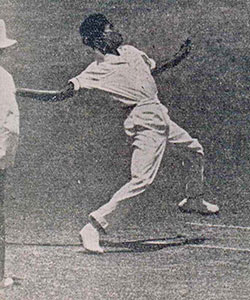 The action that caused the controversy
Eddie as DF found him
CricketWeb is extremely grateful to David Frith and his publisher, Patrick Ferriday of Von Krumm Publishing, for their permission to reproduce this extract and the accompanying images.
Frith's Encounters is on general sale in its standard edition at GBP15. For those who prefer the finer things in life there is a de-luxe limited edition of thirty copies at GBP60, a few copies of which remain available via the publisher