Frith on Cricket
Martin Chandler |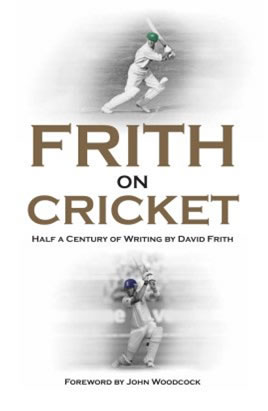 Some numbers are inextricably linked with certain cricketers. The most famous of all is Sir Donald Bradman's Test batting average of 99.94, but 974 (his aggregate in the 1930 Ashes series), 334 (his score at Headingley in that 1930 series) and 452 (his highest First Class score) are, for many, instantly recognisable as well. "The Don" died in 2001. Inevitably he had enjoyed a long innings and was 92 when he passed away. His preeminence as a batsman has endured and will do so as long as the game is played, but what of the man himself?
Bradman spent much of his long life in the public eye and those whose passion for the game dates back to the 20th century will have some knowledge of the modest and unassuming man that he was. For today's generation of cricket lovers his name is one to be revered, and his statistics to be marvelled at, but already, less than a decade after his death, the personality that made him the man he was is becoming elusive.
David Frith was a close friend and confidante of the great man and wrote an appreciation of him after he died. It is not an obituary as such, cricketing feats playing no part, but it captures to perfection the essence of the man and as a timeless reminder of what the real Don Bradman was like, it is one of his most important contributions to cricket literature.

"He remained so astonishingly unimpressed by himself." Those were John Bradman's memorable words after his father died. He expressed the hope that Sir Don would not be deified but would be seen as a human being, with foibles and the odd flaw. "Never in the slightest degree," he said, "did he become his own hero."
The world has a fixed image of a batsman and captain who was as near to perfection as cricket has ever known – and by a long way too. He vigorously guarded his privacy and that of his family, and he was always very measured and precise and disciplined in his public utterances and in his writings.
The compelling fascination for me was the discovery of what sort of person he really was in the later years of his life. I enjoyed the supreme privilege of knowing Don Bradman for thirty years, during which time we met, dined and talked – and sometimes argued – at regular intervals. We also corresponded regularly – long letters each way. I recently filed his to me in proper order. There were over a hundred of them.
He never wrote idle platitudes. He displayed most of the moods and emotions known to man: admiration, scepticism, gratitude, frustration, concern in family matters (and, touchingly, about my heavy workload during the seventeen frantic years I edited Wisden Cricket Monthly), and humour – though not of the cynical kind. In fact his humour was simple and wholesome, revealing the bush boy that he always remained deep down.
There was the time the Bradmans and I were dining one evening in a quiet corner of an Adelaide restaurant, and the young waitress asked him if he'd like some apple pie for dessert. He directed a sparky gaze at the girl and said, "And what makes you think I'd want some apple pie?" Unabashed, she said, "You just look like a man who would like apple pie." So he said, "Right, then, I'll have some apple pie!" And we all dissolved into squeals of laughter, Don being the last to regain his composure.
I once tested his sense of humour by sending him an obituary written fifty years earlier, in 1934, when he came so close to death during the tour of England. It had been found in a drawer in a Midlands newspaper office. He wrote to thank me and coolly pointed out that there were two dozen errors in the piece.
When he read that I'd paid about 800 pounds for Victor Trumper's 1898 silver fob watch he seemed surprised, and observed in his next letter that he reckoned he might dig up a couple of his own old wrist-watches. Around that time he found he did not have a copy of the gramophone record he made in 1930 in which he played the piano and discussed cricket. I duly made a tape copy from an original in my collection, and his reaction was: "I sounded different then. But I was fifty years younger and had my own teeth!"
Another of Don Bradman's qualities was humility. Most really good cricketers are modest. But here was the top man. He knew well enough where he stood in the history of the game. But his modesty was innate, and I don't believe you can fake humility across a period of thirty years.
He honoured me with forewords to two books I wrote – Pageant of Cricket and a pictorial history of England v Australia – and both times he meant it when he said he hoped his offerings were good enough. If not, send them back, he wrote. Not a trace of arrogance, supposition or greed. He actually declined payment, saying jocularly that he might need a favour from me some day. Modern "superstars" take note.
For decades a conscientious and unpaid cricket administrator himself, he deplored the decision, passed at Lord's, to make the chairman of selectors a paid appointment. And further evidence of his attitude towards money came in an aside when Greg Norman was having a rough trot: "Too much money hasn't helped his golf – he's down to my scores!"
Sir Donald was noted for his meticulous preparation not only as a cricketer but as public speaker. During the Centenary Test match in Melbourne in 1977, I was startled to get a phone call from him at the motel. He wanted to confirm that Ranjitsinhji had once scored two centuries on the same day. I was able to say that he had, but couldn't fill in the exact details since I hadn't carted my immense cricket library to Melbourne with me!
Later, when Don saw Ian Chappell's "history of Australian cricket" on video, he offered an aside: "His knowledge of cricket history would fit on a postage stamp."
Intensely proud of his standing in the game – as batsman, administrator, or perhaps as bowler too! – Don Bradman could be highly sensitive. No sooner had I sat down in his lounge-room on one occasion than he produced a piece of paper from the inside pocket of his coat and challenged me on several details in my latest book, a history of slow bowling. "You state that I bowled Hammond with a full-toss in the Adelaide Test of 1933." I nodded grimly. He then went on to deny that that ball was a full-toss. I protested that a number of players from that match had described it as such, and that Arthur Mailey almost made a pastime out of bowling Jack Hobbs with full-tosses, and that they both customarily laughed about it. But The Don would have none of it.
He was impatient too when I declined to support him editorially in his campaign to restore the back-foot no-ball law. He tried several times, and although I was delighted to give him space in the magazine to state his case, I could not subscribe to the notion myself. I felt a somewhat poor guest when the latest broadside occurred at the lunch table in his own home. I was really up against the wall when he produced his nuclear weapon: "So! [he pronounced that word in a way that I grew to love, almost rhyming it with the word for a female pig]. So, you think you know better than Dennis Lillee, Richie Benaud, the Chappell brothers, and me?"
I bowled well wide of the off stump, mumbling something about all games with white lines having them for a purpose, and we can't ever again have bowlers delivering off nineteen yards. But he was flushed, and I daresay I was too. Then his wonderful wife Jessie intervened, as she must have done on so many occasions across the years when debate escalated dangerously: "David," she said innocently, "have you written Don's obituary yet?"
Relieved at the change of pace, I claimed that I was not that well organised. And anyway, he was going to reach his century, wasn't he?
The delightful Lady Jessie was probably the only person to have had him completely in hand. When he grew that small white moustache after getting a sunburnt upper lip, he began to like it and proposed to retain it. Nobody would have had the temerity or the power of persuasion to get him to remove it – apart from his beloved wife, who said simply, "Shave it off, Don. You look like Charlie Chaplin." He enjoyed telling that story against himself.
When, in 1995, I published in WCM extracts from Bill O'Reilly's oral memoirs that included an accusation that Bradman once threw his wicket away in a Shield match to avoid another going-over by Ernie McCormick with the next new ball, he was very hurt. His pride was badly bruised, and he wrote two letters to me, one for publication vehemently denying the charge.
I thought that was it. But he was big enough to forgive me – on the surface at least – generously acknowledging that I must have considered it my editorial duty to run the story.
His happiest tour was in 1948, his last to England as a player. He had a fairly young team who all – even the rebellious Keith Miller – greatly respected him. On the three tours of England in the 1930s he had been a victim at times of personal jealousies and, latterly, a religious divide. It is often said that he had no close friends among team-mates, that privacy was everything to him, that he preferred his own company, rather as Geoff Boycott has done in recent times. The sense of dedication to the cause of success was paramount to both these batsmen.
But Don Bradman did form fairly close friendships within the team with men such as Archie Jackson, Tim Wall, Ben Barnett, Charlie Walker and Ron Hamence, and he took others such as Fleetwood-Smith and Sid Barnes under his wing.
One of my favourite pieces of writing concerning Don Bradman was by R.S.Whitington: during one pre-war summer the South Australia players took off to the cinema, and during the interval they went out into the side alley for a smoke and a chat. There, Whitington spotted the young and carefree Don and a pal "joking to each other and roaring with unrestrained laughter". Don was unobserved (he thought) and away from the unrelenting glare of public scrutiny. He was, for once, acting naturally. Writer and team-mate Whitington went on to remark that Bradman "became quite human after two glasses [of cold beer]".
Another slightly amusing trigger to his rare bouts of impatience was when birthday cards poured through his letterbox. "I KNOW I'm eighty-four [that "know" rhyming beautifully with "sow"]," he'd write testily. "I down't need reminding! It means I'm one step closer to the grave!"
Somewhat contradictorily he wrote after the charming former Test batsman Graeme Hole had died: "Why do so many rotters push on, while the good die young?" To my amazement, not so long ago he ended a letter: "Make the most of your youth." It was considerate advice, but while he was approaching ninety at the time I happened to be close to sixty myself.
Sentimentality was alien to him. Those letters might contain remarks about the discomforts of old age, but he was never one to hark back to "the good old days", other than perhaps to rue the poor over rates and bowlers' long run-ups and deterioration in behaviour – and the no-ball law, of course.
Linked to this was an intensely practical outlook, best illustrated by his remark in 1937 when England's Stan Worthington toppled into his stumps after hooking and was thus out hit-wicket. Somebody murmured "Bad luck", to which Don Bradman retorted: "You're not supposed to tread on your stumps."
He was no more impervious to criticism than the rest of us. But he was careful never to give his critics the satisfaction of a reaction in public. Whenever possible he simply set out to square the matter somehow – just as when a bowler such as poor old Arthur Mailey was written up in the press as having Bradman's measure. Arthur thought long and hard before turning up for Balmain's match against St George. But he did, and sure enough The Don hammered his spinners all over the oval with particular relish. It must be wonderful to be that good.
He counter-attacked in his books too when appropriate, though his reaction to O'Reilly's ceaseless criticism was restrained. Jack Fingleton was more of a problem. "Fingo's" writings embody some of the most persuasive praise of Bradman – but left the unprepared reader open to surprise. Bitterness inevitably emerged. In the inappropriate setting of his book on Trumper, Fingleton compared The Don unfavourably with Australia's hero of the Golden Age. Later, in Michael Page's Bradman biography, The Don comes out ahead of Trumper. Looking back now, it all seems a little like a schoolboy spat.
In 1980 some extremely uncharitable things were written by three eminent English writers concerning Bradman's absence from the Centenary Test celebrations in London. The despicable suggestion, among others, that he was "not willing to share the limelight" cut him deeply. He sadly referred privately to the "lust for glory" displayed by these journalists. But he refused to respond publicly. What solely prevented him from travelling to England was the fact that from 1977 onwards his wife endured a succession of terrible health problems. What his three critics had in common was that in previous years he had denied them interviews. This was consistent with his lifetime policy: "If I give an interview to one, then in all fairness I'd have to give interviews to all – plainly an impossibility."
And it was, if he was to preserve some time for himself and his family against the ceaseless and matchless barrage of attention which came at him through seventy-odd years of his life. I am glad to recall that I wrote an article in WCM showing up those three journalists for their tasteless and wildcat attacks on DGB. I was not firing his bullets. They were bullets of my own.
How did I become favoured by his friendship? We had, perhaps, three things in common. We had both worn the St George cap – he with considerably more success than I, it hardly needs adding. He instantly identified my commitment to cricket and my almost obsessive love for it. And we both enjoyed a stimulating discussion. In fact he loved it – debate and argument on the economy, politics, cricket – with him preferably having the final word. Just like my own Dad. Just like me. Perhaps, for seventy years or so, too much wide-eyed and slobbering reverence came Don Bradman's way. He preferred direct chat, on level terms, with mutual respect the keynote.
Despite my inner feelings of awe, absurd as it may seem, I tried always to relate to him as if he were an ordinary man – which in so many ways he was. And I think he appreciated that.
I'd look at that crinkled and famous countenance, with its alert, beady eyes, and still see the young Don Bradman from the old newsreels, with the kookaburra facial profile and the crackling voice. A shiver would run down my spine. He was "Our Don Bradman" all right. Thousands – millions – had a stake in the legend. His smiling, quick-footed strut to the wicket lifted hearts – apart from bowlers' – and he was adored far and wide for twenty years.
Then his days in the sun drew to a close and he donned a three-piece suit and took to wearing glasses. His 1974 portrait in oils at Lord's shows a bank manager rather than the most efficient flannelled creature the game has seen.
To me he will always be the Boy from the Bush who made good and, bless him, elevated cricket to fresh heights.

We are indebted to David Frith and his publisher Great Northern Books for their kindly agreeing to allow us to reproduce the above extract from Frith on Cricket. You can read Cricket Web's review here. The book is available now, published at GBP18, as the old cliche goes, from all good bookshops.