England's Fast Four
Martyn Corrin |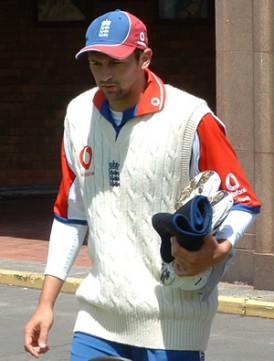 In 2004 and 2005 England's cricket team won games consistently; more consistently then any other England side in recent or subsequent memory. Whilst doing this, there were batsmen who came and went, but four faces that remained constants for the most part in the England side were those of the fast bowlers: Harmison, Hoggard, Simon Jones and Flintoff. As England pulverised the Australian batsmen in the summer of 2005, their attack was hyperbolically lauded as being an equal of the legendary West Indian foursomes that had destroyed many batsmen twenty years earlier. These comparisons were completely over the top, nonetheless it was the best bowling attack England had seen in a long, long time. Three years later England are set to embark on a tricky winter with two visits to the Caribbean and one to India, which is followed by the visit of Sri Lanka and Australia to these shores. For the first time since Australia last visited, England look like they could well have one of the world's top pace attacks on their hands. The make-up of this attack is by no means confirmed, and there does not seem to be a consensus. After enduring some miserable bowling performances, can England fans really go into games confident that their attack can lead them to victory?
Much to the surprise of many, heading into the winter of 2008, two of the esteemed four quicks of English Cricket remain in real contention for selection; Andrew Flintoff and Steve Harmison. Contention, in fact, is too weak a word as Flintoff's place is safer than a house (most things are in the UK at the moment actually) and it would seem that Kevin Pietersen really wants Steve Harmison in his side. Who can blame him? Harmison clearly went through a very long rough patch, a patch so rough that most cricket fans were starting to believe that his excellent form in 2004 had indeed been a fluke. However, to speak to many batsmen the world over there are not many things they would like to face less than Steve Harmison on his day. The trouble was it was never his day. The decline had started back in 2004-05 when he endured a miserable winter in South Africa. The next big challenge he faced was the Ashes; it is fair to say that statistics overstated Harmison's contribution to that series, as he took half of his wickets in a fruitless (for the team) first Test. He did make two crucial contributions to the cause though, snaring Michael Clarke and Kasprowicz at key moments. Nonetheless, from there he toiled in Pakistan and played a couple of games without success against India, before succumbing to shin splints. Injury woes would beset him a fair bit from here on in, he missed the visit of Sri Lanka before returning for the visit of Pakistan. In the second Test of that series he took eleven wickets, bullying opposition batsmen out with hostile pace and bounce; had the deliveries which took wickets been left alone, they'd have gone nowhere near the stumps – the fact was, though, that the batsmen couldn't play him, that day. Was Steve Harmison back? Nope. That was one false dawn in three long years packed full of disappointments, he grew more erratic and inconsistent, his pace dropped and his body language was all over the place. He was dropped in New Zealand and it was unlikely we would ever see him in England colours again – it seemed even more unlikely when he was highly critical of the selectors for picking Darren Pattinson. But, with the Pietersen regime came the reintroduction of Harmison, not just in Tests but in one-day cricket as well. It is early days but the signs are good. He looks better for the overs he got under his belt with Durham, he had more control, and his pace was up and around the 90s. It would seem that sometime this summer Steve Harmison had an epiphany where he realised how much he loved playing for England. His place is safe, for now.
What Harmison's inconstencies following the Ashes (the good one) showed us was how much the attack hunted as a pack. Harmison was not great by any means throughout the winter of 04 and summer of 05, but England got results because at any given point there was a fast bowler standing up and delivering. From the winter of 2005 onwards that attack did not play a single game together as a foursome and the replacements did not cut the mustard. Since winning the Ashes, Saj Mahmood, Jon Lewis, Liam Plunkett and Darren Pattinson have played Test Cricket for England as fast bowlers. None of them deserved to at the time of their selection and this was highlighted in results. It is only since the tour of New Zealand earlier in the year that things started to look up on the pace bowling front.
When you talk about New Zealand, there are three names which immediately spring to mind, bowling-wise. Ryan Sidebottom, Matthew Hoggard, Steve Harmison. New Zealand was the beginning of the revolution, Hoggard's international career was terminated, Harmison's was put in a coma, only to be later revived by Pietersen. After a dismal first Test, England had to act. For too long had batsmen and bowlers alike rested on their laurels. The selection committee clearly felt that there were more viable alternatives in the bowling department (or, if you're a cynic then bowlers always get the harsh end of the stick), bringing in James Anderson and Stuart Broad. We will talk about them later. Ryan Sidebottom in New Zealand, well what a story, what a show, what a performance. He took 24 wickets at just over 17, this included a Test hat-trick, a ten wicket haul and just fantastic bowling throughout. I watched that series unfold in front of my tired eyes, my main memory of it will always be Sidebottom's gorgeous inswing. I could have watched him bowl the same ball over and over again for three days and not slept at this point; I was enjoying his bowling that much. He didn't quite have the same effect back at home against the same opposition, though still managed to take 17 wickets at just over 20, by no means a poor return! The wheels, though, started to come off a little against South Africa. He missed two games and looked out of sorts in three out of four innings in those that he did play. He clearly wasn't entirely fit but criticisms were also evident – not entirely unfairly – that he was not the same bowler when the ball wasn't swinging. Many also took aim at the fact that, although he can get the ball to inswing beautifully, he can not produce outswing. These are fair points but the fact is that the ball has swung for most of Sidebottom's resurrected England career and it is not yet fair to make a judgement of his quality when it does not. Alas, in February if I had said that Sidebottom's place would be in danger come September, you'd have rightly looked at me like I'd just swore in church. His place is not guaranteed, even though he led the attack for a year when alternatives where thin on the ground. Alternatives are available now, and I for one am fascinated by the prospect of seeing how Sidebottom deals with having competition for the place that nobody would have questioned just four months ago.
So why is Sidebottom's place in danger? Well, Harmison is nailed on, as is Flintoff, this has been discussed. England are going to play for quicks at the most, which leaves two available places. On paper, you would think that these places would be filled by Sidebottom, and James Anderson, but there is also Stuart Broad to consider, and the shadow of Simon Jones continues to lurk in treatement rooms, albeit for lesser injuries than the ones which have prevented him playing Test Cricket since August 2005.
So, James Anderson. 2008 wasn't a great summer for England, but some good came of it. Andrew Flintoff returned, and by the time the season ended was in prime form. Harmison returned to form. And James Anderson, he of the golden arm five years ago, finally came of age. So often we had seen Anderson provide devastating spells, like in Mumbai 2006, and then spray the ball all round the park at an economy of 5.5. James Anderson, lethal when it swung, lethal when it didn't. The only thing was, it was his own team he was lethal to if it didn't swing. Yet with the dropping of Harmison and Hoggard it was like Anderson realised that this time he had to step up. This was his chance. He wasn't in the side because others were injured or picked as a one-off horses for courses selection. He was in there, and he had the chance to stay there. He was excellent in the first game, and then the same old James Anderson returned in the second, eratic, expensive, Harmisonesque, and that's the bad Harmison. There was no change, and it seemed that James Anderson would never make it as a top-class Test Cricketer.
But come the home summer you could only pick holes in one innings, the first innings at Old Trafford where he bowled poorly before returning to mop up the tail. For the rest of the summer he was England's best bowler overall but what was most impressive was that he didn't achieve this accolade through devastating spells. He was scintillating at Trent Bridge where at one point it looked like he might remove all of the Kiwis (finishing with 7/43) but there were times where his figures did not tell you even nearly how well he had bowled. Whereas previously James Anderson had managed to keep his average as low as a hardly flattering 35 through taking out tailenders when he had bowled poorly, he was now bowling brilliantly when not taking wickets. Nowhere was this more evident than at Headingley, where England were humiliated by South Africa. Anderson's efforts in Leeds deserved a man of the match award yet he somehow ended with 3/136 and a concussion. He bowled superbly, missing the edges narrowly, the batsmen only scored so many runs off him because he bowled 44 overs, a tireless effort that deserved so much more. So many bowlers will bowl so much worse and get 5-45 time and time again in Test Cricket. This was the new James Anderson, who was still devastating when the conditions suited him and the ball was swinging but was economical when things weren't going well. He was outshone at times in the last three Test series by Sidebottom, then Flintoff and then Harmison but was England's most consistent bowler in the summer just passed. He has earned his place in the team and it's hard to look past him getting it.
On paper Flintoff-Harmison-Anderson-Sidebottom sounds nice, it sounds like an attack than can do great damage. But the selectors are somewhat fond of young Stuart Broad. He is fast establishing himself as one of the world's top emerging one-day bowlers, in that game he is bowling at 90mph, taking wickets and keeping it tight. Yet in Test Cricket he is down at 80mph which perhaps raises questions about his stamina. He also appears to lack penetration and control in the longer game, these could also possibly be linked to his stamina, it could however simply be that he is not yet ready for Test Cricket. What confuses matters, though, is the fact that in Stuart Broad there is clearly a young all-rounder being developed. Someone who can bat at seven, score the odd hundred whilst being a frontline bowler, brilliant! Except that he is not yet a frontline bowler, and we have Andrew Flintoff. The last thing I want to see now is Stuart Broad discarded, but there are better options with both bat and ball. His time in Tests can, and surely will, come. For now, let him play in the one-day game, develop his long-form skills in Nottingham and keep him in mind should injuries arise.
So that just leaves Simon Jones. With the season crawling into its final month he was having a great time taking 42 wickets at 18, albeit in the Second Division and with some protection from his captain. Figures aside, though, he was back in the thoughts of the England selectors. They named him in their 30-man Champions' Trophy squad and he was talked of as being a dead cert for a plane ticket to India. Then, not for the first time he went and picked up an injury to his knee. It is not thought to be as serious as his previous aches and pains but it was sufficiently bad to end his season before we were into September. It was quite the kick in the teeth for Jones, and Kevin Pietersen pretty much confirmed that he would have had him in his side for India. As it is, Jones won't be travelling to the subcontinent, but there does seem to be hope for the future, and if this injury doesn't leave him on the sidelines then the romantic notion of him returning for the Ashes is one that is hard to remove from an English mind which is controlled by the heart when such matters are considered. Jones' presence in the background should be sufficient to keep the quicks on their toes.
With all of this in mind, if England are to play four seamers then it has to be Flintoff, Anderson, Harmison and Sidebottom. Where Flintoff bats and whether this is a four-pronged attack or four plus one spinner is another story for another day. The point is, England have an attack to be proud of, an attack that just might give opposition batsmen sleepless nights. Flintoff was getting better and better as the summer went on, there were real signs that he hadn't been on one of infamous binges when he declared that the best was yet to come. Steve Harmison has a new, improved attitude and seems to realise lately that he actually quite likes being good at international cricket. I read of Harmison three years ago that, unlike Shane Warne, "Harmison couldn't be bothered to try and find out if it was worth [becoming the best bowler in the world]." Nobody is suggesting he is the world #1, but batsmen fear him and that alone is a start. James Anderson has found control and devastation in equal measures, now let's see him do it overseas. The only bowler I am advocating selecting that ended the season with his reputation worsened was Sidebottom, but he has enough credit in the bank for now.
Of course, it is one thing to do all of these things on English tracks, India in November and December will be a much sterner test. There is an old saying that is not entirely true, it is that you can't win test matches without taking twenty wickets. There is no doubting that this attack of England's is good enough to do so. Whether they do or not remains to be seen, but there is the potential for England's fast bowling to rise to the top once again. Sit back, and enjoy, because the next twelve months could be very, very interesting.