Cricket Revolution – Demo Released
James Nixon |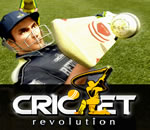 The demo for Cricket Revolution has been released giving you access to the practice mode in which you can prepare for online competitive matches in advance.
You can learn how to play all 34 strokes, perfect your timing and placement to get the scoreboard ticking. On the bowling end, you can practice how to land the balls in the right places by mastering the bowling gadget.
The demo can be downloaded from our Cricket Revolution section on the game, as well as viewing screenshots and features of the game.