Yes…No…Wait…Sorry!
Martin Chandler |
Published: 2022
Pages: 120
Author: Chalke, Stephen and Coley, Chris
Publisher: Charlcombe Books
Rating: 4 stars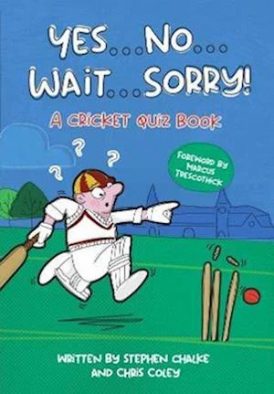 Most cricket tragics have, at some point in their lives, acquired a cricket quiz book of some sort. Just occasionally we buy them ourselves, although usually they are purchased by misguided friends and relatives as gifts. The quality is generally poor, in my experience ranging from at best mildly entertaining but generally boring to, at worst, the sort of offering for which a raging bonfire is the only appropriate home.
The reason for this? Well generally the questions fall into two categories, ridiculously easy or very difficult, and in either case as dull as ditchwater. In addition the design and presentation has seldom had much thought put into it. It is also the case that unless you happen to have a fellow cricket tragic close by the quizzes will only involve competing against yourself, an activity that is never much fun.
There is, of course, an exception to most rules, although I have to confess to never thinking I might find one to this. But I am pleased to be able to say that there is one, and reading Yes…No…Wait…Sorry! is something I can confirm is a rewarding experience, even if you are on your own.
So what do you get for your £10? There are exactly one hundred individual quizzes, all with a theme. Sixteen of them are contributed by the great and the good of the game, all of those include entertaining and revealing information about their donors. So kudos to Charlotte Edwards, Fred Rumsey, Graham Swann, Mark Alleyne, Stuart Broad, Jimmy Anderson, Jack Russell, Graham Gooch, Andy Stovold, Darren Gough, Dickie Bird, Eoin Morgan, Mickey Stewart, Alec Stewart, David Gower and David Lloyd. Without exception all of them have clearly put a good deal of time and effort in to setting their questions, and if Bumble's quiz wins it for me it does so by the shortest of short heads.
Themed quizzes are a common thing of course, about specific players, teams, countries or particular feats or occurrences. The quizzes here all have titles which give a clue to their content, but they range over a much more eclectic range of subjects than is normally the case. Examples I particularly enjoyed are the various photographic challenges to identify cricketing non-cricketers, cricketers who wore glasses, and one on players built for comfort rather than speed.
As well as purely cricketing questions there is also plenty of what I will call word play, and an impressive amount of imagination has been engaged in putting those quizzes together. As far as how testing the questions are the average cricket lover will get many more than they miss, but they will have to exercise their grey matter in order to do so.
Yes…No…Wait…Sorry! benefits greatly from being produced on good quality paper, and from plenty of the questions referencing photographs. It is also impossible to under estimate the significance of Stephen Chalke's involvement in the project. I am sure that plenty of the hard yards were put in by co-author Chris Coley, but as all who have read the splendid Summer's Crown well know Stephen is a past master at compiling absorbing cricketing lists.
And if being a cracking book isn't enough Yes…No…Wait…Sorry! has one other thing going for it. Thanks to the involvement of sponsors, iO Associates, a company that google tells me is a recruitment consultancy, every penny of your tenner will go to the Professional Cricketers Trust, a charity that supports those who play the game we love who find themselves in difficulty.
Yes…No…Wait…Sorry! is available from its own dedicated website