Wisden Cricketers' Almanack 2021
Archie Mac |
Published: 2021
Pages: 1248
Author: Booth, Lawrence (Editor)
Publisher: Bloomsbury
Rating: 4.5 stars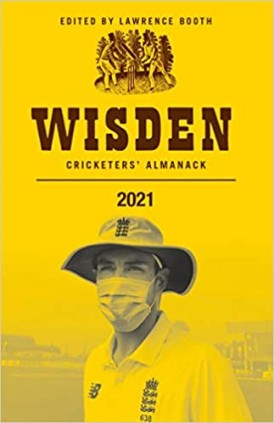 Once I find out someone is a cricket book collector, the conversation eventually comes round to Wisden. One of my first questions, after what's your oldest edition, is, "which section do you turn to first?" You can never really pick the answer. Sometimes it's their favourite county or a Test series. As a book lover I always want to turn to the Book Review section. However I might have a bit of the sadist in me, as I often leave it until last – like a special treat.
I think it fair to say that when it comes to the 2021 Wisden it doesn't really matter which section you choose, you're going to enjoy it. Especially some of the feature articles, which are worth the purchase price alone. Such is the standard, I'm loathe to highlight any of the articles over others, however it's a review, so here we go. Cricket and Slavery by Tom Holland, is cricket writing at its very best. Holland traces a belt buckle found on the Scottish border in the 1970s, that appears to show a slave from the West Indies playing cricket. From this, Holland takes us through some sobering examples of cruelty, slavery and cricket in the West Indies. It is fascinating if not a little distressing. Most of all, as with all quality articles, it inspired me to do more research into the belt buckle.
Apart from the Holland piece, I thoroughly enjoyed, Jon Hotten's article on an old diary from 1863 that mentions John Wisden, and has entries in the diary that curiously turn up in the first published Wisden in 1864. Garry Sobers tribute to the three Ws is lovingly told, after the last, Sir Everton Weekes, passed in 2020 at the age of 95. The 100 year anniversary of the Cricketer magazine by James Coyne provides some informative insights to the way that magazine and its long time rival, Wisden Cricket Monthly, were produced and the writers/editors involved.
Undoubtedly, the theme that is omnipresent throughout Wisden 2021, is the coronavirus. As always the contributors remind us that cricket will come through this as it has come through World Wars and the Spanish Flu. Still this year's Editor Notes make for particularly profound reading, as Lawrence Booth expertly introduces most of the themes to be found in the pages that follow. Apart from Corona, Racism is also a focus, making it clear that cricket still has a long way to go to address attitudes and opinions of fans and players alike.
As always all the favourites are included, such as the Photograph of the Year – I won't spoil things and name the first place-getter, but it was certainly a shock. Still, the photo is clearly a deserving winner. The writing competition was again hotly contested and the winning entry dented my own confidence of ever entering, such was its quality. Five Cricketers of the Year, Obituaries and my personal favourite Cricket Book Reviews are all included. In fact I wrote down eight books to read, although just when I am going to have time is uncertain.
So, in summary, purchase Wisden 2021, and you are guaranteed to be engrossed by just about every page, and if asked which section you will turn to first, just say; it makes no difference, it's like a special treat no matter where I start.