Watto
Archie Mac |
Published: 2011
Pages: 297
Author: Watson, Shane with Thomson, Jimmy
Publisher: Allen and Unwin
Rating: 4 stars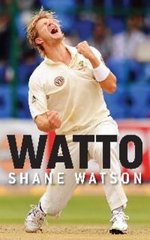 "Shane Watson Injured!" or more accurately "Shane Watson Injured Again!" seemed to be a regular headline during the first half of Watson's career. Injury is a constant theme throughout Watto and it seems it almost forced him to stop bowling. A chance meeting with a physiotherapist from an Aussie Rules club and the following referral to a Doctor completely changed his approach to fitness. Instead of weighs – Pilates, instead of constant practice, time away from cricket playing the guitar.
The book constantly returns to Watson's struggles with injuries, in fact he seems to be often straining or pulling something, however you can detect a change in his attitude. Watson seems to now have confidence in his ability to quickly recover from injuries and especially those of the soft tissue variety. This new mindset seems to be fuelling Watson's new belief that he can open the batting, bowl a lot of overs and field at slip, making him one of the best if not the best all rounder in the modern game.
During the book Watson is quite candid about his cricket and personal life and sheds some light on the infamous boot camp. Despite all the negativity about the camp Watson believes it had a positive effect on the bonding of the team. His biggest complaint from the boot camp was his teammates labelling him a "whinger" during an honesty session. Watson's problem with criticism is often mentioned during the book. He does not speak to Jeff Thompson after the legendary fast bowler made some disparaging remarks about him during a sportsman's night. As well he seems to continue to hold a grudge against Stuart Law after he subjected Watson to some sledging after the young all rounder transferred to Tasmania from his and Law's native Queensland. The media is also in the sights of Watson with him believing they have been too negative, especially in relation to his unavailability through injury.
The book provides some interesting insights into the player contract system of CA as well as the money to be made in the IPL. Because of the IPL and later because of Test cricket Watson describes how he changed his batting style on two occasions. First to help him hit sixes by adopting the baseball method of loading up on his back-foot before transferring his weight to his front foot to generate more power. The second time he adapts his style was on the recommendation of Greg Chappell, these changes seem to have coincided with Watson's rise to a Test class opener.
It should be noted that the book on the whole is positive with Watson describing the support he has received from his parents, wife and a number of other people. Still he does not hold back on his opinions of other players such as Andrew Symonds and his problems with alcohol, or the reasons why Australia lost the latest Ashes series.
In the end Watto presents an inspiring story of a player with great potential who refused to be crippled by seemingly constant injuries. It is pleasing to see a cricketing biography of a current player who is not afraid to express opinions. This apparent honesty makes this the best autobiography of a current player for many years.