The All-India Cricket Tourists 1911
Martin Chandler |
Published: 2012
Pages: 40
Author: Wolstenholme, Gerry
Publisher: Red Rose Books
Rating: 3.5 stars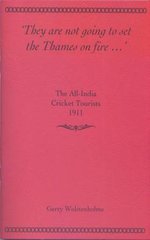 Red Rose Books is the trading name of Martin Tebay, a book dealer and specialist publisher whose activities are, as the name suggests, of particular interest to followers of Lancashire County Cricket Club. Initially the publications that came out of Red Rose were some high quality reproductions of scarce 19th century books, some dealing with Lancashire Cricket and Lancastrians but some not. Latterly the focus of the publishing activity has become more parochial, Mr Tebay himself focusing, in his writing, exclusively on some of the more interesting matches and individuals from the long history of Lancashire cricket.
The other major contributor to Red Rose's output is Gerry Wolstenholme who lives in Blackpool. Much, although by no means all of his work is somehow linked to the famous old seaside town. My first ever review for the site was of his account of Harold Larwood's time at Blackpool CC, and the town's cricket club is a recurring theme in much of his writing. Red Rose regularly publish offerings from Messrs Tebay and Wolstenholme, always now in small and reasonably priced signed limited editions, the numbers ranging from as low as 10 to, occasionally, a rather more generous 120. Of The All-India Cricket Tourist 1911 there are 100 which, given its rather greater potential market may, I suspect, sell out quite quickly*.
There does not appear to be any obvious link between the 1911 Indian tourists and Blackpool (there was a fixture against Lancashire but the game was played at Old Trafford) so perhaps it was just curiosity about a long-forgotten tour that prompted the writing of this booklet. As Wolstenholme explains the tour was, despite a number of previous teams travelling in both directions, the first time a team with a legitimate claim to represent India as a national side had been put together. The expressed purpose of the tourists was to learn, so it is perhaps surprising it was to be as long as 21 years before the next Indian tourists arrived for the 1932 tour when, at Lord's in June, the Indians, particularly their pace bowlers, emerged with considerable credit from a defeat in their inaugural Test.
Despite their lack of international competition in the meantime by 1932 Indian cricket had clearly made great advances from 1911 when, save for a run of four victories in mid tour against the bottom two counties in the Championship, and two minor counties, the tourists tasted victory only in Scotland and Northern Ireland. That apart there were plenty of heavy defeats and a particularly harsh lesson in the Potteries where the match haul of the great SF Barnes was 14-29, as Staffordshire beat the Indians in a day. The comment of Mr J M Framji Patel that is the book's subtitle, They are not going to set the Thames on fire…. was clearly a prescient one.
The forty pages that comprise The All-India Cricket Tourist 1911 begin with an introduction that places the significance of the tour in context. There is then a short section dealing with the background to the tour itself and some brief pen portraits of the Indians. The outstanding player was left arm spinner and useful batsman Palwankar Baloo who, above all the others, I was left wishing I knew rather more about. I am pleased to say that the writings of Indian author Ramachandra Guha contain a good deal more about a man who was clearly a very talented bowler.
The bulk of the book is then taken up with accounts of the matches the tourists played. Clearly there is no one alive today who saw any of the cricket played, and no English writer that I am aware of has ever dealt with the tour at any length at all, so reconstructing the cricket was never going to be easy. What the author has done is to read the daily newspaper reports of the time and couple those with his own observations on what he has read. It is an approach which, with all the contemporary writing italicised, works surprisingly well and results in a rather more vibrant account than I had expected.
The writing itself, as I have come to expect from Gerry Wolstenholme, is very readable and there are few points to be made by way of criticism. There is a confusing passage in the account of the match against Warwickshire, but one proof reading error in a work such as this I can readily forgive. In addition I would have preferred it if the tourists' opponents had been given their Christian names rather than just their surnames. It didn't take too much effort to check Cricketarchive to establish that "Falcon" of Cambridge University was indeed Michael Falcon of Norfolk, and that Hollowood of Staffordshire was Albert Hollowood, father of Bernard, but I would rather not have had to do that.
The book ends with a brief conclusion and is rounded off with potted scores of all the matches played and the tourists' averages. Padwick tells me a book about the tour was published in Bombay following the party's return, and it would have been fascinating to learn something of the Indians' impressions of their experience after their return. That said I have never seen a copy of the book for sale anywhere, so it must be exceptionally rare, and the absence of any reference to it is therefore not surprising nor, in the context of what this book sets out to achieve, does it detract from what is a most enjoyable piece of writing. As, 101 years on, India and England fight out an absorbing series on an equal footing, this is a particularly thought-provoking read, recalling as it does a time when India were barely county standard.
*If any reader of this review is interested in acquiring a copy of The All-India Cricket Tourist 1911 at fractionally under a tenner please email us and we will put you in touch with Mr Tebay.