Spun Out
Archie Mac |
Published: 2006
Pages: 542
Author: Barry, Paul
Publisher: Bantam
Rating: 3.5 stars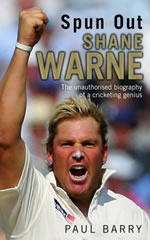 Shane Warne is a sitting duck for this sort of 'tell all biography", but author Paul Barry doesn't just line him up with a double-barrelled shotgun – he shows no mercy and uses a bazooka.
He tells us "this book is the search for why" Shane Warne "is a walking paradox"; is "brilliant but also a buffoon"; is "generous and thoughtful, but utterly self-obsessed".
In the end he simply comes to the conclusion Warne is a big kid who has never grown up, and has never been told 'NO'. So as a result he does whatever he wants, and then feels hard done by when people take offence.
The book its self is written in a free-flowing, racy style, and is a very easy read – I did not find the need to reach for my dictionary once – concentrating on the highlights of his cricket career and the lowlights of his off-field misdemeanours.
Paul Barry is not an author that simply presents the facts and then lets the reader decide what conclusions to draw. He tells you constantly what he is thinking and what he believes the reader should be thinking.
While other Warne biographers have written a somewhat sanitised version of his life, and his autobiography was bordering on a bowdlerised version. Barry relates all of the salacious details of his off-field escapades. In the end, it is almost overwhelming just how many torrid affairs Warne has been involved in.
There is also plenty for the cricket lover, with Barry relating many of Warne's cricketing achievements, especially the 2005 Ashes series, which is covered in some detail (occupying almost the entire last fifth of the book).
We are told Paul Barry is an"avid cricket fan" , but he makes a couple of strange cricketing statements, such as:
Warne's tally of wickets in 1993″had comfortably eclipsed those of Bill O'Reilly and Clarrie Grimmett, the gods of Australian leg spin, on pitches far more suited to spin". I think Bill O'Reilly would be pleased to know that the pitch on which England made 903/7 declared, was spin friendly.
And when talking about the start of the 2005 Ashes, "the best one could hope for was that the Poms would put up a decent fight for a change, which they had failed to do for almost 50 years". What about winning five out of six series when the Ashes were up for grabs from 1977-1987.
I thought on the whole Barry was fairly compassionate towards his subject, although certainly mystified by his behaviour.
As Barry points out, each new indiscretion loses Warne more and more sponsors, such as Nike, Just Jeans, Channel Nine, and many more, which costs him hundreds of thousands of dollars, not to mention his marriage.
The book does suffer a little from the fact Barry was unable to interview anyone close to his subject, but If you want to read a 'warts and all' biography about a sportsman/celebrity, then I can certainly recommend Spun Out.