All So Enjoyable: John Sparling's Life in Cricket
Martin Chandler |
Published: 2023
Pages: 71
Author: Auger, Trevor
Publisher: The Cricket Press Pty Ltd
Rating: 3.5 stars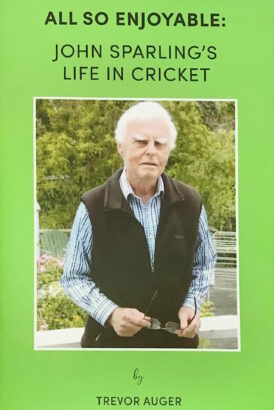 Who recognises the name of John Sparling? I'll concede that the answer to that one is probably the majority of people who have bothered to click on the link to this review. That said I doubt whether many of them would be able to answer in the affirmative the follow-up question; Do you know anything about him beyond his being a New Zealand Test cricketer of the late 1950s and early 1960s?
The purpose of this slim book from Trevor Auger is to provide an answer to that one, and it is a particularly valuable piece of writing by virtue of the fact that Sparling himself, who recently celebrated his 85th birthday, was happy to co-operate with his biographer.
Sparling was a right handed batsman and off spin bowler who did enough to be selected, as a 19 year old, to tour England in 1958. A weak New Zealand side struggled through a wet summer and were outplayed in all five Tests, albeit the weather saved them from a whitewash. Sparling did not break into the side until the third Test, but having won a place he did enough to keep it and in the New Zealanders' first innings in the fourth Test he made what was to prove to be his only Test half century, exactly 50, against an attack that included Brian Statham, Freddie Trueman and Tony Lock.
With the ball Sparling's Test record is uninspiring, as he secured just five wickets in his 11 Tests and paid well over sixty runs each for them. But he seems to have been remarkably underused for a man whose overall First Class figures saw him take more than 300 wickets at only 22 runs each. That he bowled so little in Tests is a mystery Auger certainly identifies, but is unable to solve.
In Sparling's day all New Zealand cricketers were amateurs, and had other commitments not prevented the 26 year old from joining New Zealand on their long tour of India, Pakistan and England in 1965, effectively bringing down the curtain on his Test career, Sparling might have gone on to achieve a good deal more. As it was his legal career (he was a solicitor) had to take priority, although he continued to play for Auckland for several years, and after retirement gave plenty back to the game in administrative roles.
The story that Auger tells is inevitably very different from that he would be telling if his subject were an Englishman, or even an Australian from the same era, and is all the more interesting for that. John Reid and Bert Sutcliffe apart there is nothing in the way of biographies of New Zealand cricketers of this era so Auger's book is particularly welcome as will be, when it finally appears, the same publisher's long awaited book from Sparling's 1958 teammate, Jack D'Arcy.
All So Enjoyable: John Sparling's Life in Cricket is available from Roger Page, and whilst it is not a formal limited edition as such I don't suppose the print run is particularly large, and I believe all copies are signed by author and subject. My only minor gripe is that publisher Ronald Cardwell, a long time friend of Sparling who contributes a delightful foreword, really should have signed the books as well.