Rain Men
Stuart Wark |
Published: 1996
Pages: 256
Author: Berkmann, Marcus
Publisher: Abacus
Rating: 3.5 stars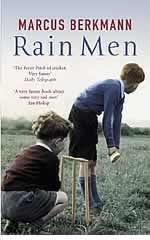 Marcus Berkmann is well known to many cricket lovers as both a writer for Cricinfo and Wisden, and as the author of Rain Men and the sequel Zimmer Men. His first book, Rain Men, has been acclaimed by many readers and journalists as a masterpiece of cricketing literature. I had not read it until recently, so it was with interest that I finally opened it up.
Simply put, Rain Men is a recounting of the events of a cricket team and the characters that haunted it. Berkmann tells the stories and describes the personalities in a wonderful manner, and his laid back style of writing is perfectly suited to this format of book. The anecdotes and events will be familiar to all cricketers who never quite reached the heights of international play, and have had the enjoyment of playing cricket simply for enjoyment. The staples of lower grade cricket such as umpiring, the selection process for the team, trying to even find enough players to make up numbers, and the often bizarre and psychologically twisted individuals that play are obvious fodder for Bermann, and he makes the most of them. Discussions of afternoon teas, the rocky road of captaincy and the often futile attempts to organise everyone to turn up on time are also covered in a very amusing manner that will bring back fond memories for many of us.
Rain Men is a funny book, and cleverly covers the incompetence that plagues cricket at the levels most of us dwell in. He does also manage to weave into the book some amusing references to professional players, and the peculiar devotion to statistics that many cricket lovers have. I must admit that whilst I certainly enjoyed 'Rain Men', it did not deliver the life changing experience that other people seem to have had with it.
Prior to reading 'Rain Men', I had read Jim Young's 'Any Old Eleven', which recounts the exploits and characters of a suburban Melbourne side through the 70s and 80s. I had also read Gideon Haigh's 'The Vincibles' (Many a Slip), which was similarly a recount of the trials and tribulations of a weekend social cricket team. My reading list also had included Harry Thompson's 'When Penguins Stopped Play', which is again a story about cricket at less than serious levels. Rain Men is a very funny book, and is a great read. However, for me, the novelty that other readers may experience with it had been significantly dulled by the similarly themed books I had already come across. Recommended reading for all cricket lovers, and particularly if you haven't yet read the other titles I mentioned.