Pinning Down Cricket Badges
Archie Mac |
Published: 2013
Pages: 102
Author: Circosta, Paul
Publisher: Bookkeeper Publications
Rating: 3.5 stars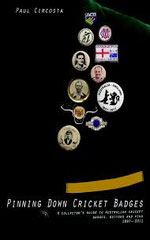 Sometimes we receive books to review here at Cricket Web that are not easy to classify. Pinning Down Cricket Badges is just such a book. Not a biography, tour book, anthology or a history book. It does however fill a gap in cricket literature which has been sadly lacking. There are publications on the collecting of cricket books – Padwick and volumes on the collecting of other ephemera including cricket cards. So a book on a specific cricket item such as cricket badges, would appear to be well overdue, although it has been previously, loosely covered in publications primarily dedicated to cricket cards.
Pinning Down Cricket Badges is produced in full colour and includes a colour pic of almost every badge described, to make it user friendly for the potential collector. As you would expect the modern badges have seen a proliferation in their production and as would be equally to be expected the earlier badges are more expensive. What is missing from the book which may have been interesting is a price guide. A quick perusal of E-bay suggests a badge from the 1950s would cost approximately $50 Aus with Bradman costing around double that. The cost of the earliest Australian cricket badges from the 1890s is not known but it would appear that collecting badges pre 1950s is an expensive hobby.
The author has not only provided as comprehensive an account of cricket badges as is possible with the information available, he has also put the badges in some sort of social context. We find out for instance that like everything else cricket, there is a sub collecting of Bradman related badges.
As this is the first dedicated book to deal with Australian related cricket badges and pins there are understandably gaps in the research. The area that is most surprising is the lack of manufacturers listed. The majority of badges produced in the 21st century do not list manufacturers, even those commissioned by Cricket Australia. Like most things it is hoped that now this book as been released many with knowledge will be encouraged to come forward.
The other gap is in the knowledge of the different badges that have been produced. This is surprising in some ways – you never hear of a cricket book being discovered that we did not previously know of, but it seems there are still badges out there waiting to be revealed. This must make collecting badges a fascinating and interesting pursuit, however tempted as I am my wife has forbidden me from collecting cricket badges. It seems my book collecting is already too consuming. Mr protestations that badges would take up less room, did not prove convincing.
For those of you about to start collecting or those already collecting there is no doubt that Mr Circosta's book will prove invaluable.