Passionately Cricket
Martin Chandler |
Published: 2020
Pages: 136
Author: Tennekoon, Anura
Publisher: Stamford Lake (PVT) Ltd
Rating: 2.5 stars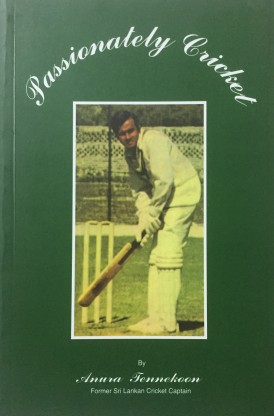 Books about Sri Lankan cricket are rare, so any publication from there is to be welcomed particularly if, as with this one, it relates in the main to the period just before the Lankans became a Test playing nation. The writer of the book, an autobiography, is Anura Tennekoon, who captained his country in the 1975 World Cup in their first One Day Internationals. By the time, six years on, that Sri Lanka played their inaugural Test, Tennekoon had retired at 33, a combination of a persistent injury that prevented him playing in any of Sri Lanka's matches in the 1979 World Cup and a pressing need to earn a living being the cause.
In Tennekoon's time Sri Lanka played First Class matches against India, Pakistan, West Indies and Australia as well as England (as MCC) so there is a good deal of cricket of a decent standard for Tennekoon to describe. He writes about most of those matches, although more in the form of comments than any detailed analysis. That series of match descriptions is bookended by a couple of short chapters looking at Tennekoon's early life and his cricket at school, followed by a few observations about his involvement in the game following his retirement from playing.
And therein lies the rub, because whilst what there is in Passionately Cricket is certainly of interest there is a great deal more that I would like to have read. By way of example the one match that involved Sri Lanka from that 1975 World which is sometimes remembered is the game that pitched Sri Lanka against Australia and, more particularly, Dennis Lillee and Jeff Thomson. The Australians scored 328, a huge total back then, and a crushing victory was expected. The Aussies  did go on to win, but the Lankans battled away to end up on 274-4, their batsmen battered by the fearsome pair. I was disappointed that Tennekoon, who scored 48 that day, did not write with more passion about what must have been an exhilarating experience.
Another thought that occurred to me as I opened the book was whether Tennekoon, who would still have been well short of 40, was approached with a view to joining the 1982/83 Sri Lankans who were recruited to travel to South Africa to play a 'rebel' series of matches against the full strength of their hosts. In the event the trip is not mentioned at all, so perhaps no offer was made, but if not then surely Tennekoon had a view on the visit, which attracted life bans for those who went, as he must have known all of those who did make the trip.
But one of the book's characteristics is that Tennekoon clearly does not see it as his place to criticise others, be they teammates or opponents, or to express his views on the game generally. That he chooses not to share very much about his family, or about his life outside cricket is perhaps understandable, but the absence of anything of real substance in his cricket writing is disappointing – another example is that at the end of the book, in common with many who write sporting autobiographies, Tennekoon selects his best elevens from those he has played with, and those who he has played against. He comes up with two interesting lists of names, but that is all, there is no explanation of the selections whatsoever.
Passionately Cricket is not a long book, and of the 136 pages that there are 68 of them comprise scorecards, so there is not a great deal of narrative. Another 17 are of photographs, but those I certainly don't criticise, particularly the image of Tennekoon at home and in his living room with a very special guest, the always smiling Sir Garfield Sobers. So all in all I would suggest that this is a book worth tracking down, albeit it is at the same time a missed opportunity.