North Inch 'Derbies' 1881-1934
Martin Chandler |
Published: 2020
Pages: 24
Author: Miller, Richard (Editor)
Publisher: Private
Rating: 3.5 stars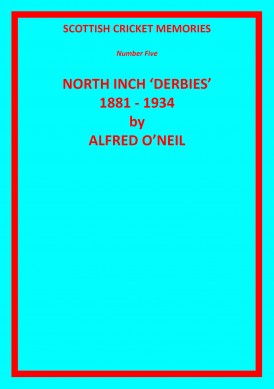 There have been occasions when I, like everyone else, have made the wrong decision. One I did get right however was to read Richard Miller's newly published booklets on Scottish cricket history in the order in which he numbered them. Certainly this one, the fifth in the series, would have made for a good deal less interesting read if I had not already worked my way through the first four.
Thus it is that I already knew that the Perthshire club played at the North Inch, and that their great rivals over the period covered by the booklet were Forfarshire. Richard Miller's splendid introduction tells the rather sad story of what happened after 1934, culminating in, eventually, the collapse of the Perthshire club and the end of the North Inch as a cricket venue.
I also knew something of the men who, over the years, appeared for both teams and I had, from the lengthy fourth volume, plenty of experience of the excellent work of the man who wrote the original articles that make up the booklet, Alfred O'Neil.
The trip through the rivalry between the two clubs is a chronological one, and looks briefly at each of the matches played. For some of the reports the narrative is little more than a summary of the potted scores, but matters of interest are always highlighted, particularly the story of the 1903 match when a stand collapsed causing injuries to many, including O'Neil himself. This is a particular area where Richard's introduction is helpful as it gives much important detail about a serious incident which O'Neil himself, rather seems to shrug off.
As for the production itself that is up to the same high standards as the previous four volumes, and is once more liberally sprinkled with some excellent photographs from Richard's personal collection. The one disappointment is that there are no images of the North Inch ground itself, which is all the more frustrating because it sounds like an interesting one, but I can only assume that no photographs of sufficient quality exist, otherwise I am sure they would be here.