New Books – An Overview for January 2019
Martin Chandler |
Published: 2019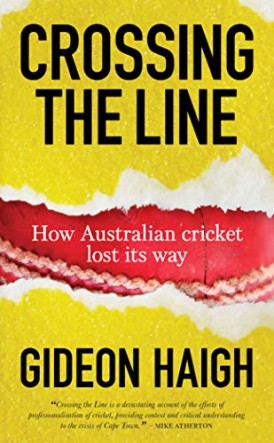 I shall begin my six monthly round up with a piece of disappointing news, that being Stephen Chalke's decision to retire Fairfield Books, one of our favourite publishers. The consolation is that the imprint will go out in style with as many as six books due in its final year, and another just released.
The book that is already in the shops, Cricketing Allsorts, is a collection of Stephen's writings that have appeared elsewhere in the past in, generally, more ephemeral form. There are a total of 53 essays on a variety of subjects with the majority taking a look at players whose company Stephen has had the pleasure of keeping over the years.
For 2019 there are some titles that I have announced before, but which are well worth mentioning again. The first is Sense of Humour, Sense of Justice by Fred Rumsey, a quick bowler who played five times for England in the 1960s and county cricket for Worcestershire, Somerset and Derbyshire. Later he played an important role in the establishment of the Professional Cricketers' Association. Rumsey is an entertaining man who once kept my late father in stitches at a function (no mean feat) with a series of stories about a speaking engagement he had once attended where a rather pompous fellow guest assumed he was Fred Trueman. My father always maintained that the tales must have been largely apocryphal, but to the end of his days the memory of them always brought a smile to his face.
We then have Rosey, an autobiography from former Somerset skipper Brian Rose, with assistance from Anthony Gibson, who has two convictions for contributing excellent titles to Fairfield's back catalogue; Of Didcot and the Demon, and Gentlemen, Gypsies and Jesters.
An unfamiliar name is David Woodhouse, who has written Much More Than Batting and Bowling, a look back at the England tour to the West Indies in 1953/54. For a tour that in its own way had as many controversies as the famous Bodyline tour of 1932/33 it has been surprisingly neglected by writers. Some fascinating new material is promised, in which the names of Fred Trueman and Len Hutton will doubtless loom large.
Veteran writer Patrick Murphy, another who has been published by Fairfield before, has written The Greatest County Season. All Warwickshire supporters will agree that that is an appropriate title for a book about their county's 1994 summer when they won three of the four county titles. The one they missed was the Nat West Bank Trophy, the knockout tournament that ended the season with a Lord's final in September. Warwickshire could easily have won that too. The Bears reached the final, but lost the toss and were invited to bat and, with the early morning start, were soundly beaten, as happened every year to the side who batted first. Supporters of the other seventeen counties will doubtless not be quite so enthusiastic, but whichever of them you follow I am sure Murphy's book will be of interest and will bring back fond memories of that man Lara, an all time great on any definition of that often over used expression.
On the subject of county cricket we will see A Celebration of County Cricket Today from Paul Edwards, a writer who certainly meets with my approval, although I hope he doesn't dwell on the subject of 'The Hundred'.
Fittingly the last Fairfield title in the pipeline is one from the man himself, Stephen Chalke's Through the Remembered Gate, which sounds like a sort of autobiography, perhaps more of Fairfield Books than Stephen himself. As, without exception, all of Stephen's books have proved to be excellent reading I have no doubt it is going to be a good 'un.
From one of our favourite publishers to another, as I turn towards Pitch Publishing. At the moment I am aware of three Pitch titles expected in 2019. The first, due at the end of February, is by Jonathan  Northall, Ruling the World: The Story of the 1992 World Cup. In an enthralling competition England lost in the final to Pakistan, and in researching the book Northall has spoken to many of those who were involved. That will be followed in March by a book from Stuart Rayner, who was responsible three years ago for The War of the White Roses, and his 2019 offering covers a not entirely dissimilar aspect of the recent history of English county cricket. Five Trophies and a Funeral is the story of the rise and fall of Durham County Cricket Club in recent years. The prospect of an unbiased and measured account of what has happened in the North East is to be welcomed.
In October Pitch will be publishing a book from Christopher Sandford, a veteran of many previous titles including well received biographies of Imran Khan, Tom Graveney and Godfrey Evans. This time Keeper of Style tells the story of John (JT) Murray, the Middlesex and England 'keeper whose career peaked in the 1960s. JT, who sadly died in 2018, was not a man to court controversy, but he had a large fund of stories from his playing career that would keep those who met him in later life entertained for hours, so the story of his life should be well worth reading.
On the subject of books about the lives of cricketers we have a new one from Bill Lawry, Chasing a Century. It is many years now since a ghosted autobiography, Run Digger, appeared. At the crease Lawry's wicket had to be earned, and he was of the dour and dogged school of openers, but his second career in the commentary box was rather different as he became what we Poms would call a national treasure. From the publisher's blurb I am not entirely sure whether the book is a true autobiography or is more in the nature of an anthology, but it is certainly one that I am looking forward to reading. In other Australian news an illustrated autobiography of Rod Marsh has just appeared in Australia. There have been a few books by or about Marsh in the past, which is perhaps why this one emphasises its pictorial content. Most Englishmen didn't much care for Marsh in his playing days, but he certainly went up in our collective estimation when he played a part in our preparations for that wonderful summer of 2005 and, on a subject I shall return to, it is a slight surprise to me that there appears to be no UK release planned.
Like 'The Phantom' Mike Brearley was also an Ashes skipper, although a few years after Lawry's career ended. This year we have had the publication of a fine collection of Brearley's writing, Brearley On Cricket, and next year should finally see a biography from the pen of Mark Peel.
Other recent biographies of English players are those of the remarkable Victorian Teddy Wynyard, the Kent fast bowler David Sayer and the man who some say was the greatest bowler of them all,  Sydney Barnes. We have already reviewed Teddy and Slayer, and in the not too distant future will review Jeff Nicholls' SF Barnes – The Legendary Cricket Genius. It is the fourth biography of Barnes to appear, but the first to have the co-operation of a member of his family, in this case a grandson with fond memories of the sometimes irascible Barnes. It is an unconventional book, but a very good one, and certainly recommended.
In India an autobiography from VVS Laxman has just appeared. The title is 281 And Beyond and is clearly not the same book I suggested was about to appear a few years ago. Everyone loves VVS, who one much travelled Indian contemporary describes as one of only two First Class cricketers of his time who were universally liked and respected throughout the game (the other being Vikram Solanki).
Other books to have been published in India include two histories of the women's game there; Free Hit: The Story of Women's Cricket in India by Suprita Das and The Fire Burns Blue: A History of Women's Cricket by Sidhanta Patnaik and Karunya Keshav. I also have it on the highest authority that a book on the history of Indian fast bowling is in the course of preparation for, hopefully, release next year.
There are also a couple of Indian books that deal with men from earlier generations. The first concerns the man who led All India in the country's inaugural Test, CK Nayudu. There have been a number of previous books about CK, whose name attaches to the BCCI lifetime achievement award. The latest biography is A Colonel Destined to Lead by Aditya Bhushan. Moving forward a generation or so Panther's Pace is the autobiography of 1960s all-rounder Chandu Borde, 'as told to' writer Mohan Sinha.
Graeme 'Foxy' Fowler, produced a masterpiece in Absolutely Foxed back in 2016. No doubt buoyed by that success Mind Over Batter is due next May. The book's sub-title, It's all in the Head, leaving readers in little doubt as to the sort of issues Fowler will be exploring. Whilst on the subject of biography and autobiography a book I first noted a couple of years ago sneaked past me and into bookstores in September, A Sort of Homecoming; Alan Mullally, by Paul Blewitt and Rob Wilkinson is an account of the life of a pace bowler who played in 19 Tests for England in the closing years of the twentieth century.
In 2019 we can look forward to an autobiography from a Zimbabwean cricketer. Keeping The Faith by Tatenda Taibu promises much, and hopefully will deliver. On a completely different tack one of the best books of 2017 was Harry Pearson's biography, Connie: The Marvellous Life of Learie Constantine. I was as impressed as others, but did express the hope that one day a writer would do full justice to Constantine's multi-faceted life outside the game. Learie Constantine and Race Relations in Britain and the Empire, has just been released and might be that book, albeit at £85 a pop what seems to be a book aimed at academics is unlikely to be a bestseller.
Those interested in Lancashire cricket, and more particularly its rich history, are well served by the existence of two small publishers who regularly supply us with interesting offerings on the subject of our beloved county, and both Max Books and Red Rose Books have much planned for next year.
Max Books have as many as six new publications planned for 2019. Two of them concern Francis Thompson, the somewhat tragic figure responsible for the best known cricket poem of them all At Lord's, which immortalised two Lancashire opening batsmen from Victorian times, the run stealers, AN 'Monkey' Hornby and Dick Barlow. Next year is the 160th anniversary of Thompson's birth, and Paul Edwards is producing a limited edition booklet, and Ken Shenton a full length book.
On the subject of Hornby he is to be the subject of a pictorial book which has been mentioned occasionally for a while now. I believe the book will go well beyond Hornby's cricket career, and will hopefully also tell the story of Hornby's son, another Lancashire captain, and trace an interesting family through subsequent generations.
The other three Max Books title will be a little more contemporary. There is a biography of 1960s opener Geoff 'Noddy' Pullar and a book, written by Ken Grime, about Lancashire's appearances in the big one day cricket finals. There have been a few of those down the years, and that one could be a bulky book. And finally, written by Geoff Ogden,  is a look at the 25 First Class cricketers who were born in Bolton as many as eleven of whom went on to be capped by England. One of the 25 (albeit one who didn't make the step up) should by my reckoning be Kevan Tebay, whose son Martin is the proprietor of Red Rose Books.
And as for Red Rose they have plans to publish five booklets, three by Martin himself and two by Gerry Wolstenholme. The first 'Tebay' concerns the great George Headley, and I presume will dwell on his time with Haslingden in the Lancashire League between 1934 and 1938, and his return to the League with Bacup in 1950. The other two concern Ralph Whitehead, an all-rounder who debuted in 1906 and for whom the Great War brought down the curtain on a reasonable career, and Samuel Lunt. The latter was the Lancashire scorer between 1887 and 1911.
Of the two Wolstenholmes the first also has a Lancashire theme, with its subject being Duleepsinhji. It will be interesting to see what connection with the Red Rose Gerry has uncovered, or perhaps his research deals simply with Duleep's record at Old Trafford, a ground where he averaged 84.71. The second title is not connected with Lancashire, and indeed couldn't get much further away, dealing as it does with the rivalry on the cricket field between Argentina and Brazil in the 1920s.
One man who is definitely a Lancastrian is England's leading wicket taker, Jimmy Anderson. Perhaps finally looking forward to a career after cricket the Burnley Express has, with his co-presenter from BBC Five Live's Tailenders podcast, put together Jimmy Anderson: Beyond The Boundary. It would appear from the publishers' blurb that this will consist of what John Arlott used to describe as 'cricket shop', and there can be no doubt that Anderson's long career will have given him plenty of stories to tell. As he is, however, still tied to the terms of a central contract we may have to wait until the next volume to see any real revelations.
On the subject of slim limited editions David Battersby has been busy in recent months The Forgotten Floodlit Encounter, The Pakistan Tour to the UK 1978 and Edward Sainsbury all having appeared in recent weeks. Slightly heavier is the twenty fourth and last volume of Innings Complete by Philip Paine, the collection of brief biographical details of deceased cricketers accompanied by images of their gravestones and/or memorials to them. In addition a much bulkier limited edition is Andy Collier's splendid Across the Oceans, another very recent release.
The ACS have their usual statistical books scheduled to appear, their 2019 Yearbook and 2019 2nd XI Annual due early in the New Year. In addition a series representing a season by season look at the Minor Counties Championship will reach 1913. A more unusual title is the latest in the still relatively new Cricket Witness series, The Captain's Hand on the Shoulder Smote by Eric Midwinter. The book is about cricket in schoolboy comics, something that was a staple part of childhood for young boys of my father's generation.
I have in the past observed on more than one occasion that it would be a splendid thing if other cricket historians could seek to compile similar books to the three excellent titles produced by Stephen Hill and Barry Phillips that look at the lives of all who have played for Somerset. Links to our reviews of volumes one, two and three are here. Next year we should get the fourth and last instalment in that series, but in addition should have something similar from Hampshire, Warwickshire and Sussex. In fact the Hampshire volume, written by David Allen, was released in paperback earlier this year and as far as I am aware is still in print, although I believe an updated hard back edition is being prepared for issue as a limited edition.
The Warwickshire contribution comes from Steven Sheen, who is publishing it privately. I believe it should appear very soon, and again there is a limited as well as a standard edition. The Sussex Who's Who, published by the county's Cricket Museum and Educational Trust, will be more like that of Somerset in that it is to be spread over a number of volumes. The first, covering 1946 to 1969 is not imminent, but will hopefully appear at some point next year.
Part of the reason for the delay in the Sussex Who's Who is the number of other projects the Museum is working on. The first is a short pamphlet about Rupert Webb, the county's wicketkeeper through the 1950s who died in August of 2018 at the grand old age of 96. That one should be with us by the time this article appears. It will be followed around Easter by a booklet about Don Smith, capped three times by England in 1957 and currently, at 95, the oldest living England Test cricketer.
A rather more heavyweight tome, which is planned for release in February/March, is a book by the veteran historian John Goulstone regarding the cricketing activities of a member of the Royal Family, the Prince of Wales, who played his cricket in the late 18th century in Brighton. There will be a standard edition and a subscribers' limited edition. Similarly a biography of John Wisden, who made his reputation as an all-rounder with Sussex before giving his name to the Almanack that bears it to this day, is planned as a full length book. The aim is to publish the book in time for Wisden's birthday next September.
Last but not least (nor indeed latest) from the Museum there will, hopefully in time for the launch of next year's World Cup, be a booklet about the introductions to international cricket of Bangladesh and Afghanistan. What has that got to do with Sussex cricket? The author is former skipper and county President Robin Marlar, a man who was actively involved with both 'elevations', and who could do a lot worse himself than pen an autobiography.
This year's County Champions, comfortably, were Surrey. It has become de rigueur for a book to be published at Christmas to celebrate the title and this year Surrey have generated two. A straightforward paperback is Typical Surrey: A Commentator's Season with the County Champions by BBC Radio commentator Mark Church. Also available is 2018: A Season In Pictures which appears in a standard paperback edition as well as a hardback limited edition of 200, signed by Alec Stewart.
From a set of winning players I will move on to a great writer, Gideon Haigh. The thoughts of one of the finest scribes the game has produced on the current travails of the Australian Test side has attracted some very favourable reviews, and doubtless Crossing the Boundary will become the definitive work on the subject. It is a book I will perhaps visit in advance of next summer's Ashes, but in the meantime I am rather taken with From Flock to Baggy Green, which the man himself describes as a little monograph on the ties that bind Australian cricket and the wool industry. In addition, a collection of Haigh's writings has been put together as Shadows on the Pitch. Sub-titled The Long Summer Of  2017/18. It is the closest we have to an account of the 2017/18 Ashes series, and for that fact alone I for one am extremely grateful. I do have one question/complaint however, that being why on earth Haigh's books are not routinely published in the UK?
The coming months will also see two more books appear on the subject of Victor Trumper. Another is already available and is a continuation of a series of booklets by James Cattlin about Trumper's record at particular locations, this time Redfern Oval. In the course of preparation is a further volume on the subject of Crown Street Primary School.  Just about to appear is also a much bulkier privately published labour of love simply entitled The Genius. It has been written by lifelong 'Trumper tragic' Renato Carini, who becomes the latest in a line of writers to attempt to produce the definitive biography of the most romantic figure in Australian cricket history. I understand the book, which runs to more than 400 pages, appears in a softbacked limited edition of just 50 copies, with another 15 copies in hardback.
Having begun with a favourite publisher from the northern hemisphere I will, fittingly, end with one from the south, The Cricket Publishing Company and its associated imprint, The Cricket Press Pty Ltd. I am told that, at last, Kersi Meher Homji's history of Australia against India Test matches has recently appeared, and that that one will signal the start of a small avalanche of previously announced titles.
The first will be a new release from David Frith, on the subject of Alec Hurwood's diary from the 1930 Ashes series. I am delighted that Frith has been persuaded to produce something new and, by my arithmetic, this is book number 36 from a man who, to use a well worn cliché, has probably forgotten more about the game's history than most of us will ever know. As he is now into his ninth decade for him to reach the half century is probably unrealistic, but I certainly think forty is a reasonable expectation.
At around the same time as the new Frith there should be a couple of biographies of pre-war New Zealanders, the subjects being Ted Badcock and Stewie Dempster, respectively written by Rob Franks and Bill Francis. March should then see a third, Mr Cardwell's own tribute to Doug Freeman who, as a teenager, played in two Tests against Douglas Jardine's England in 1933. Also due is a another book from Mr Cardwell on the subject of the second tied Test, one from Alfred James on Donald Bradman and the Jack D'Arcy autobiography book that I mentioned this time last year. No mention at this stage of the next Between Wickets, or the Gordon Rorke book that I have been eagerly awaiting for some time, but hopefully both, and others, remain 'in the course of preparation'.
When I first started writing this article something that was a constant source of irritation was, just as I was about to press the 'Publish' button, the discovery of something else that was about to be published. In order to avoid that frustration I now treat every version of the piece as 'just a draft' and now actively seek out something in the 24 hours before posting that I can add. I did fear failure for a while this time round, but this is an endeavour in which the internet never lets you down, and my two 'and finallys' both come from God's own county, Yorkshire. The first is David Mitchell's From Snicket To Wicket, self published in October and, it would seem, the autobiography of a cricket tragic. The second is by John Fuller, a man whose work we have previously reviewed here, and is published by Great Northern Books. The title confirms the subject matter, Scarborough Cricket Festival, and the book is due in May. Those pre-ordering through the publisher's website can secure a limited edition hardback version with, if that sort of thing floats your boat, your name appended to a list of subscribers.
Twice a year CW looks forward to those cricket books due in the months ahead. If any publisher or author reading this has a book we have missed please let us know and if you would like CW to review your books and/or announce your future plans at the beginning of July 2019 then please contact us at info@cricketweb.net, which email address can also be used by any prospective purchaser seeking further information. As ever this article is as comprehensive as it is only as a result of assistance from others and, in particular on this occasion, Roger Page, Malcolm Lorimer, Ken Piesse, Martin Tebay, Jon Filby, Ronald Cardwell and Gulu Ezekiel.