Laker and Lock
Martin Chandler |
Published: 2022
Pages: 319
Author: Sandford, Christopher
Publisher: Pitch
Rating: 3.5 stars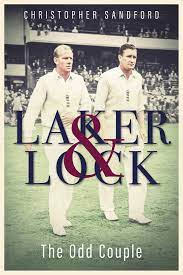 Jim Laker has his place in history, and it seems deeply improbable that he will ever have to share it let alone lose it. Tony Lock doesn't occupy quite such a lofty position in the pantheon, but he is not too far behind and, of course, his name and Laker's are forever linked together by their partnership for Surrey and England. That is not to say, and the relationship between the pair is one of the recurring themes in the book, that Laker and Lock were great friends as they were not, and indeed it is only in later life, when some well meaning but misguided organiser put them down to share a hotel room in Melbourne for the Centenary Test, that the two finally became friends.
But it was all a long time ago. Since the pair's great days well over half a century has passed, and Laker died in 1986 and Lock nine years later. There have been plenty of previous books as well. Laker put his name to two books of autobiography, Spinning Around The World in 1957 and Over To Me in 1960. There were other books as well, some of which contained autobiographical elements. In addition there have been biographies, three in fact, from Don Mosey (1998), Alan Hill (also 1998) and Brian Scovell (2006). There has even been a book telling the story of a single match, no prizes for guessing which, written by Vic Rigby and also published in 2006. Between them those titles represent an awful lot of words on one man.
There is not so much about Lock, but he too published an autobiography in 1957, For Surrey and England, and there have been two biographies, one by Kirwan Ward in 1972 and the other by Alan Hill in 2008. Not for the first time therefore I am forced to wonder whether, absent new material that fundamentally adds to the stories, anything further is necessary. There are one or two areas where new light is shed on the lives of Laker and Lock, but in truth nothing of great significance. Nonetheless Christopher Sandford's latest book is an absorbing read and well worth investing in, especially for those who want to read just one book on the duo.
Writing is one of those occupations in which age is not really a barrier, but in any event Sandford, whose Wikipedia entry tells me he is a youthful 66, has many attributes that made him an ideal man for this subject. First and foremost is that he knew both Laker and Lock and met them several times. He is the first to admit that he did not know them well, but he came across them in the main in a social context whilst writing a biography of their long time England teammate Godfrey Evans that was published in 1990. A couple of years later, still from the same era, Sandford wrote a life of Tom Graveney as well, although he makes much less reference to Graveney in Laker and Lock than he does to Evans. The reason for that, methinks, being that it does rather sound like the roisterous Evans, unlike Graveney, rather led his young biographer astray.
But to get to the point the stories of both Laker and Lock are of enduring interest. Two very strong if contrasting personalities they were both excellent cricketers, and both became embroiled in a number of controversies. In respect of Laker there is, on the field, his mercurial season of 1956 and the remarkable 19/90. Sadly for Lock he is better remembered for the throwing controversy which dogged him through much of his career, but there were also great wicket taking feats as well, his remarkable close fielding and, naturally, the in some ways equally remarkable 1/106.
Outside the game the part of Laker's story that is the most interesting is the furore caused by the criticisms that he levelled at a number of people, but particularly  his county and England captain Peter May and the manager on England's disastrous trip to Australia in 1958/59, Freddie Brown. It really is a remarkable tale and one which Sandford tells particularly well even if he, like all previous writers, is unable to establish who Laker's ghostwriter was on Over To Me. The answer to that one is one of the best kept secrets in the game.
As for Lock he was a man who Sandford suggests more than once, and is probably right, was a manic depressive. He too had his ups and downs in England, and then emigrated and went on to achieve much as captain of Western Australia, before coming back to England for three summers in the late 1960s to transform the fortunes of Leicestershire.
For Lock the moment of gravest import came at the end of his life, when he face allegations of sexual assault in Australia. He was never convicted of anything, but at the same time he was never exonerated either. As with Laker's Over To Me controversy Sandford's research produces nothing new on the subject of the allegations themselves or the way that they were dealt with but, as with every aspect of the book he tells the story very well indeed. And that, of course, is the key point. If you give a good writer an interesting subject there is only going to be one result, and that is the thoroughly entertaining read that Laker and Lock is.