Kent County Cricket Grounds, 150 Years of Cricket across the Garden of England
David Kelly |
Published: 2020
Pages: 239
Author: Milton, Howard and Francis, Peter
Publisher: Pitch/Kent CCC
Rating: 5 stars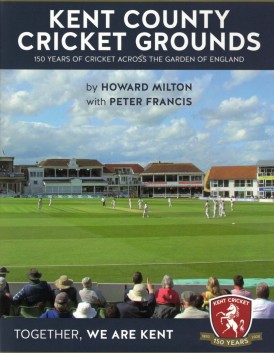 Everything about this book is excellent, I have to say at the outset of this review. It is the product of 40 years of painstaking research by Howard Milton who has rightly earned a splendid reputation, as well as awards, for his work not only for Kent CCC but for The Cricket Society as well.  He has been Hon Statistician for the county club since 1977; he was Hon Librarian for the Society from that same year until 2017; he has written several titles on Kent cricket; he edits the Kent Cricket Heritage Trust newsletter; and contributes much to the Kent County Cricket Supporters Club magazine.
So, a man of Kent cricket, aided and supported by Peter Francis, himself likewise steeped in the game in the Garden of England.  Among other roles, Peter edits the Kent County Cricket Supporters Club quarterly magazine.
There are three good and useful Forewords, from the Presidents of the county club, the Kent County Cricket Supporters Club and the Kent Cricket Heritage Trust.  The main strength of the book soon follows, this being a very detailed review of all 18 grounds used by Kent for First Eleven matches since 1870, 150 years prior to the date of publication of this book, which was planned to help mark the county club's 150 years celebration that, because of the pandemic, will not turn out quite as planned or expected.
For those 18 grounds, there are 188 pages allocated in this quite sumptuous book of 239 pages.  And for each of those grounds there are their histories with very detailed backgrounds and origins, club affiliations, personalities of their past and development, local dignitaries of importance and influence, and much other information; features on some unique aspects of the ground concerned (such as the Lime Tree at Canterbury, the Folkestone Festival, The Tabernacle at The Mote in Maidstone, the Tonbridge Nursery and the pavilion fire of 1913 at Tunbridge Wells); a host of memorable matches are recalled; and, for each ground, there is a short but valuable Records section. 
The St Lawrence Ground, Canterbury commands 28 pages; The County Ground at Beckenham has nine; The Bat and Ball Sports Ground at Gravesend merits a dozen pages; The Mote at Maidstone has 14; the old and still lamented Angel Ground at Tonbridge has 11; The Nevill Ground at Tunbridge Wells – with its rhododendrons and memories of Kapil Dev's blistering 175 not out in 1983 – claims ten; and the historically important West (or Town) Malling ground, known for a while as Fuller Pilch's, has 11.
Then follows a fascinating section on the 17 grounds used for Kent county matches in the period from 1806, when representative county matches are deemed to have begun, until 1870, but not since.  And, for completion, there is a smaller section on the grounds used only for Kent Second Eleven matches.
One very unusual – arguably unique – and highly useful feature of the book is the inclusion of a bibliography for each of the 18 main featured grounds and, intriguingly, for most of those used as a county ground before 1870 as well.  These bibliographies point us to many gems, such as a myriad of publications on the history of cricket in Dartford, with John Goulstone's name to the fore; recollections of Folkestone by David Boorman; the story of Sir Marcus Samuel, the man behind The Tabernacle at The Mote and founder of an oil business he named Shell; many on Town Malling where the names of Dickens, Goulstone and Irving Rosenwater feature; two rare booklets from the 1850s underlining Cranbrook's contributions to Kent cricket at that time; and much on the famous Sevenoaks Vine ground.
The book is marvellously illustrated, with a great array of photographs; of matches, players and action; pictures of scorecards and handbills; reproductions of old drawings, portraits and the like.   They are augmented with a few delightful coloured sketches, signed by Anthony Matthews.
For sheer professionalism, Kent County Cricket Grounds is hard to beat.  It has been magnificently produced.  It is wider than the norm at ca 195mm, which puts it almost in the category of a coffee-table book.  Though it will undoubtedly appeal more to the Kent cricket aficionado, it should by no means be dismissed by other enthusiasts, given its sheer breadth of historical and topical content and context.  Highly recommended, a most attractive feature on any bookshelf.
Copies of the book are available from the KCCC shop at £25 (or £20 for members) + delivery (£6 for UK).