Ken Piesse's ABC of Australian Cricket
Martin Chandler |
Published: 2022
Pages: 222
Author: Piesse, Ken
Publisher: Echo
Rating: 4 stars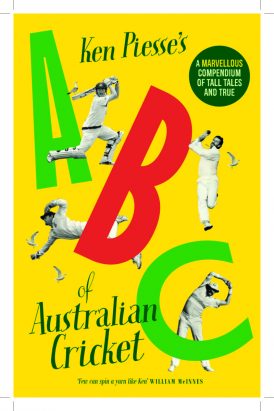 Apparently this one is Ken Piesse's 65th cricket book, which I suspect may well be a world and not simply an Australian record. That said I'm not entirely clear what they all are as, despite having a desire to acquire cricket books that verges on the obsessional I can still only count 15 of them in my collection, and even Ken's own website currently lists only 25, so as an initial aside it seems to me that a Piesse bibliography is long overdue.
The last two of Ken's titles that I have read have been excellent, being his biography of Cec Pepper and Fifteen Minutes of Fame, his look at each Australian cricketer to have worn the Baggy Green just once. This one however I was a bit more wary of. The ABC of Cricket sounded to me like an excuse to dash off a few well worn stories in an attempt to capture the Christmas market.
So, sniffy as I am about such matters, I thought the acid test would be to start with the letter 'B', and I turned straight to the entry for Bradman. My doubts immediately started to subside when I saw an entry that comprises a mere 134 words, 29 of those used up in listing the great batsman's nicknames, including the one given to him by Douglas Jardine.
Thus reassured I returned to the beginning of the book, and was greeted by an excellent foreword from Scott Boland, undoubtedly my favourite cricketer ever to take 6/7 against England, and an introduction from Ken which, with its content and pace of delivery, sets the tone for the A-Z that follows.
Like that for The Don many of the entries relate to individuals, albeit by no means all. The longest single entry, though still not even a full page, relates to Sam Anderson, an indigenous cricketer who scored a hundred hundreds over a career that peaked in the early years of the twentieth century. Sadly none of those three figure scores were made at First Class level. Other interesting cricketers who get a slightly extended treatment are the mystery spinners Johnny Gleeson and Jack Iverson.
Some of the information is of a cricketing nature, thus the entry for Kim Hughes references his being the first man to hit a six on each day of a five day Test, and for Gordon Rorke that three of his first four deliveries at the MCG went for four byes. For some however the main point of interest is nothing to do with their feats on the field, most notably it was interesting to learn that Test batsman Tommy Andrews' day job was as a stonemason, and that he was responsible for the headstones of Victor Trumper and Archie Jackson.
The myriad of subjects covered relate, primarily, to the international arena and the First Class game, but club cricket features as well and we learn of the first known 75 year old to take a triple hat-trick. Also featured is the father of Test playing brothers who once took twenty wickets in a club match, and there is a case of author's privilege as well, the entry in relation to Steve Waugh noting an occasion in a game in England in 1987 when 'Tugga' helped himself to 32 from an over of Ken's bowling.
Ken Piesse's ABC of Australian Cricket is not a book to go for if you have an hour or two free and want to get down to some serious reading. On the other hand for anyone with a few minutes to spare and in need of some light cricketing reading this is definitely one to pick up. It may well also fire the imagination for you as it has for me as, next time I can face the task I will certainly be searching through the darkest recesses of my collection to find the slim biography of Sam Anderson that I know I have, but to my shame have not previously got round to reading.
Signed copies of the book are available from Ken's website, as well as many other books from past and present, in and out of print, common and collectable.