Indian Cricket: Untold Tales
Anindya Dutta |
Published: 2020
Pages: 152
Author: Mukherji, Raju
Publisher: Privately Published
Rating: 4 stars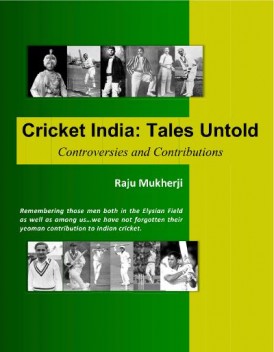 Every evening that I have spent with Raju Mukherji, raconteur extraordinaire, at his Kolkata residence, has been a delightful one. Never have I come away without a bag full of stories from the quintessential old world lawyers' chambers on the ground floor that Mukherji inherited, and uses for his evening 'open door' sessions. Anyone with an interest in discussing cricket, a desire to pick his brains, ask advice about technique, or tap his elephantine memory, is welcome to just walk in and find a seat.
On many an occasion, I have spent the first hour or so just listening in on conversations with completely unknown people discussing anything from Pakistan's cricketing history, to tales of  rail journeys made to play Ranji matches long forgotten,  to Sourav Ganguly's ambitious but impossible to execute 'Age Group Leagues' that Mukherji would astutely point out, given the available cricket grounds of the city, had far more matches than was physically possible to hold in any given year.
The next couple of hours (I had usually dropped in for half an hour between family engagements) would be spent in reminiscing on forgotten men of Indian cricket. Every time Mukherji saw me, he would urge me to write about these men. I would nod my head, but balancing a full time job at the time with books already commissioned and in progress, I never had the time to do so.
So it was an immense relief for me to receive a copy of Indian Cricket:Untold Tales and be unburdened of the guilt that has stayed with me (and undoubtedly a few others Mukherji has honoured with similar suggestions). The fact that the horse himself has spoken, I was in no doubt, would reveal an account well worth a read. Having just finished the engaging tome, I can safely say confirm that, 'Today's Safety Bet' as the racing papers of yore would have put it, has delivered.
Mukherji has me at the Introduction when he writes: ' This book is about the heroic deeds of men which have been either erased from memory or purposely hidden from sight,' and goes on to add that it is a 'reverential homage to our cricketing forefathers and peers, each of whom sacrificed his self and soul for our betterment. Just to remind those heroic men, both in the Elysian Field as well as among us, that we have not forgotten their yeoman contribution to Indian cricket.'
The book begins appropriately enough with an account of the Royals who were the major patrons of pre-independence cricket in India. While the shenanigans of the undeserving Vizzy are well known, it is Mukherji's reminder of the immense contribution of the House of Patiala, including sponsoring the multi-religious 1911 team to England, that makes this chapter a fascinating read. The poignant but vivid account of the Test debut and swan song of the Yuvraj (Prince) of Patiala, Yudavendra Singh, the first Indian royal to ever play Test cricket, on a grassy pitch at Chepauk in the 1933-34 series against Douglas Jardine's team, hooking and driving his way to a brave 60 (the highest score) in the second innings against an impactful English attack of Verity, Clark and Nichols, is a deep dive into nostalgia. Like Mukherji, with my own roots being firmly from Bengal, the forgotten contribution of the House of Natore (in the outskirts of Kolkata) to Indian cricket, was a matter of much joy to read about.
One of my favourite chapters is the one that tells the forgotten story of the 1987 World Cup, the first to be held outside England. I am not going to give away the plot by recounting the fascinating story of how three individuals – NKP Salve – then President of the BCCI, Mrs. Indira Gandhi – the then Prime Minister of India, and Dhirubhai Ambani – the founder of the Reliance Group (now the Dhirubhai Ambani Group), got together to wrest away the World Cup from its original home and made it a truly global event. Suffice to say this story is one of the most interesting of the Untold Stories the tome promises.
An extremely thought provoking chapter is the one that ends with the questions: ' Why should the history of cricket not be judged from the altar of pragmatism? Why should we accept the mistakes of the past to cloud our judgement?'
It presents the controversial argument that W.G. Grace should not be considered a Test player. And if he is, then so should Professor D.B. Deodhar who was arguably the first Indian centurion, smashing the Gilligan led 1926 MCC team's vaunted attack all over Bombay for 148 incredible runs. The logic is flawless, blaming racism for the inconsistency. The ICC was formed in 1909, Mukherji argues, years after the first match to be deemed a Test. No matches of teams other than England, South Africa and Australia have been accorded Test status from the pre-1909 period unless they were selected by a designated national body of that country. However, when Grace played one of the  first posthumously recognised Test matches, as Mukherji astutely points out, 'England teams were not representative teams, but a selection based on the whims and fancies of the county hosting the match.' He adds that for the very same reason Ranji, whose selection for England does not bear out logic as he had no legal status to represent England, should also not be considered a Test Cricketer. Either that, or it's time the ICC corrected the mistakes of the past.
There are of course segments which see personal views of the author come to the forefront where neutrality may perhaps have been expected. For example, Mukherji is clearly of the view that Iftiqar Ali Pataudi was an undeserving choice as the captain of the 1946 side to England. The comparison of Vizzy and Pataudi is perhaps a bit disingenuous. While his view that Merchant should have captained the side may have merit, the casual dismissal of the Indian performance in that series is all but an insult to the efforts of a truly Indian team, the members personally torn by the prospects of a religiously divided nation. It is easy to forget, as Mukherji seems to do, that on a tour where, in addition to miserable weather conditions in an inordinately wet summer, even adequate food was difficult to come by because of post-war rationing, the likes of Vinoo Mankad and Vijay Merchant put in performances that are talked about more than six decades after the event.
The rest of the book is a series of mini biographies of cricketers that Mukherji admires, many of whom he has personal stories to narrate about, some more famous than others. None of these are Tales Untold per se, but mention certain incidents from the author's personal interactions with these greats that is unknown to readers. These certainly make for valuable additions to the library of cricketing trivia.   
Among the more famous cricketers current fans will be familiar with, there are tales of wonderful little encounters with the young Kapil Dev in his early Ranji Trophy years, Sachin Tendulkar in multiple IPL matches, and an admiring account of the relationship of the two greats with their first coaches. There is a lovely chapter on Vijay Hazare which my friend Kersi Meher-Homji in Australia will undoubtedly enjoy. Mukherji's encounters with Rahul Dravid and his obvious admiration for the man take up a few lovely pages.
The chapter on MS Dhoni is a moving one. A very personal tale told by Mukherji, is about being one of the two men who watched Dhoni score a whirlwind 40 in a match in Jamshedpur, and as a part of their TRDO (BCCI's Talent Development organization of the time) report recommended to chairman Dilip Vengsarkar that Dhoni should play for India.  This would eventually launch the career of one of India's greatest captains, and is for me one of the best chapters in the book. It is the story of modern Indian cricket and everything that is right about it, including the Indianness in the team that for decades, until Sourav Ganguly arrived, was missing, and which Dhoni exemplified and amplified during his tenure.
A personally poignant story, and one that I have heard from Mukherji on one of our evenings in his 'chamber', is about his encounter with Professor Deodhar. In a self effacing narrative, the author reveals a hard truth the great man told him to his face after watching the young Mukherji play what he describes as a responsible innings in a Ranji Trophy quarter-final encounter: 'Good technique and temperament, but poor physique. Will never play for India.' Despite a long and successful first-class career, the great man's judgement proved to be sound.
Several other chapters on men like Polly Umrigar, Probir 'Khokon' Sen and Mushtaq Ali, who modern fans know less about, are well worth reading.
This book, penned by an erudite and knowledgeable cricketer with a clear flair for the written word, is recommended for any lover of cricket stories and indeed anyone who loves Indian cricket history. It is guaranteed to add joy to your life during the pandemic and beyond.
Indian Cricket:Untold Tales is available on all Amazon sites on Kindle (including at a very modest Rupees 70 in India) and on a select few in paperback including in the U.K. where it is priced at £3.95.