In A League Of Their Own
Martin Chandler |
Published: 2010
Pages: 280
Author: Sydenham, Richard
Publisher: DB Publishers
Rating: 3 stars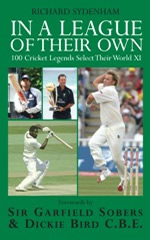 David's Review
For the almanack's Millennium edition the editor of Wisden invited a hundred players, former players, writers and journalists to choose their five cricketers of the 20th century, a list topped by Sir Donald Bradman (chosen by every correspondent) with Sir Garfield Sobers just behind. Richard Sydenham has done something similar here, the main differences being that all the contributors are cricketers, although some have also written and commented on the game with distinction, and they have each selected a team, not five players. Some idea of how long the book took to produce is given by the number of correspondents who are now deceased, indeed Conrad Hunte died as long ago as 1999.
There is a fair range of ages involved, from postwar players such as Alec Bedser and Bill Brown through to a large number of current performers. By and large the older players were more inclined to pick the old-timers who played with them or not long before. Of the six who chose Walter Hammond, for instance, none played later than John Edrich, who retired in 1978. Indeed, many decided to select only those they had seen at first hand, giving that as the reason for omitting the likes of Bradman and Sobers. In an exercise like this I'm always interested to see who is not too modest to pick himself, and a small number did so. One could hardly blame Bradman, whose team was lifted from the book which appeared shortly after his death in 2001, but South African pace bowler Neil Adcock also selected himself (no-one else did), as did Syed Kirmani and Lance Gibbs.
The last-named two each picked five from their own country, and I suppose a degree of parochialism is only to be expected. It was exceeded by Edrich, whose side had seven Englishmen, and Brown, who picked an entirely Anglo-Australian XI with just three English players. Alan Davidson was slightly more generous to the Poms, picking four in his side.
I was looking for eye-catching selections and in truth there are very few. Bedser's choice of Australian leg-spinner Bruce Dooland is perhaps the most surprising in the book. The difficulty many had with the exercise is shown by the number of fine players selected just once, such as Ian Chappell, Andrew Flintoff and Vinoo Mankad. Anil Kumble fared even worse, gathering not one vote. The earliest players selected are Victor Trumper and SF Barnes, followed by Jack Hobbs, Bradman and George Headley from the pre-1939 era. WG Grace is another to miss out; perhaps those who considered him felt that the game had just changed too much since his time.
By its nature this is not a book that really demands to be read from start to finish – it's more for dipping into. It would be a good one to take along to a match and produce during a break in play to discuss with other enthusiasts.
Martin's Review
The task of selecting an all time XI from every man who has played the game is a frequent talking point for cricket lovers and, for former cricketers seeking to pad out autobiographies, a useful way of adding a bit of bulk to their labours. Richard Sydenham is clearly fond of the concept, so much so that over a number of years he has contacted a large number of current and past players to get their views on this hardy perennial, and then gathered them together in this book.
The biggest difficulty with the exercise, and anyone who inhabits CricketWeb's forums will be acutely aware of this, is how anyone can distinguish between the respective merits of cricketers from different eras. It is not easy with the benefit of having seen both eras but becomes something of an exercise in futility, albeit an interesting one, when trying to compare players the selector has never seen and of whom little or no film footage exists. Sterile stats based arguments often, sadly, follow or alternatively battles of quote and counterquote rage across the relevant thread.
In the circumstances as a serious attempt to try and establish who actually are the best XI of all time this is a non starter. That said, as a bit of fun, designed to stimulate debate, and provide an insight into the thought processes of the participants, it is, ultimately, surprisingly interesting. That said when I opened the book I did so with the pre-conceived notion I would not like it and with the intention, in all honesty, to skip through most of it. Accordingly, having done Richard Sydenham the courtesy of reading his introduction, and two interesting forewords contributed by Garry Sobers and Dickie Bird, I started to flick through the selections. I did not read many of them.
Some of those involved just trot out eleven names, which is a bit of a shame and a missed opportunity, but the majority set out a few words of explanation for their choices. Many limit their picks to those men they have seen play, although a goodly number embrace the concept fully by casting their selections back to before their times – but I was only flicking through and didn't take a lot in. The contributors appear in alphabetical order and at the end of the book I expected to see the selection of Zaheer Abbas or Tim Zoehrer, and that to be the end of that. Wrong! Sydenham then goes on to analyse the results and it is at that point that In A League Of Their Own starts to become addictive.
I noticed first that only four enlightened individuals had selected Harold Larwood – so I had to go back and check them and their XI's. Then I looked down the lists of those selected for the more unconventional selections and had to examine the XI's in which they were included. It was the best part of an hour later that I finally put the book down.
I cannot and would not claim that by reading In A League Of Their Own I have learnt anything about the history of the game or any of its great matches, momentous innings or spells of bowling, but I did learn a little bit about the contributors and, more importantly, was kept thoroughly entertained.
As cricket books go In a League Of Their Own is no heavyweight and certainly cannot be described as essential reading but, unusually for a book of which I say that, it is a worthwhile purchase. I agree with David's three star rating.