Greg Chappell – Not Out
Archie Mac |
Published: 2021
Pages: 280
Author: Chappell, Greg and Brettig, Daniel
Publisher: Hardie Grant Books
Rating: 3.5 stars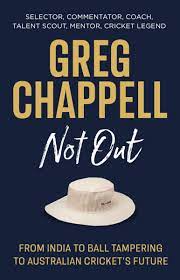 This book should become de rigueur for every aspiring or established cricket coach in the world. Greg Chappell has set out what the elite player needs to possess to reach the top in the game. It might surprise that endless hours in the nets is not part of the Chappell doctrine. Instead some basic technique, a proper mental aptitude and as much as possible match simulation are considered to be of greater benefit. I won't try and go into too much detail as it is a lot more complicated than my basic summary, however it is so well set out in this book that you won't have any trouble following the Chappell blueprint.
Chappell not only talks about coaching, he expresses his views on a wide range of cricketing topics including sandpaper gate and the sledging proclivity of the Australian cricket team. Surprisingly, as Chappell was part of the original 'ugly Australians' of the '70s, he is against 'mental disintegration' and disputes claims that his generation were the original 'sledgers'.
We go through all Chappell's involvements in cricket, although his playing days are only alluded to, while his three stints as a national selector appear to be the most pressurised situations. The scrutiny placed on a selector at one point saw Chappell contacting Shane Warne. Chappell was unhappy with Warne's TV commentary in which the former leggie seemingly wanted 25 players in the Australian Test team. It was interesting to read Chappell likening a selector meeting as being similar to "the conversations of the selection panel are much like those in pubs, living rooms and workplaces all across the country – heated, robust, animated". 
As a selector Chappell distanced himself from the choosing of Matthew Wade as the Australian wicket keeper and said he was included because he had 'mongrel'. Chappell added that was the only time he left a selector meeting not agreeing to the final team selected. Chappell is firmly in the corner of Tim Paine.
It was a surprise to learn that the Chappell combativeness has mellowed a little over the years. For example Greg Chappell often signs off his emails to his brothers, with love. Still, the direct approach that the Chappell boys are famous for is still evident in some falling outs with a few famous players. Sachin Tendulkar and Sourav Ganguly, to name but a couple, were some of the former acquaintances that Chappell manage to offend during his time as a coach.
What a cricketing life Greg Chappell has led. One of the most technically correct batsmen in the history of the game, who averaged over 50, a captain, an international coach, national selector, commentator and so many other roles, that he is rightly now an icon of the game.
Given his experience Chappell's opinions carry as much weight as any extant analyst. While I doubt everyone will fully agree with all of his opinions expressed in his latest book, they are still provocative and make for a stimulating read. His choice to collaborate with the fine writer Daniel Brettig just adds to the enjoyment and accessibility of Greg Chappell – Not Out. This will deservedly be a big seller this Christmas and retails for RRP: AU $34.99 NZ $39.99.