George Macaulay: The Road to Sutton Voe
Martin Chandler |
Published: 2021
Pages: 206
Author: Wilcock, Giles
Publisher: ACS
Rating: 4.5 stars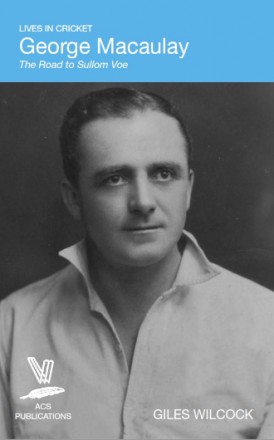 George Macaulay was a regular member of a Yorkshire side that won the County Championship eight times over the fifteen seasons during which he represented the county between the wars. He remains, as he will doubtless do in perpetuity, the fourth highest wicket taker for the White Rose. The 1,837 wickets he took cost him less than eighteen runs each. He was a versatile bowler who operated at anything between medium pace and fast medium depending on how conditions suited him. He was also a good enough batsman to score three First Class hundreds. Macaulay's returns from the eleven Tests for which he was selected were steady rather than spectacular, although that in itself does not explain why such a successful cricketer has been largely forgotten over the years.
The absence of any prior detailed consideration of Macaulay's life and career has, however, been well and truly remedied by the 55th book in the estimable ACS Lives in Cricket series. The author is a first timer, teacher Giles Wilcock, but whilst George Macaulay: The Road to Sutton Voe might be his debut in print anyone with an interest in Macaulay is likely to be familiar to some degree with Wilcock's talents as a writer and historian as a result of his excellent blog at www.oldebor.wordpress.com.
So what makes Macaulay an interesting subject? He was clearly very much his own man and, unlike the vast majority of professional cricketers in his era, was privately educated so simply tugging his forelock to the amateurs and the Yorkshire committee was never going to be his way. To add to that he was never a man with an interest in courting popularity and he was not particularly well liked amongst his teammates, nor did he always endear himself to those who were charged with the responsibility of running Yorkshire County Cricket Club. His cricket career ended in 1935 at the relatively young (for the times) age of 37. Two years after that Macaulay was declared bankrupt, and three years later he was dead.
At the time of his death Macaulay, who had fought with great courage in the Great War, was on active service with the RAF Reserve and stationed at Sutton Voe in the Shetland Islands. According to many sources, most of them generally reliable, he died of pneumonia. In truth however it was alcoholism that killed George Macaulay. This was never a closely guarded secret, but is a fact that nonetheless seems to have been skirted round in the past. Over the course of his research Wilcock has uncovered much about Macaulay's life and those problems with alcohol enable him to put together a coherent narrative that explains, if not all, then a goodly number of Macaulay's traits.
The barrier in Wilcock's way, and perhaps part of the reason that Macaulay's life has never been looked at in detail before, is that he had no children, so there are no direct descendants, and those that knew him are all long dead. Absent the finding of a cache of previously unknown correspondence, scrapbooks or other documents the writing of an interesting book about a man who lived so long ago is always going to be something of a challenge. To the extent that it was it is one that Wilcock has risen to magnificently and he has produced a book that is right up there with the best in the Lives in Cricket series, and one which I unhesitatingly recommend.
What makes writing a book about Macaulay easier than it might have been is the fact that he was a Yorkshireman. In his era the game was covered extensively in the press, both nationally and locally. The success the Yorkshire sides he was part of enjoyed no doubt added to the number of words written and, given that so few contemporary players wrote autobiographies, there were three from teammates of Macaulay, and a number of others who knew went into print.
Wilcock has, naturally, read all those books, but he has dug much deeper than that, mining what must have been thousands of newspapers, reading contemporary documents from the Yorkshire club and digging out relevant information from a myriad of archival sources.
Inevitably there are questions that remain unanswered despite all the available material. A lesser writer might have just have left it there, or worse still expressed an opinion or interpretation of events in such a way that he gave the impression that mere speculation was fact. This is a situation that Wilcock comes up against time and again with Macaulay. His solution is to highlight all the facts that are known, before making a suggestion or two of his own, always explaining his reasoning. The result is an immensely readable and thought provoking life of a complex character and the times in which he lived.